Supermodel Gisele Bündchen posed for a rare photo with all five of her sisters during a recent trip home to Brazil.
"Always in my heart and prayers," Bündchen, 43, captioned an Instagram carousel on Sept. 26. 
In the last slide, Bündchen and her siblings, Raquel, Graziela, Gabriela, Rafaela and Patricia, are shown gathered around their parents, Vânia and Valdir. Bündchen and Patricia are fraternal twins. 
All about Gisele Bündchen's sisters
Patricia has long served as Bündchen's manager. When Bündchen was interviewed by Vanity Fair in 2009, she said that for her work in Brazil, Gabriela is her attorney, Raquel handles accounting and Rafaela works on her website. Graziela is a federal judge
"My family is everything to me and my sisters are my best friends even if sometimes we disagree," Bündchen told People in May. "Family is what gives us our foundation, they are our greatest teachers, and they help us become who we are."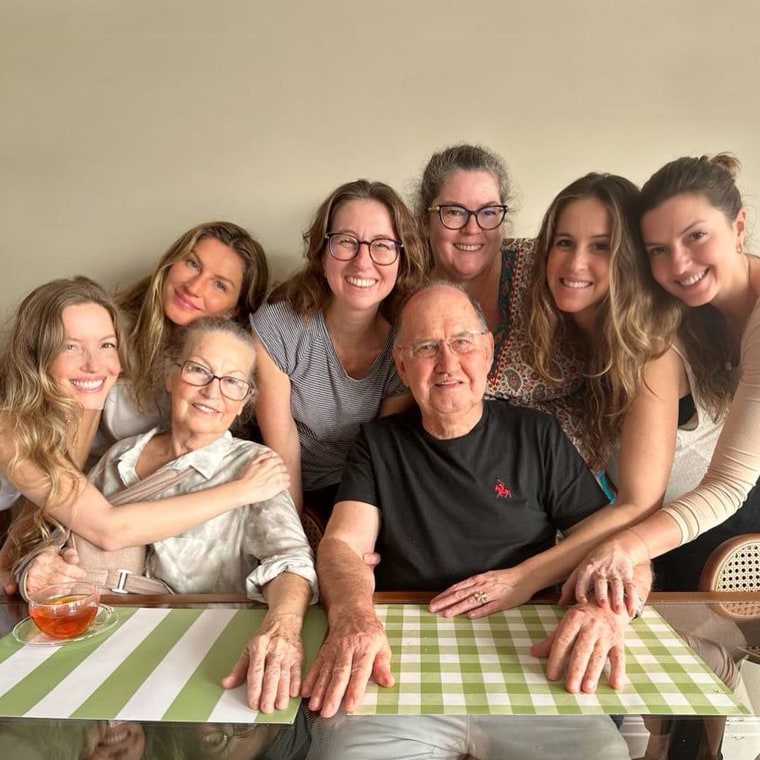 Bündchen also treated fans to pictures of her 13-year-old son, Benjamin, and 10-year-old daughter, Vivian, hanging out with their aunts and cousins. Bündchen shares her two children with with her ex-husband, Tom Brady.
Benjamin and Vivian's childhood looks different from their mother's. For starters, they split their time between their parents' Florida mansions.
In an interview with Vanity Fair, Bündchen revealed that she was raised in a two-bedroom, two-bathroom home in Horizontina, a rural town in Southern Brazil.
"We weren't considered poor; we were considered middle-class," she told the publication, noting that her mother was a bank cashier for more than three decades, while her father worked in construction and taught classes on self-awareness.
"My father was more the philosophical person; my mother was the realist," Bündchen said.
Earlier this year, Bündchen and her twin sister, Patricia attended at charity event in Miami.
"I know she's got my back like I got hers," Bündchen told People of Patricia that evening. "We trust each other and we always want the best for one another and that is priceless." 
Bündchen, who was discovered as a model at age 14 while shopping, has said Patricia was "more popular" when they were growing up than she was.
"She has a great personality — everyone liked her," Bündchen said in a conversation with Vanity Fair. "And I've always been very athletic; I was captain of the volleyball team. I was such a tomboy. The 'in' people weren't so much into me, but I didn't care. My sisters were my best friends, always. It was a great life, and obviously it made me know who I am. If I were told I could come back as anything, I would have chosen the same life, the same family, the same experiences, the same friends."