We already know TODAY meteorologist Dylan Dreyer is kind of a supermom. So when she rolled into work this morning dressed as Batgirl for Halloween, we were like, "Oh. Of course. Perfect."
Then we saw 10-month-old Calvin's costume, and, well, if you thought Dylan's look was spot-on ... are you ready for this?
Calvin made his Halloween debut as ... another Calvin! One you might remember from your Sunday-morning comics (complete with a stuffed sidekick). Looks like he's a fan of Calvin and Hobbes.
"One of us can fight crime," Dylan captioned the photo of her and her sweet family donning their Halloween best.
Dylan's husband, Brian Fichera, wasn't one to be left out of the fun. He spoofed "SNL's" famous "Haunted Elevator" sketch, featuring Tom Hanks as the not-so-spooky David S. Pumpkins.
A well-played Halloween by this branch of the TODAY family!
On TODAY this morning, Matt Lauer was turning heads as Dolly Parton.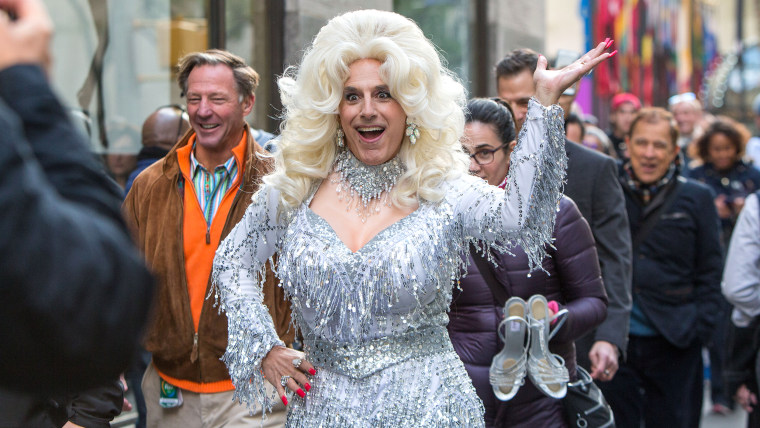 The rest of the TODAY crew leaned into the Southern-fried theme: Kenny Rogers (Savannah Guthrie), Willie Nelson (Al Roker), Shania Twain (Megyn Kelly), Blake Shelton (Hoda Kotb, obviously!) and Miley Cyrus (Kathie Lee Gifford) rounded out the country event of the year!
After all, it's a long-standing tradition for the TODAY gang to bring it on Halloween. And bring it they did.
We're just happy to see baby Calvin is ready to carry on the legacy!