Dustin and Daniel Johnson were 30 minutes into their first date when the conversation turned to dealbreakers.
"I was like, 'I need to be with someone who wants kids,'" Dustin, 28, tells TODAY.com.
When Daniel replied that he felt the same way, Dustin breathed a sigh of relief. He was already falling for the man seated across the table from him.
The couple, who live in Tampa, Florida, got married in 2020 after less than two years dating and immediately began attending pre-adoption classes. Dustin says they didn't consider surrogacy.
"We knew there were kids in our own backyard who needed a loving home," Dustin says, noting that many LGBTQ+ youth experience homelessness because they are kicked out by their parents.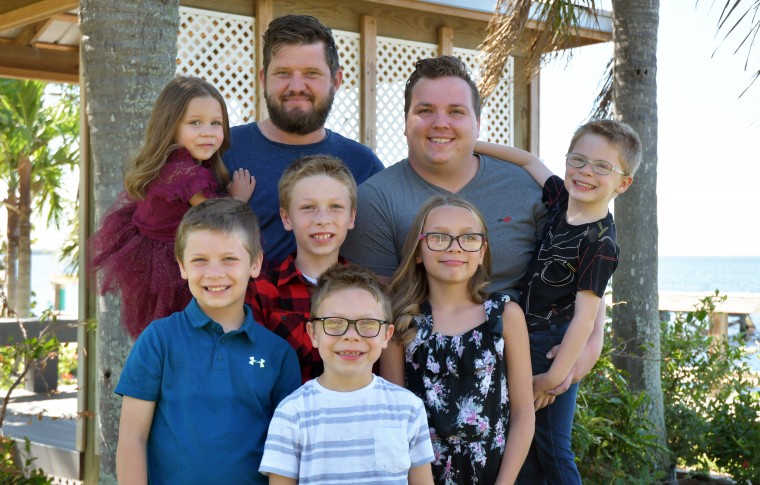 Dustin and Daniel made it clear to the adoption agency that they were open to older children and sibling groups, who are often harder to place. 
"Daniel and I are both close with our siblings and we knew how much it would hurt to be separated from them when we were growing up," Dustin says. 
In May, the Johnsons adopted six siblings: Reid, 11, Amiyah, 10, Izayah, 9, Kaelix, 7, Cade, 6, and Roslin, 3. The children, who were living in five different foster homes, had been in the system for more than three years.
"One of the kids had over 25 different placements," Dustin says.
When the siblings first came to live with Dustin and Daniel in May 2022, they experienced night terrors. They were also diagnosed with post-traumatic stress disorder after witnessing domestic violence and drug abuse, according to Dustin.
"They never had enough food, so they'd just gorge," Dustin explains. "I'll never forget the first time we had one of the kids over, and the kid sat there and ate, like, 12 hot dogs."
"It took months and months to build up that trust. Then the light started coming in."
Dustin johnson
The children are in much better place these days. The Johnsons see a family therapist every week, and four of the children are in individual therapy. Not only has their mental health improved, but so have their grades. Dustin says the older kids went from "failing in school" to making all A's and B's.
"When they first moved in, they were completely withdrawn and had major trust issues," Dustin recalls. "It took months and months to build up that trust. Then the light started coming in."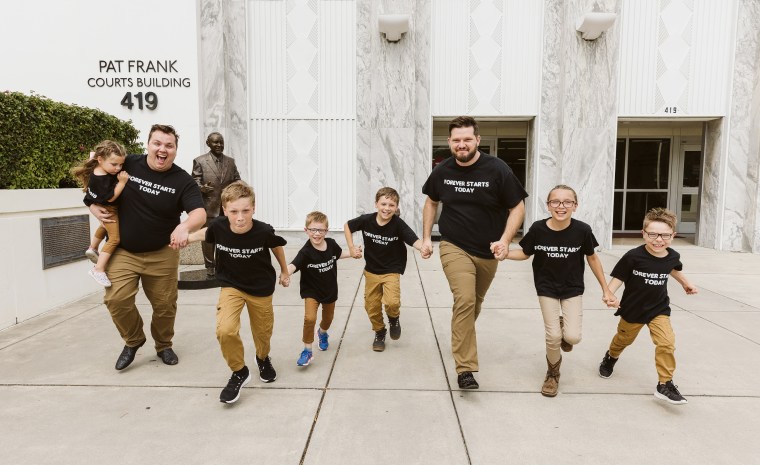 He says Amiyah, their oldest daughter, was their "biggest holdout."
"You know, she was the one that clung the most to the idea that her mom might come back and save her. I think it was hard for her to bond with us because in her head it meant she was betraying her mother," Dustin reveals.
Dustin confesses that he didn't know what to expect from Amiyah on adoption day. 
"We were actually really terrified of what was going to happen," he says. "And then she did a complete 180 and was so happy and cried tears of joy."
The Johnsons love going for bike rides, fishing and playing outside with sidewalk chalk. On a typical evening, you'll find them snuggling on the couch. 
"The new thing they're excited about is taking vacations. They love vacations now, but hotels used to be a trigger because they've lived in hotels," Dustin says.
The Johnson kids, who spent three years living apart from each other, are as close as can be.
"They're almost co-dependent," Dustin says. "We had the boys split up in two different rooms, and they came to us and asked if they could all be together."
When asked if they plan on adopting more children, Dustin lets out a little chuckle. 
"Funny that you mention it," he says, before sharing that the biological mother of his six children is pregnant again, and due in August.