Jevin Smith has made embarrassing his daughter at high school pickup an art form — and she doesn't hate it.
Jevin recently shared a TikTok compilation of his greatest hits, dancing as he picks his daughter Jayna up from her Los Angeles high school. The video begins with Jevin busting a move to MC Hammer's "2 Legit 2 Quit." Not only does Jevin know the choreography, he's also dressed as the '90s rapper in a pair of parachute pants and a gold embellished jacket. When Jayna sees her father, she appears mortified and walks around him, but at the same time, she can't help but smile. 
"In the beginning, when he first started doing it, I was like, this is unbearable. Imagine watching your father get out of the car and start dancing," Jayna, a bubbly senior, tells TODAY.com. "Now I think it's hilarious. There's never a time when I'm upset. He's like a celebrity at school now. Everyone loves his TikTok."
In another clip, a crowd gathers to watch as Jevin gets down to "I Feel For You'" by Chaka Khan. For this performance, he wears a curly wig paired with a sweatband, and shorts with white socks pulled up to his knees. Good-natured Jayna just shakes her head, as if to say, "Here we go again."
Jevin also raps to Ice Cube's "It Was a Good Day." As always, he's wearing an outfit inspired by the artist. Viewers get a glimpse of the sweet connection between Jevin and Jayna when he grabs her book bag so that she doesn't have to carry it. He also opens his car door for her.
It's something Jevin, a DJ, started doing when Jayna was in her sophomore year.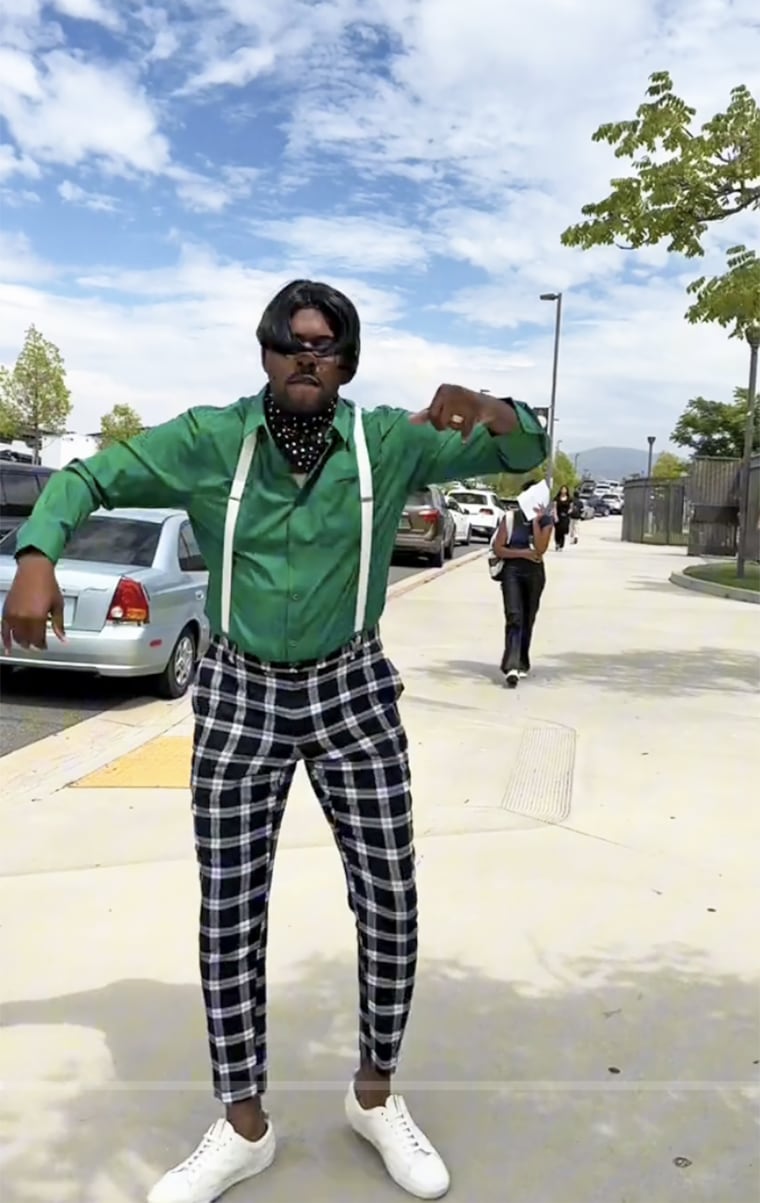 Jevin, a father of four, adds that he's good at reading his daughter's facial cues. If he sees she's having a hard day, he'll either tone down the dance, or get right back in the car. Jevin picks Jayna up every day, but only dances once a month. She never knows when it's going to happen.
"He's the best dad," Jayna says. "He pushes all of us to cultivate our talents. He saw that I took an interest in singing and dancing and said, 'OK then. We're gonna sing and act.' So he pushed me to get involved with theater at school, and it's my favorite program in the world. He helped me find my talent."
Recently, Jayna had to turn in a paper about a person who motivates her to be her best. Jayna wrote about Jevin. 
"Of course I wrote about my dad," she says, to which Jevin replies, "I'm gonna cry.""
"I just love being a dad," he adds.
Jayna was recently elected student council president. 
"I made her popular," Jevin Smith jokes to TODAY.com. He's just teasing, but Jayna backs up the claim.
"It's true!" the teen says, noting that she was voted Spring Fling princess shortly after her dad began showing off his dance moves in the school pickup line. 
"This man better have his own page in the yearbook," one person wrote on Jevin's TikTok.
Added another, "If I was a teacher at that school, I would be RUNNING after the bell rings to watch this in person."