/ Source: TODAY Contributor
There she is, trying to get out of doing her math problems, wishing for homework instead of having to load the dishwasher, and talking back to her mom. And while the name of this smarty-pants cartoon, "Just Jessica," may sound like a put-down, it's anything but.
"Just Jessica" is a character created by Fred Wills Sr., who draws a near-daily cartoon inspired by the youngest of his five children, his 15-year-old daughter, Jessica. Though she has known from an early age that some things don't come as easily to her because she has Down syndrome, she wants to be treated just like everybody else. Growing up, she often told her dad, "I'm just Jessica."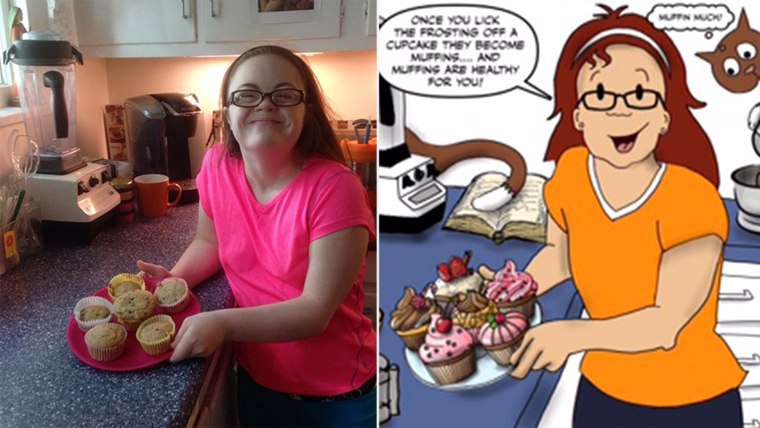 "That's really the message behind it," Wills, of Stratford, Connecticut, says of his cartoon. "She's just Jessica. She's not 'Jessica with Down syndrome.' She's just Jessica."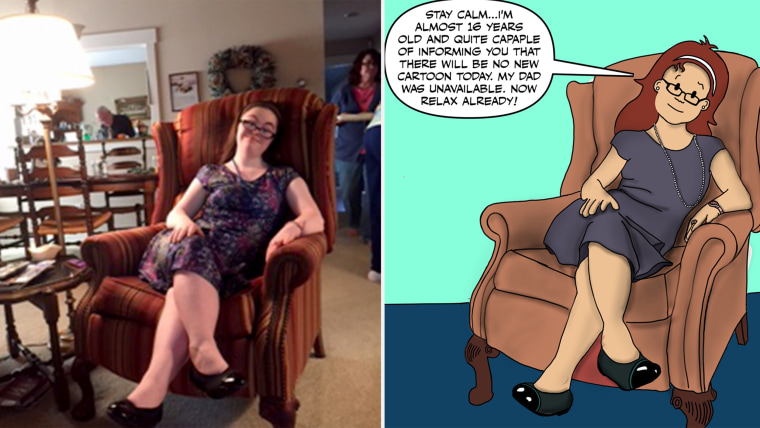 The real-life Jessica is an iPhone-toting sophomore at Stratford High School who takes mostly regular education classes, loves music and sings in the school choir. She is interested in cooking and camping, Shakespeare, and she recently started playing soccer. For the most part, she is seen as just Jessica.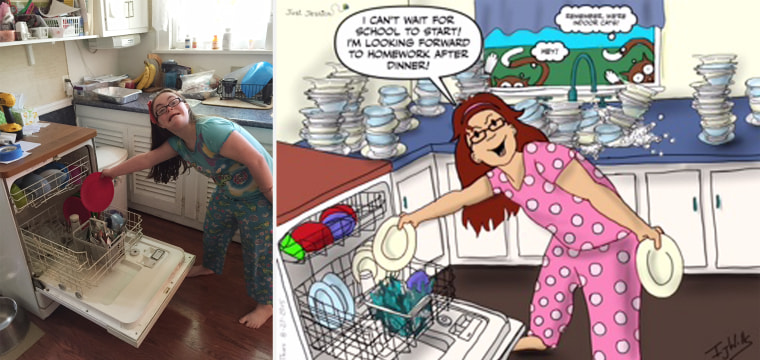 "That's a difficult thing for many people with special needs to overcome — that sense that they're different," said Wills, 59, a psychiatric nurse who works with adults. "All of us want to be considered part of the group. It's important for Jessica to be, in her words, popular, and to be treated like everybody else."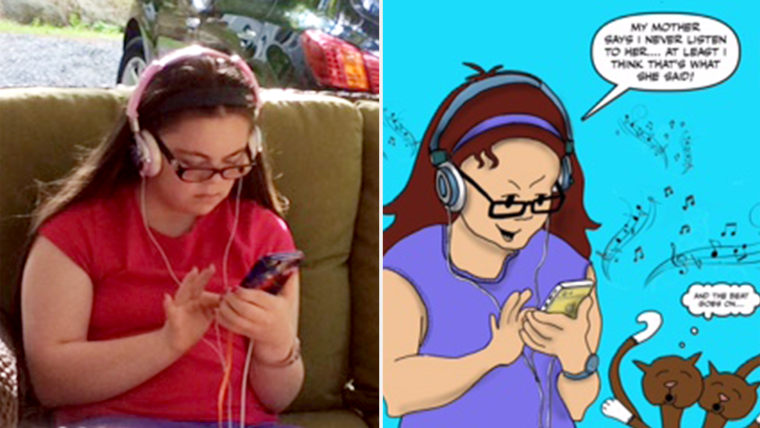 Many of the witty cartoons, which were recently featured in a story on The Mighty, are based on real-life events. Starring Jessica and the family's two cats, they touch on schoolwork, healthy — or not-so-healthy — eating, and teenage themes like body image and love. They also incorporate the household tasks that Wills and his wife, Debi, hope to teach their daughter, like cooking and laundry.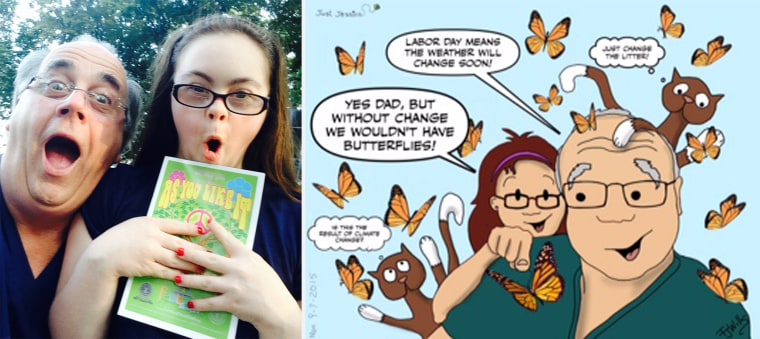 "We use it now as a tool to help her in high school, as she's learning life skills," Wills said. "That opens it up to talk about learning how to do things, and how it's not easy for her, but she can do it just like everybody else."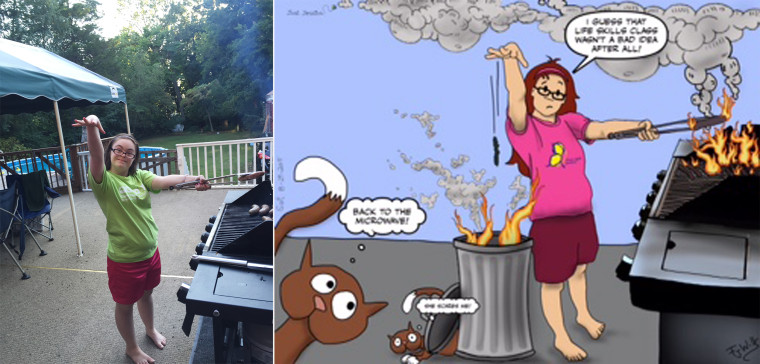 For people who don't have a Jessica in their life, he hopes his drawings will inspire them to look at special-needs children and adults in a brighter light.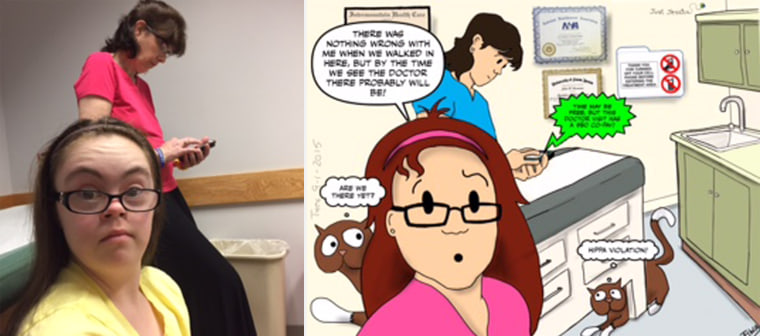 "The vision that people have of people like Jessica, and Down syndrome in particular, is that they see something they need to help, someone they need to do something for," Wills said. "I think things are changing, but we want people to engage special-needs people all the time, and not just once a year when it's time to volunteer at the Special Olympics."

Wills has drawn cartoons over the years for all of his children, but the cartoons for his youngest have become a bit more of a serious project because of the message behind them. He created the "Just Jessica" persona about 18 months ago, drawing the cartoon most nights after reflecting on the events of the day. He draws them through an iPad app, prints them out and hangs them on the microwave for his daughter to discover at the start of each day.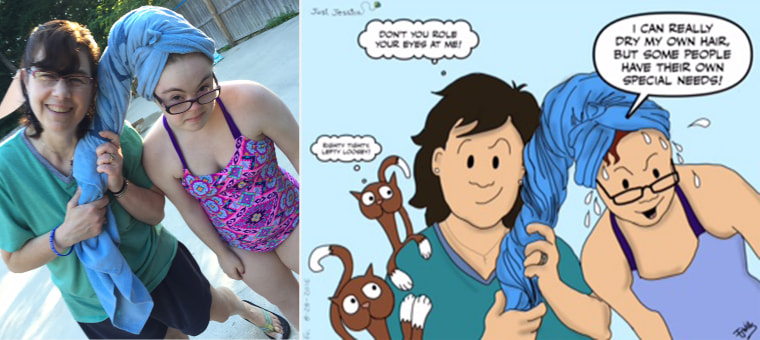 "Every morning, it's the first thing she looks for," Wills said. "She loves them." He also posts them on Facebook, where he encourages others to share their stories.
Regardless of what sassy Jessica is doing in the cartoon, it's clear that she is one loved girl.
"She is the apple of our eyes," Wills says. "Everyone who meets her walks away being better for it because she's terrific."
TODAY.com contributor Lisa A. Flam is a news and lifestyles reporter in New York. Follow her on Twitter.