The latest defensive lineman signed by the Cleveland Browns is under 4 feet tall and weighs less than a hundred pounds, but he is full of heart and determination.
On Tuesday, the Browns gave a one-day contract to Dylan Sutcliffe, 9, an Ohio boy who has the rare genetic disorder ataxia-telangiectasia (A-T), which causes difficulty in coordinating movements, requiring wheelchair assistance. The condition weakens the immune system and affects about one of every 40,000-100,000 children worldwide. The Make-a-Wish Foundation granted Dylan's dream to meet the team, as he was joined by his parents, Derek and Jennifer, his younger brother, Sean, and his grandparents, Dennis and Mary, for a special day at the Browns' practice facility.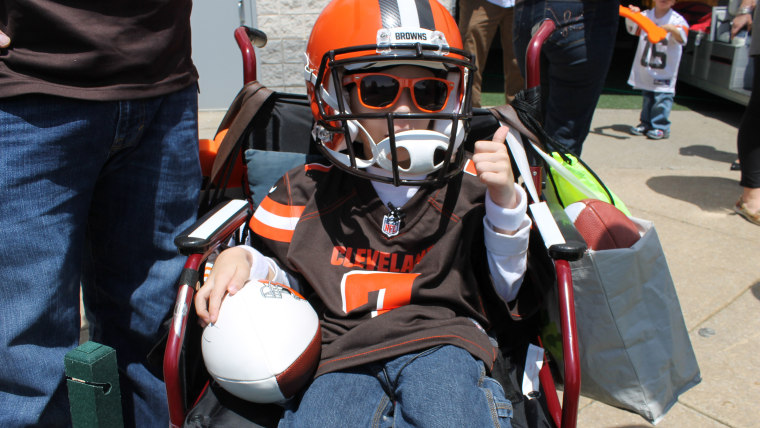 "The past few weeks he's been going through a sad new period because he's 9 years old and realizing his differences from other kids, but all of those sad and frustrating feelings went away after that day [with the Browns],'' Derek Sutcliffe told TODAY.com. "He has been on cloud nine ever since. It's been a major boost to his emotional side."
A limousine sent by Make-a-Wish picked up Dylan and his family at 8 a.m. at their home in Lyndhurst, Ohio, and took them to the team's facility, where he was greeted with welcome signs by staffers as he entered the building.
"Everyone left their desks to fill the atrium of the building,'' Jenner Tekancic, the Browns' director of community relations, told TODAY.com. "I think from that moment, there were tears in people's eyes because they knew they were part of something special, and the day just took off from there. He was the star of the day."
Dylan got to meet general manager Ray Farmer and head coach Mike Pettine, and even had his own press conference for reporters to announce his signing. When asked about being signed by the team, Dylan said, "I think it's awesome."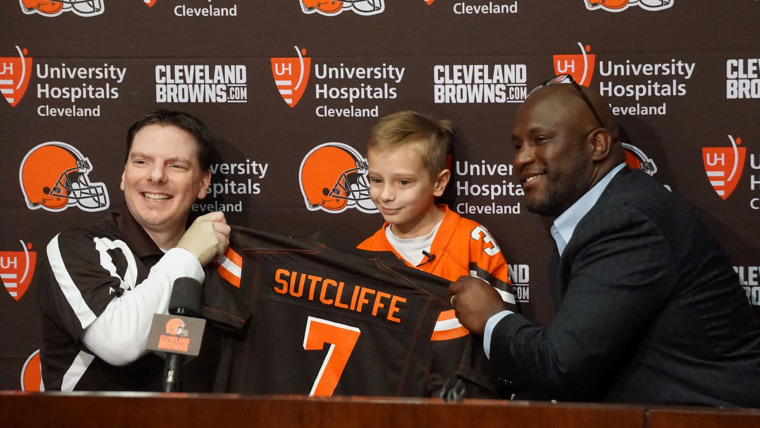 "That was a complete shock,'' Derek said. "We had no idea there would be a real press conference. I said to him, 'Are you going to be able to go up and talk?' And he said, 'Yeah, it's cool.' His speech is delayed, but that was the coolest I've ever seen him. He handled it like a total pro, and he wasn't scared at all. He liked the fact people were asking him questions."
He came to the practice wearing the jersey of Browns safety Donte Whitner, but he left wearing a personalized No. 7 jersey given to him by the team. He also had a locker next to star cornerback Joe Haden's that was filled with Browns swag like a helmet, wristbands, gloves and a football.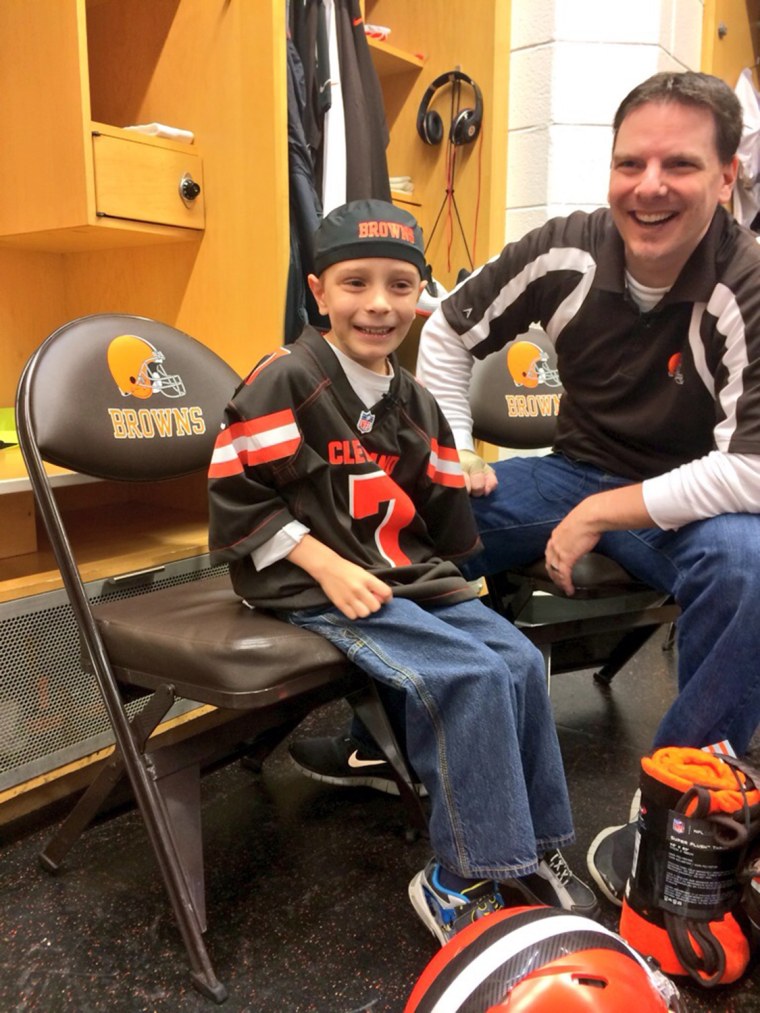 "He was at his happiest when he got to put on all his new Browns gear,'' his father said.
Dylan also got to meet his favorite player, 6-foot-3, 335-pound defensive lineman Phil Taylor. Dylan's younger brother, Sean, who also has A-T and has already battled cancer, another side effect of the disorder, immediately let his big brother know when he spotted Taylor.
"I took him to a preseason game about four years ago and he said, 'Who is the biggest guy on the team?''' Derek said. "I told him it was Phil Taylor, and after the game, he said, 'My favorite player is Phil Taylor.'''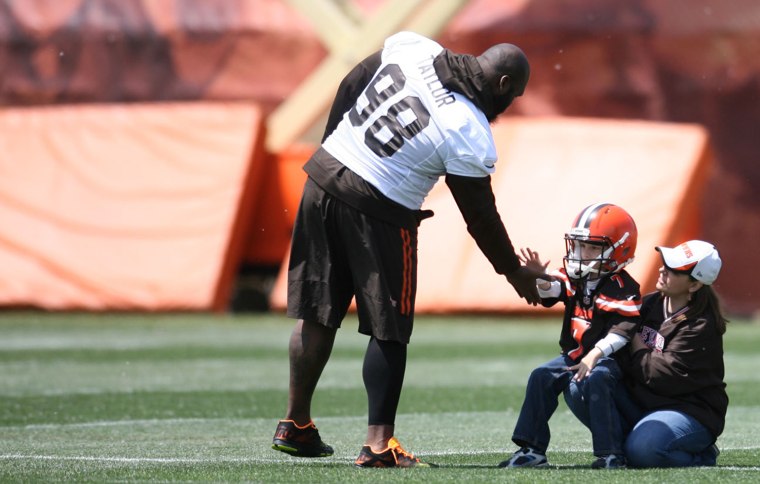 It was a fun day not only for Dylan, but also for Sean. The family also hopes to spread awareness of A-T and to raise money to fight the disease.
"Dylan's in his wheelchair, and his little brother is behind the wheelchair pushing him,'' Tekancic said. "Looking at the two of them, knowing Sean could be in the same circumstances in a couple years, they just live in the moment. They were just having a blast."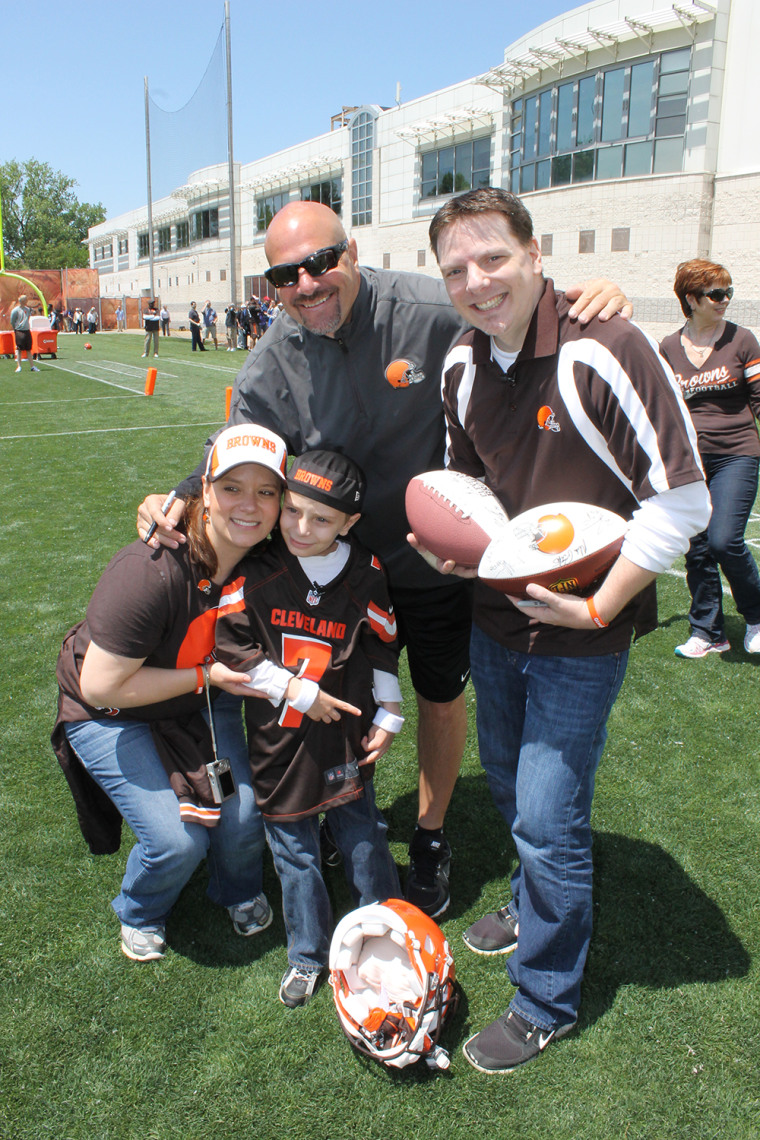 Derek had filled out the Make-a-Wish Foundation application last August, hoping Dylan's dream to meet the Browns would come true before his condition worsened. He was able to get out of his wheelchair for periods during the day to run around the field.
"He is regressing quickly with his mobility, so I was hoping to get this to happen when he could stand on his own two feet, and it was a miracle to get it done,'' Derek said. "He wanted to practice his running and catching the football. He got to have his own little practice on the sideline."
At the end of practice, Taylor lifted Dylan into the air as the team huddled around him.
On the way home, the limousine stopped at Dylan's favorite place, Wendy's, to get him a kids' meal. The next day was his last day of third grade at Sunview Elementary School in Lyndhurst, where he got to tell his friends all about meeting the Browns and hand out posters of Whitner that were given to him by the team.
"He wore his jersey for the rest of the day,'' Derek said. "He was beat, but he was completely content. Even though Dylan is going to have a short life, he is going to make the most of it."