He's an action star who's wielded swords, axes and Thor's mighty hammer on the big screen. But back at home, Chris Hemsworth is a father with a tough audience — 2-year-old twin sons and a soon-to-be 4-year-old daughter.
In fact, his little girl, India, wasn't wowed at all when she first saw him as a superhero.
"You know, my boys are still too young," he told TODAY's Dylan Dreyer. "But my daughter, the first time she saw me as Thor, she was like, 'Take it off!' — you know, with the wig and sort of pulling at the beard and everything. [She] didn't get it. And then now, she comes and she has a sort of second look where she's like, 'OK! You've got a wig on.'"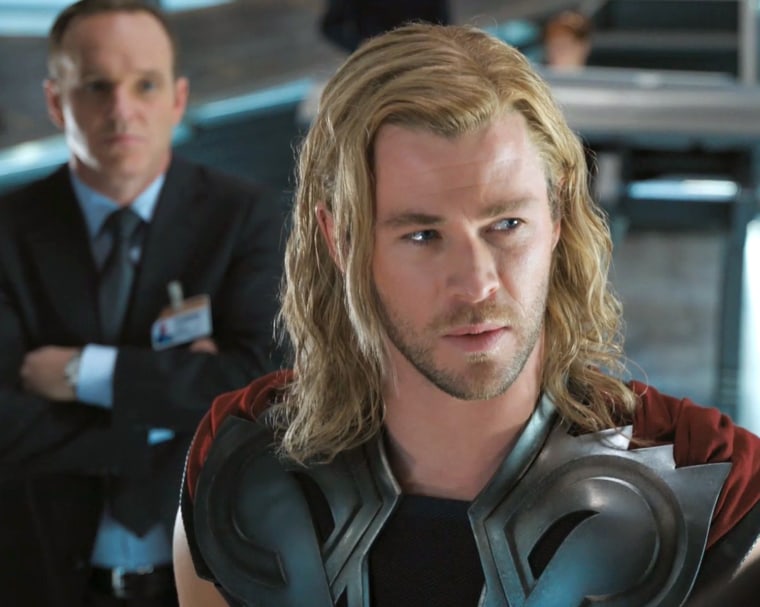 MORE: Chris Hemsworth has perfect response when his daughter, 4, demands 'a penis!'
While it took her some time to accept dad as Thor, she was just fine with his role in "The Huntsman: Winter's War" — the prequel to 2012's "Snow White and the Huntsman" — right from the start.
"I mean, she'd come to the set [and] it was the castle," he explained. "And then the next day she went to school and was telling everyone that her dad works in a castle and fights the bad guys with the princess and the warriors."
In other words, he was suddenly a legendary dad in her eyes.
MORE: Chris Hemsworth reveals he's 'pretty good' at braiding daughter India's hair
But when he's home, he tries his best to leave work behind and just be a regular dad.
"You just have to remind yourself to sort of switch off and put the phone aside and, you know, there's that sort of guilt where you wake up and you go, 'What haven't I done? I need to prep something and do something,'" he said. But then he realizes what he really needs to do. "And it's like, 'No, no, they need a change — change their nappies."
See more from Hemsworth when "The Huntsman: Winter's War" opens in theaters Friday.
Follow Ree Hines on Twitter.