Victor Wembanyama, who is considered the most-hyped NBA rookie since LeBron James in 2003, cemented his presence in the league in just the first minute of his regular-season debut last week.
The 19-year-old Frenchman, a forward-center for the San Antonio Spurs who is listed as 7-foot-4-inches tall on the team's roster, blocked a shot roughly 30 seconds into his first regular-season game, a home loss on Oct. 25 against the Dallas Mavericks.
He also notched 15 points, five rebounds and two assists, a stat line similar to what Spurs legend Tim Duncan put up in his debut game as a rookie: 15 points, 10 rebounds and two assists.
Between the preseason and the regular season to date, Wembanyama's highlights have also included a block of a three-point attempt by Golden State Warriors star Klay Thompson, blocked dunks and drained threes.
Tom Orsborn, a sports reporter for the San Antonio Express-News for 38 years, tells TODAY.com he has attended all of Wembanyama's NBA workouts since Oct. 2 and expects Wembanyama to continue to progress in an upward trajectory.
"I've been very impressed with what I've seen," Orsborn says. "I do think he'll be definitely in the running for Rookie of the Year. Also, in the running for the NBA's All-Defense team. His defensive skills, his shot-blocking skills are off the charts with that size and his mobility."
Wembanyama joins the NBA from French league Betclic Elite (also known as LNB A), where he played with Metropolitans 92. He emerged as one of the most dominant players in that league, and was named its Most Valuable Player in 2023.
Wembanyama declared for the NBA draft in April and was later selected as the first overall pick by the Spurs.
Learn more about Wembanyama below.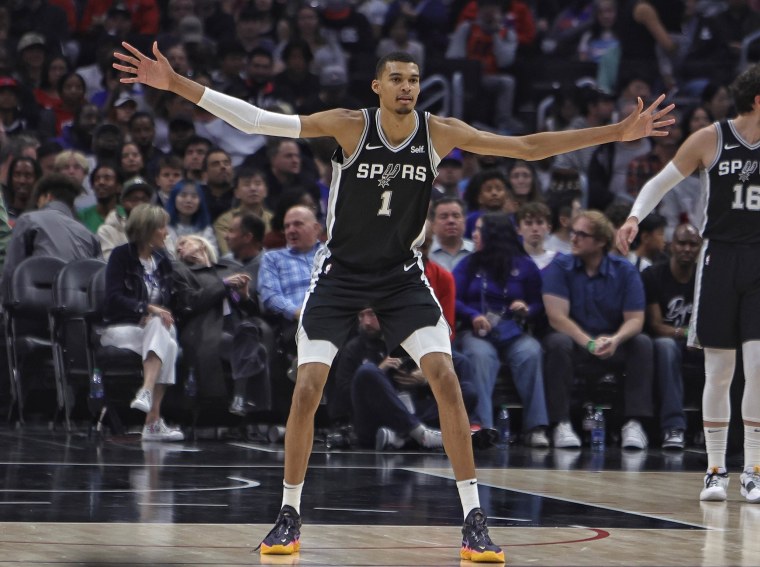 Who is Victor Wembanyama?
Wembanyama is originally from Le Chesnay, France, a western suburb of Paris. His father, Felix Wembanyama, reportedly competed on track and field teams in events including the triple jump and high jump. His mother, Elodie de Fautereau, coaches basketball and is a former player.
Wembanyama is a middle child who has an older sister, Eve Wembanyama, who plays professional basketball, and a younger brother, 16-year-old Oscar Wembanyama, who also plays basketball and has generated some buzz.
Wembanyama grew up playing sports and became a professional basketball player at age 15; he'd go on to play for a few teams in France. He notably competed for a EuroCup and played in the EuroLeague.
Murmurings about him began picking up in the U.S. around October 2022 when he played two games against the NBA's developmental G League Ignite team and showed out with 37 points, five blocks and four rebounds in the first game and 36 points, four blocks and 11 rebounds in the second. Shortly after the games, the NBA announced that it would stream Wembanyama's games with his French team at the time, Metropolitans 92, on its app.
Why is everyone talking about Victor Wembanyama?
Conversations about the NBA often include Wembanyama nowadays, particularly because he's made a handful of three-pointers and is crossing up defenders in addition to being a rim protector.
Orsborn says the praise is warranted.
"Usually someone 7-foot and above, they're referred to as a rim protector, which they're down low protecting the rim," Orsborn says. "But he's able to jump out on the perimeter and defend guards."
"We've never seen anything like this," he adds.
Orsborn says Hall of Famer and former Spurs center David Robinson, for example, may be the most similar to Wembanyama. But Robinson was muscular and a few inches shorter, and that difference is enough to put Wembanyama in a category of his own.
"We've seen other people that size that have been talented," he explains. "But we've never seen anyone with his kind of body type. Victor's 7'4" and he's very thin, very gangly, but just so coordinated. So graceful. It's just really unique seeing a human being perform like he does. I think that's where the hype comes from, and he's been known in the basketball world since he was 14 or so. It's just been slowly building. You knew this guy was coming (and) would be in the NBA. The momentum has built up year after year."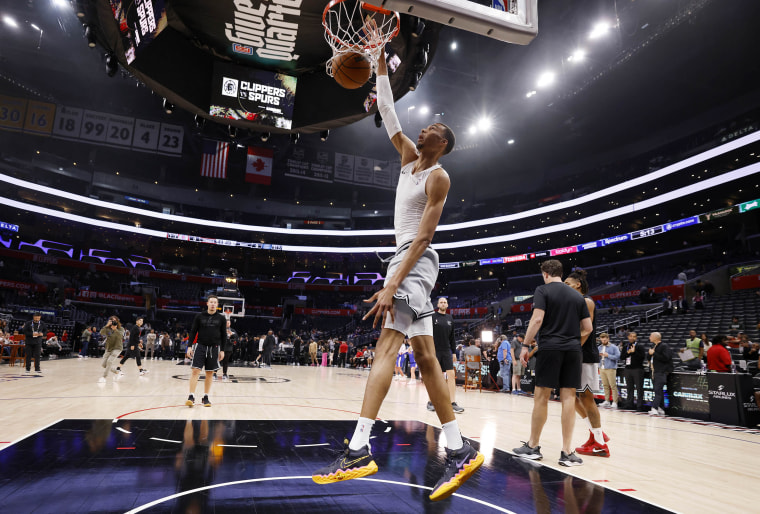 How are teams adjusting to playing Victor Wembanyama?
The No. 1 overall draft pick in 2023 sent a clear message to other players when he blocked Mavericks guard Kyrie Irving's jump shot attempt in the opening minute of the Spurs' regular-season opener on Oct. 25.
As far as disrupting passes, he's deflected or stolen several already and is averaging 1.5 steals so far in the regular season.
Plus, Wembanyama leaving the paint and defending guards will prompt teams to clean up their passing, Orsborn says.
"Teams are going to adjust to that," he says. "The ball movement has to be more crisp when he's on the court."
He says to prepare for how Wembanyama can block shots, opposing teams in practice are having players shoot over staffers who are holding oar-like extensions to replicate Wembanyama's height. They are also practicing shooting higher into the air.
The rookie is averaging 16.3 points, 7.5 rebounds, 2.3 blocks and 1.5 assists per game four games into the regular season. His field goal percentage sits at 46%, with his three-point percentage at 26.3%.
Is Victor Wembanyama the new Tim Duncan?
Wembanyama has been compared to the Spurs' legendary center Tim Duncan. Orsborn says he thinks that Wembanyama has more work to do before comparisons to Duncan are merited.
"I'm going to tap the brakes on that comparison," Orsborn says. "Victor's skills, his talents are going to exceed and they do exceed what Tim was gifted with. But when you talk about the whole total package, Tim Duncan was incredible. His desire to win, his single-minded focus, the way he was so inclusive as a teammate and the way he was so compatible with his head coach, Gregg Popovich, he was really, really special."
Orsborn says from what he's seen of Wembanyama's workouts and games, these advancements are on the way.
"He's a really, really intelligent guy," Orsborn says of Wembanyama. "He's got a great coaching staff around him. The veteran players on the team, although they're young also, they really mesh well with him. And I think as time goes on, we'll see more and more improvement based on him and his teammates jelling and just gaining better on-court chemistry."