The 2023 FIFA Women's World Cup is kicking off in one month and we now know three of the players who will be representing the United States at the competition.
Congratulations are in order for Lynn Williams, 30; Kristie Mewis, 32; and Kelley O'Hara, 34, who appeared on TODAY on June 21 as anticipation builds for the upcoming tournament.
All three players currently play for Gotham FC, a team in the National Women's Soccer League, based in New Jersey. For O'Hara, it will be an impressive fourth World Cup appearance.
"Honestly, it felt like I was getting called for the first time to go to a World Cup," O'Hara said on TODAY. "I'm so excited. This is my fourth one, but when I got the news I honestly broke out in tears I was so excited."
This is the first World Cup for Mewis and Williams.
"It feels really good, I'm so excited," Mewis said. "I'm honestly so excited to have these two (Williams and O'Hara) with me. They've been my rock through this whole journey."
"I cried as well," Williams said. "We train so long and we fight so hard to do this, so it means everything to me."
The full team roster of 23 players was unveiled later in the morning on June 21 and includes nine players who were part of the U.S. team that won the World Cup in 2019. The full roster is as follows: 
Goalkeepers: Aubrey Kingsbury, Casey Murphy, Alyssa Naeher
Defenders: Alana Cook, Crystal Dunn, Emily Fox, Naomi Girma, Sofia Huerta, Kelley O'Hara, Emily Sonnett
Midfielders: Savannah DeMelo, Julie Ertz, Lindsey Horan, Rose Lavelle, Kristie Mewis, Ashley Sanchez, Andi Sullivan
Forwards: Alex Morgan, Megan Rapinoe, Trinity Rodman, Sophia Smith, Alyssa Thompson, Lynn Williams
Rapinoe, 37, and Morgan, 33, two of the world's biggest names in women's soccer, each return for their fourth World Cup. Rapinoe scored the most goals of any player in the 2019 World Cup and earned Golden Ball honors as the tournament's top player. 
Ertz returns for her third World Cup, 10 months after welcoming a baby boy with her husband, Arizona Cardinals tight end Zach Ertz. Goalkeeper Alyssa Naeher is also back for her third World Cup.
The 14 World Cup newcomers are led by forwards Sophia Smith, 22, who was the MVP of the NWSL last year, and Trinity Rodman, 21, the NWSL Rookie of the Year and daughter of NBA Hall of Famer Dennis Rodman. 
The 32-team Women's World Cup begins on July 20 and is being co-hosted by Australia and New Zealand. The U.S. enters as the defending champion and the top-ranked team in the world under head coach Vlatko Andonovski.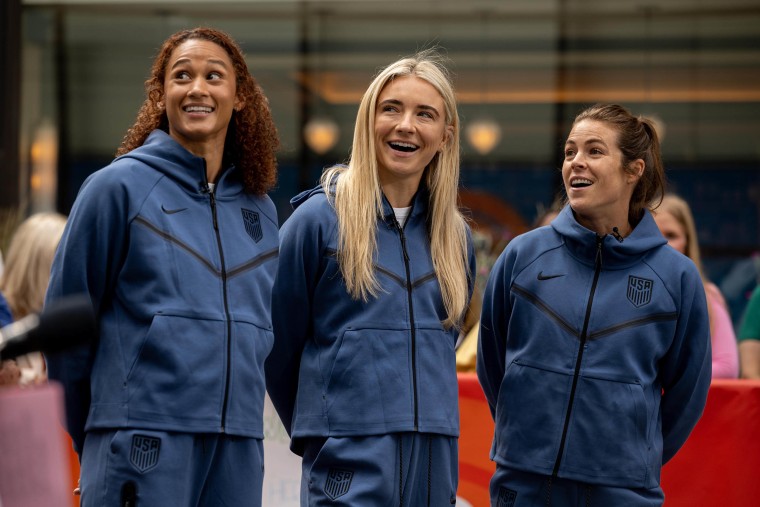 Injuries have robbed the USWNT of some of their top players, including defender Becky Sauerbrunn. The "heartbroken" captain announced last week that she would miss the tournament due to a foot injury.
Forward Mallory Swanson also underwent surgery in April after tearing the patella tendon in her left knee during a win over Ireland.
The World Cup will run for one month, ending on August 20. Eight countries will be making their debut at this year's competition: Morocco, Haiti, Panama, the Philippines, Portugal, Vietnam, the Republic of Ireland and Zambia.
The United States won the last two Women's World Cups in 2019 and 2015, and has won four overall. The first game for Team USA will be July 22 against Vietnam in New Zealand, which will be broadcast at 9 p.m. ET on July 21 due to the time difference.
When speaking to two-time World Cup champion and sports analyst Julie Foudy for CNN about potentially winning a third time in a row, star player Megan Rapinoe said a "three-peat is, like, iconic."
"I think in professional sports, that's, like, a gold standard. It's so difficult," she said. "Winning one is so difficult, winning two is so difficult."
This is a developing story. Check back for more updates.