In 2013, it was a joke tweet by an 18-year-old college golfer about a fortune cookie from the Chinese restaurant Panda Express.
On April 9, it became a prophecy fulfilled when Spanish star Jon Rahm captured his first Masters title.
Rahm, 28, predicted his future greatness nearly a decade ago when he tweeted a photo of a message from a Panda Express fortune cookie that read, "Your talents will be recognized and suitably rewarded."
"I am gonna win the masters! @goodwalkspoiled" Rahm tweeted while tagging Tim Mickelson, his college golf coach at the time.
Rahm was a sophomore at Arizona State University when first received the ancient wisdom from his meal at the fast food joint.
Rahm arrived at ASU on a golf scholarship from a small town in the Basque Country of Spain, and he did not speak English. He graduated four years later with a communications degree.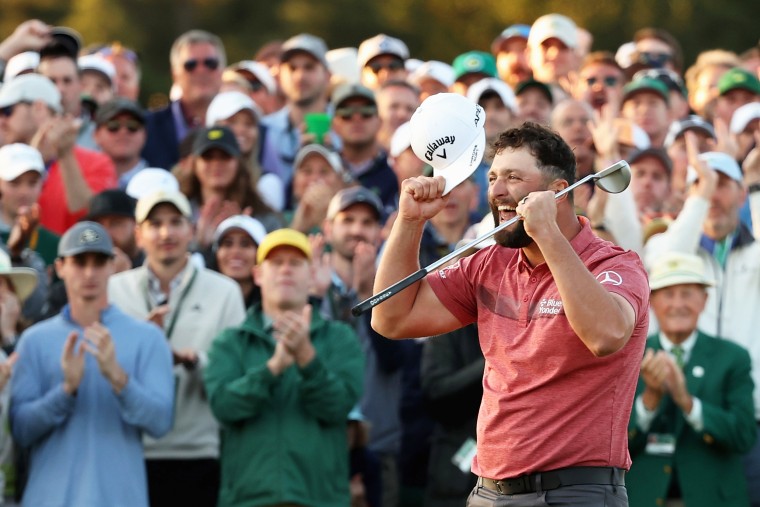 In another twist, Rahm's old college coach is the younger brother of golf superstar Phil Mickelson, who finished tied for second behind Rahm on Sunday.
Tim Mickelson was at the iconic course in Augusta, Georgia, to see his former player's victory because he was working as his brother Phil's caddy.
Sunday also was the birthday of late Spanish legend Seve Ballesteros, Rahm's golfing idol, who won his second Masters title 40 years ago in 1983. Ballesteros died in 2011.
Rahm finished at 12-under par, four strokes ahead of Mickelson and Brooks Koepka, who began Sunday's final round as the leader but slipped to finish at 8 under.
The win marked Rahm's first green jacket — the coveted top prize at the Masters, one of golf's four prestigious major tournaments.
The Panda Express prophecy was so strong it also helped Rahm overcome an ominous start.
He four-putted for a double bogey on the first hole of the tournament but then rallied back into contention. Golf legend Sam Snead is the only other player to start with a double bogey on the first hole and win the Masters, according to The Associated Press. Snead did it in 1952.
With the victory, Rahm ascended to the No. 1 ranking in the world. He also picked up his second win in a major to go with his 2021 victory at the U.S. Open.