In his first interview since going to prison in October, former Penn State assistant football coach Jerry Sandusky disputed the account of a key witness and said legendary coach Joe Paterno would never have let him coach if he thought Sandusky was a pedophile.
"If he (Paterno) absolutely thought I was (a pedophile), I'd say no,'' Sandusky said. "If he had a suspicion, I don't know the answer to that."
Filmmaker John Ziegler is working on a documentary called "Framing Paterno," a defense of the late coach, and conducted telephone interviews with Sandusky. Portions of those interviews were played exclusively on TODAY Monday. Sandusky was convicted on 45 counts of child sexual abuse and given 30 to 60 years of solitary confinement, the equivalent of a life sentence for the 69-year-old.
"Jerry Sandusky already had his day in court," Ziegler told Matt Lauer Monday. "I'm trying to get Joe Paterno, effectively his day in court...I have no doubt that Jerry Sandusky was guilty of many of things, if not all the things, that he was accused of, but I do believe there were due process problems with the trial." Ziegler said he has 3 1/2 hours of interview material with Sandusky.
The Paterno family attorney responded to Ziegler's interview, saying in a statement the family had "no role in obtaining or releasing this recording. Moreover, they believe that any attempt to use this recording as a defense of Joe Paterno is misguided and inappropriate."
Statement by Paterno family attorney regarding Sandusky tape
Former Penn State assistant coach Mike McQueary was a key witness in Sandusky's trial. He testified before a grand jury that in 2001 he heard sounds of a sexual nature and then saw Sandusky with a 10-year-old boy in the shower of a campus locker room. Sandusky disputed McQueary's version of what he witnessed in the locker room.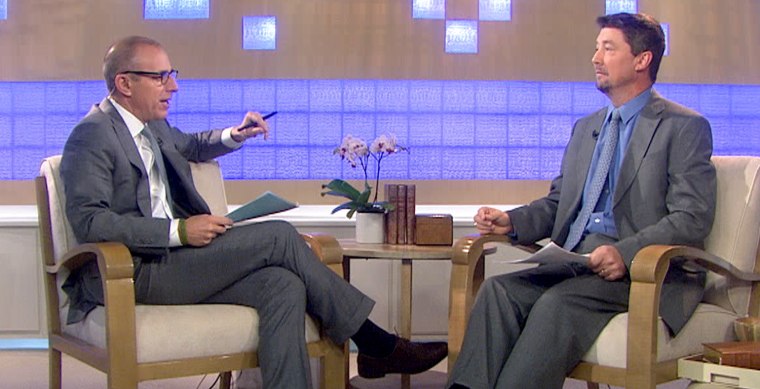 "I don't understand how anybody would have walked into that locker room from where he was and heard sounds associated that was sex going on like he said that could've been,'' Sandusky said. "I mean, that would have been the last thing I would have thought about. I would have thought maybe fooling around or something like that.
"I think there's a lot of things that transpired," Sandusky said of the process that convicted him. "I think these investigators, the way they went about business, his story changed a lot. I think he said some things and then it escalated on him even. There's a lot of suggestive questioning."
"It depends on which version of Mike McQueary's testimony you believe," Ziegler said on TODAY. "I don't believe that Mike McQueary is lying, by the way. I think a large part of what's happened here is over 10 years your memory changes and then when a prosecution is desperate for a witness they might twist your arm a little bit. I think it's important to keep in mind that we didn't have as much information about Jerry Sandusky in 2001 as we do now."
In a statement to NBC News, Penn State responded to TODAY's segment, saying "Jerry Sandusky's statements today continue to open wounds for his victims, and the victims of child sexual abuse everywhere. We have tremendous respect for the men who came forward to tell their stories publicly. Penn State continues to take important steps, including the training of over 11,000 employees and volunteers on how to recognize and report suspected child abuse."
Attorneys for Victim 2, the victim from the shower episode, released a statement to NBC News, saying "Jerry Sandusky is a convicted child predator giving interviews from prison. Our clients, including Victim 2, have heard enough from Jerry Sandusky. They are focused on healing and holding Penn State accountable for choosing to protect Jerry Sandusky and themselves instead of protecting children from years of horrific sexual abuse."
Lauer read the statement to Ziegler on air. "I do find it interesting that they don't say anything about what happened in the shower that night," Ziegler said. "I'm not saying he wasn't abused, I'm not saying he's lying. I'm saying he's telling the truth on Nov. 9, 2011 and that Joe Paterno was railroaded here."
More: Sandusky attorney: 'Showering with kids doesn't make him guilty'
Jerry Sandusky to Bob Costas: 'I shouldn't have showered with those kids'
Ohio attorney general: Girls' threats against rape victim 'crossed the line'