Kellyanne Conway, who served as a top adviser to former President Donald Trump, and George Conway, a lawyer and frequent Trump critic, announced Saturday that they are divorcing after more than two decades of marriage.
The Conways, who married in 2001, said they were in the "final stages of an amicable divorce," in a statement shared to Twitter by George Conway.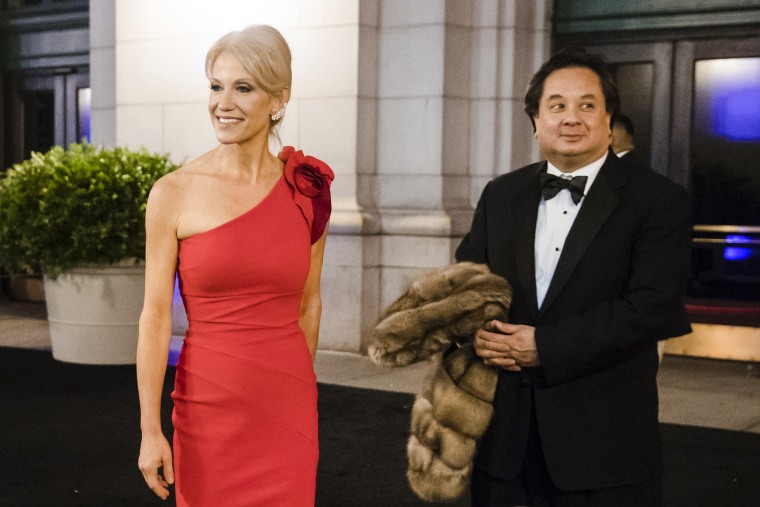 "We married more than two decades ago, cherish the many happy years (and four corgis) we've shared, and above all else, our four incredible children, who remain the heartbeat of our family and our top priority," they wrote.
The Conways were a Republican power couple, but their politics began publicly diverging with the rise of Trump. Although George Conway initially supported Trump for president, he soon soured on him and became one of his most fiery critics.
George Conway launched many of his broadsides on Twitter, where he has amassed more than 2 million followers with his anti-Trump commentary. The fact that he was a longtime Republican and married to a top Trump adviser meant that his criticisms attracted extra attention.
In 2019, George Conway, along with a small group of Trump critics, co-founded the anti-Trump Lincoln Project that worked against the president's re-election.
Kellyanne Conway served as Trump's campaign manager before she joined him in the White House as a senior counselor. While her husband was firing off his anti-Trump attacks on social media, Kellyanne Conway was one of the president's most vocal defenders in the media.
Kellyanne Conway left the Trump administration in 2020, before the presidential election.
"Our four children are teens and 'tweens starting a new academic year, in middle school and high school, remotely from home for at least a few months," she said at the time. "As millions of parents nationwide know, kids 'doing school from home' requires a level of attention and vigilance that is as unusual as these times."
Around the same time, George Conway also said that he was leaving the Lincoln Project to devote more time to family and taking a hiatus from Twitter.
When she decided to leave the White House, Kellyanne Conway said that although she and her husband disagreed on many fronts, they were "united on what matters most: the kids."
In their statement on their divorce Saturday, the Conways asked people to, "Kindly respect our privacy."
This article originally appeared on NBCNews.com.