The school resource officer who was strongly criticized for not entering the school building to confront the gunman during February's mass shooting in Parkland defended his actions in his first on-camera comments since the massacre.
Scot Peterson spoke with Savannah Guthrie in an exclusive interview on TODAY Tuesday about the shooting on Feb. 14 at Marjory Stoneman Douglas High School that left 14 students and three staff members dead.
"It haunts me that I didn't know at that moment, you know, that — those are my kids in there," he said. "I never would have sat there and let my kids get slaughtered."
Eight days after the shooting, Broward County Sheriff Scott Israel said that Peterson had done nothing to stop the bloodshed. Peterson was initially suspended and then resigned, Israel said.
Peterson, a former Florida sheriff's deputy who was the only armed guard at the school when the shooting began, said that to this day he didn't think there was an active shooter in the school. Savannah pointed out how that seems hard to believe given the numerous school shootings across the country.
"It's easy to sit there for people to go, 'Oh, he should have known that that person was up there,'' he said. "It wasn't that easy."
Surveillance footage released after the incident caused outrage after showing Peterson calmly stationing himself outside the building rather than entering to try to stop alleged gunman Nikolas Cruz, 18, a former student who was armed with an assault rifle.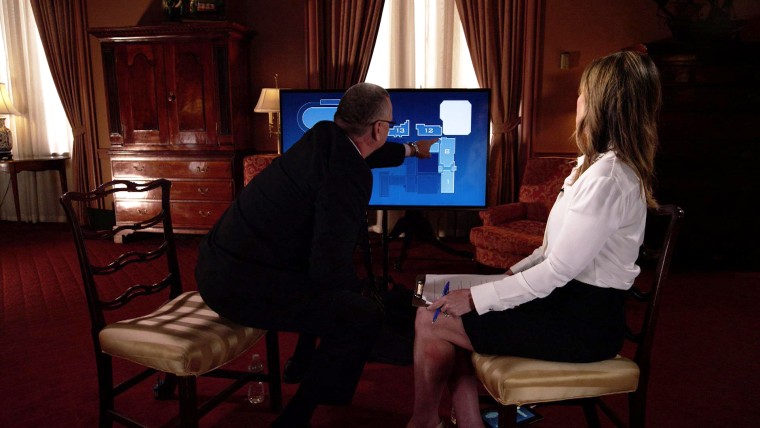 Peterson revealed he did not think to run in the school's Building 12, where the shooting occurred, after hearing gunshots.
"When I heard those shots outside, I didn't even think that someone was inside the building,'' he said. "I never even thought that. I thought, 'There's shooting outside here. I don't know where it is.'''
Peterson maintained that after he received a report of "firecrackers" from a school monitor, he ran from his office and took up the position outside because he thought there was potentially a sniper inside Building 12 or in the parking area.
President Trump called Peterson "a coward" in comments before an appearance on Feb. 23, adding that Peterson "didn't have the courage" and "did a poor job."
Peterson refuted the characterization that he was a coward for not entering the building.
"The families need to know, I didn't get it right, but it wasn't because of 'I don't want to go into the building (or) I don't want to face somebody in there,''' Peterson said. "It wasn't like that at all."
"I never thought even for a moment of being scared or a coward because I was just doing things the whole time. It never entered my mind."
The shooting lasted less than 10 minutes, with Cruz arriving at the school in an Uber at 2:19 p.m. and leaving by 2:27 p.m., according to surveillance video and police radio traffic.
Peterson arrived outside of the building at 2:24 p.m., when Cruz was making his way up to the third floor on his way to killing six more people in only three minutes. He took his position, believing there might be a sniper on the scene.
He also noted that he was not getting real-time information from the Broward County Sheriff's Office dispatcher because the 9-1-1 calls from students in the building were instead being routed to the neighboring Coral Springs Police Department.
When officers from Coral Springs arrived, none of them told him there was an active shooter inside, Peterson said. He also claimed he received conflicting reports that there were shots fired at the football field and near the middle school, which were nowhere near the shooting.
Peterson also addressed why it took so long for him to figure out where the gunfire was coming from.
"It's a hurricane-proof building,'' he said. "It's hard to even hear. It's a very thick glass."
In the aftermath of the shooting, Peterson is now facing lawsuits, including one from the father of 18-year-old victim Meadow Pollack.
"Within a minute, Scot would have had to have known what was going on, assess the situation, enter the 1200 building, cleared various rooms and gone up to the third floor, engaged Nikolas Cruz, who was carrying an AR-15, with Scot and his service weapon, and then proceed to have some type of shootout in 45 seconds?" Peterson's attorney, Joseph DiRuzzo, said on TODAY. "Looking back today, I don't think that's realistic."
In opening up about the incident, Peterson acknowledged, "I'm never gonna get over this ... those were my kids ... I was there to protect those kids."
####
Follow TODAY.com writer Scott Stump on Twitter.