The bus operator involved in a fatal crash last week in New York previously failed various safety inspections and was listed as an "unacceptable operator" by the New York State Department of Transportation.
The bus operator — confirmed by the National Transportation Safety Board as Regency Transportation Ltd. — was carrying 40 students from Long Island's Farmingdale High School's marching band when one of its buses departed a travel line on Interstate 84 and rolled down a 50-foot ravine.
A document obtained by NBC News shows Regency Transportation Ltd. failed five out of 15 safety inspections for the New York State Department of Transportation 2022-23 year. The record also lists the company as an unacceptable operator. TODAY.com reached out to the New York State Department of Transportation for further clarification on what the consequences were if an operator was listed as unacceptable but did not get a response.
John Humm, an investigator for the National Transportation Safety Board, confirmed in a Sept. 22 news conference that local law enforcement believed the accident occurred after the bus' left front tire experienced a failure.
The charter bus was taking 40 students and four adults to band camp in Pennsylvania, a district spokesperson confirmed to NBC News. According to officials, most of the students onboard the bus were freshmen.
The fatal accident occurred on the afternoon of Sept. 21 on I-84 near Wawayanda, a town in Orange County in New York, some 75 miles northwest of New York City.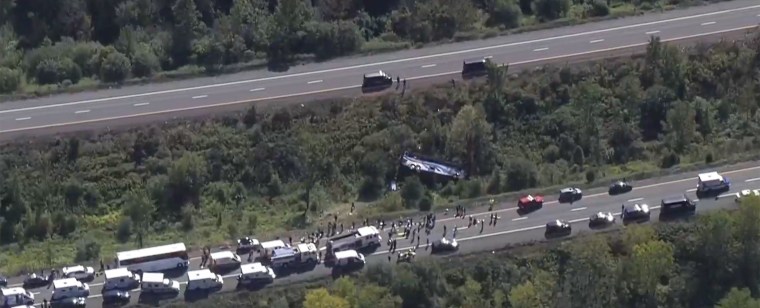 Anthony Eugenio, a 15-year-old Farmingdale High School student who was aboard the bus, told TODAY about the moment he lifted his head up after the crash.
"The kid next to me was covered in blood, I saw blood everywhere," Eugenio said.
The school's band director, 43-year-old Gina Pellettiere, and 77-year-old Beatrice Ferrar, a retired teacher accompanying students as a chaperone, died in the accident.
"She was so passionate about what she did. She loved her students," Ferrari's daughter Dr. Angela Ferrari-Aldieri said on TODAY. "My mom's impact on so many people throughout her time as a teacher and just her time in the community was profound."
Edward Hoschler, a chaperone and parent of a Farmingdale High School junior who rode in another bus that was headed to the band camp, described meeting his daughter at a reunification center.
"To see her face, it's ... nothing a parent wants to go through," Hoschler said, becoming emotional. "Once you see that they're OK, then you just think immediately everyone else, the people who were on that bus."
Hochul and New York State Police said that the accident may have been caused by a faulty front tire, but the cause was still under investigation.
"No one could have foreseen what these 40 students and four adults have experienced," the governor said. "But certainly, there are families grieving today."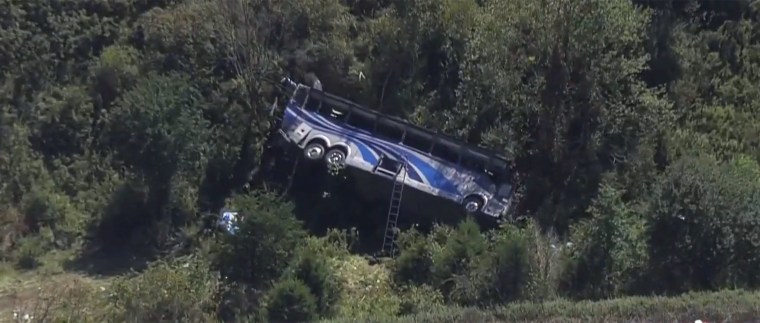 Aerial photos show the charter bus on its side surrounded by trees in the middle of a seemingly steep median off the interstate.
The high school band's Instagram page celebrated their first halftime show of the season last Friday.
"Our first halftime show of the season on Friday was a success! Great job everyone!" the caption said.
Hochul issued a statement Thursday afternoon, saying she was allocating resources to assist the response teams.
"Our hearts are with all who are impacted by this horrific situation," she said in the statement.
New York Sen. Chuck Schumer tweeted about the collision, thanking first responders.
"I'm monitoring the reports of this bus crash, and I'm praying for the students, passengers, families, and everyone involved," Schumer said. "We thank all of our first responders on the scene."
New York State issued a traffic alert to X, formerly known as Twitter, at 10:40 local time, reporting that "Orange County 84 town of Wawayanda westbound road closed at exit 15 for accident investigation."