While the world remembers Frank Gifford as a legendary football player and broadcaster, Hoda Kotb and Jenna Bush Hager shared cherished memories of him on TODAY Monday as a dedicated father and loving husband who loved to laugh.
Gifford, the husband of TODAY's Kathie Lee Gifford, died at 84 years old of natural causes at the family's Connecticut home on Sunday. Kotb emotionally recalled the first time she met him at the family's house, where he gave her the secret to having great chemistry on television with Kathie Lee.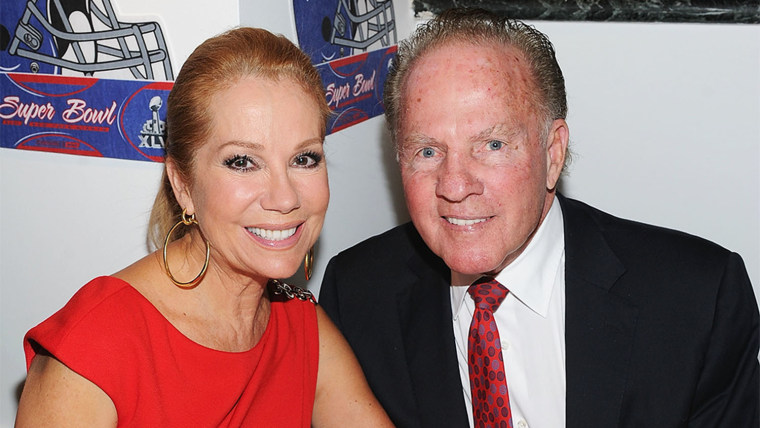 "Frank said to me, 'I know a little something about a hit show because I had one on 'Monday Night Football,' and he said, 'Let me tell you how you can have a hit show with Kathie Lee: You have to trust her with everything you have,'' Kotb said. "She is the most trustworthy person I have ever known. I never forgot that. That showed how much love he had for her."
Kotb met with Kathie Lee hours after the death of the Pro Football Hall of Famer on Sunday, recounting how Kathie Lee called Frank's life "a triumph" and admiring her faith during a difficult time.
"She asked for people not to come to her house yesterday, so I left the airport and drove to her house,'' Kotb said. "When I got there she looked at me and she said, 'I'm so glad you never listen to me.' You know how she talks about her faith and I know she lives her faith and I believed it, but I've got to tell you I didn't believe it more than I did yesterday when I saw her after that. Frank had passed away hours before and she said she was rejoicing in his life. When she said it, you felt it."
He had two children with Gifford, Cody and Cassidy, and also had three children, Jeff, Kyle and Victoria, from his first marriage.
"The legacy that he left are his kids, who are the most kind, loving kids,'' Hager said.
He also had a great sense of humor, as Kotb and Hager smiled after watching old clips of him trading one-liners with Kathie Lee on TODAY. The two shared the same birthday, which they would have celebrated together on Aug. 16. They once did a segment together where he said the reason their marriage worked was because he never said no and told her she looked skinny all the time.
"It feels like just yesterday we were all sitting here and she was making jokes about him and her and them and the kids and the rest of it,'' Kotb said.
Frank's kindness and sense of humor also extended to his colleagues in the television booth, as his former "Monday Night Football" broadcast partner, Al Michaels, remembered during Sunday night's Hall of Fame game between the Vikings and Steelers.
"He was a very special man in so many ways,'' Michaels said during the broadcast.
His family was what always came first, as he summed up in an old interview with the Archive of American television about how he wanted to be remembered that Kotb read on TODAY.
"First and foremost as a good father who had a job and did it well. A better husband this time then I was the other time. Somebody who cared passionately about playing the game, reporting it properly. Kept my life in the right perspective. Never believed I was something I wasn't, and rarely believed I was what I was."