If elected president, Donald Trump says he would not allow any Syrian refugees from the war-torn country to enter the United States.
"They're going back,'' Trump told Matt Lauer on TODAY Monday at a town hall in New Hampshire. "They shouldn't be brought here. You do things where you take care of the people, but I don't want 250,000 people coming into the United States. I would take none. We have to help these people, I'm OK with it, but they're not coming to the United States."
MORE: Donald Trump's TODAY town hall covers guns, ISIS — and the last time he ate McDonald's
Trump proposed an alternate solution to the refugee crisis by having them remain in a "safe zone" in Syria.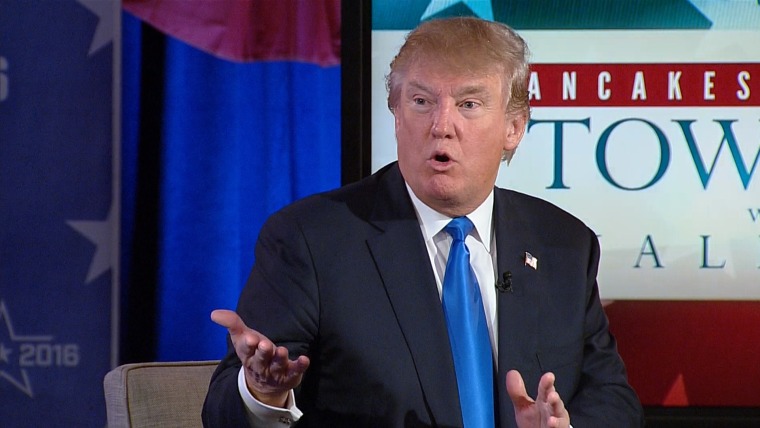 "What should happen is that the United States and everybody else, including the Gulf states, who are not spending any money and are rich as can be, they should build a safe zone,'' he said. "Take a big piece of land in Syria, and they have plenty of land, believe me. Because I have a heart. It's horrible to watch, but they shouldn't come over here. Then when that country gets back, they can maybe go back to their homes."
More: Donald Trump: 'I have tremendous respect for women'
The Republican front-runner for the presidential nomination fears astronomical costs and other issues from an influx of Syrian refugees. He claimed many of the potential immigrants would be adult males, with few women and children.
"This could be the greatest Trojan horse — it probably isn't — this could be the greatest Trojan horse of all time,'' he said. "We're going to take them and put them in our country. It's going to cost billions of dollars. I said if that happens, I'm sending them back. These people could be ISIS, they could be fighters, they could be doing something, that's why I say it could be a Trojan horse."
Follow TODAY.com writer Scott Stump on Twitter.