One fast food worker in Indiana is inspiring customers by working through injuries in an effort to feed the homeless this holiday season.
With a neck brace and one arm in a sling, Jakeem Tyler has been ringing people up at his job at Chick-fil-A in Avon, a suburb of Indianapolis.
Recently, one customer asked him about his injuries, and when Tyler told him he was working because he needed the money, and also because he wanted to help feed homeless people, the customer was touched.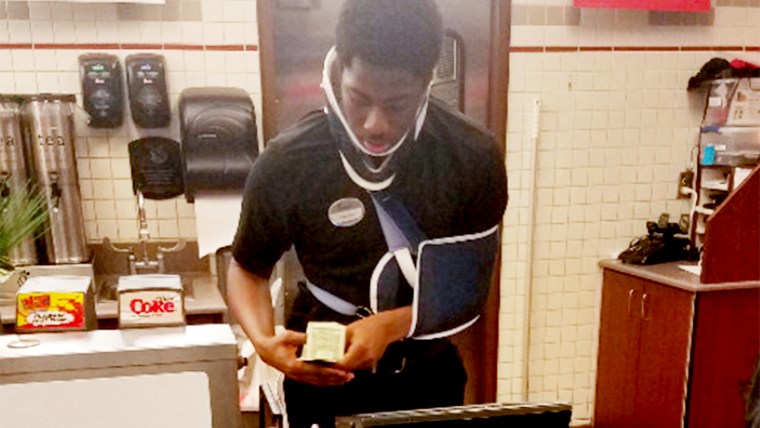 "We sneeze too hard and decide to call in (sick), but he's working like nothing's wrong," Cameron Nelson wrote on the GoFundMe page he started for Tyler, an 18-year-old high school student. He posted a photo of Tyler behind the cash register.
"I had never seen anybody his age working in that type of condition," Nelson told TODAY. "Normally we look for opportunities to go home from work any chance we get. So it surprised me. He very well could have been at home in bed resting."
Now people have raised more than $37,000 to help the teen.
RELATED: School bus driver draws praise after buying hat, gloves for kids who don't have them
His dad Tracy Tyler told TODAY that his son was injured in a car accident on Nov. 30, suffering injuries to his shoulder, neck, knee and wrist.
"He wanted to work," his dad said, so Jakeem returned to his job at Chick-fil-A a couple days later.
Tyler added that his son often feeds homeless people on his way home from work.
"Whenever he has the money, he'll purchase some food at the end of his shift, and he'll stop along the way home and give it to people," Tracy said.
The Chick-fil-A franchise owner called Tyler a "phenomenal young man and an outstanding team member."
"He is an inspiration both in terms of his work ethic and commitment to serving others," Chris Tincher told TODAY in a statement. "Although he was in a car accident recently, he returned to work after being cleared by his doctor and with the support of his family so he could not only serve alongside his team in the restaurant, but also earn money to give back to others.
"We are beyond proud of Jakeem and support his efforts to serve the homeless in our community."
RELATED: 'Proud dad moment': Sons stop car to shovel snow for man in wheelchair
Tyler said his son is "awestruck" by the donations and the attention his story has received. He added that giving back is important to their family, and that it's something people should strive to do year-round, not only during the holiday season.
"What's important to remember is the homeless aren't just hungry around the holidays," he said. "This is an everyday occurrence for some people."