If there's one couple we trust with decorating, it's Nate Berkus and his husband Jeremiah Brent.
The two interior designers (and their 2-year-old daughter Poppy) are the stars of TLC's new show "Nate & Jeremiah By Design," where they help homeowners across the country turn their deteriorating houses into beautiful homes. On Wednesday, they stopped by TODAY to help you spruced up your own space with their own go-to tips for decorating.
1. Focus on the dining table
In our home, the dining room table is often ground zero for so much that goes on, whether it's a design meeting, show planning or morning breakfast with Poppy. Approach your dining table with the idea that it can transition from where you have your morning coffee to command center for homework to the dinner table. It's also a great place to bring in a piece that will add tons of personality and texture to your space.
A vintage farm table is a great option, paired with mismatched chairs and a bench. It gives you tons of seating — so it's hard working — while also making the space feel designed.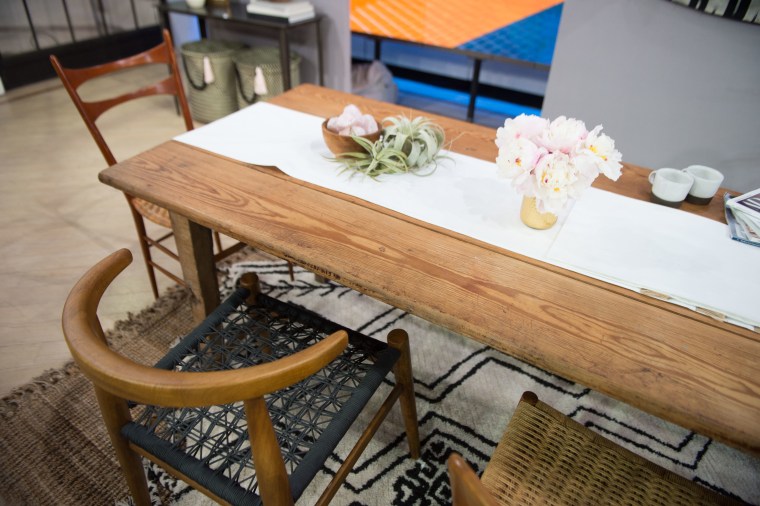 RELATED: See our 8 favorite items from Nate Berkus' new nursery line for Target
2. Try natural elements
Any horizontal surface in your home, dining room table included, is always an opportunity to accessorize and tell your own design story. One of our best tips for unexpected and accessible decor is to incorporate natural elements, like geodes or beads. You can buy a bunch and use them in bowls or next to a frame. We used a ton of pyrite and selenite for our wedding décor, and we have geodes and beads throughout our house now. They are so chic and they add great energy to the room.
3. Pick up some flowers
Fresh flowers really up the ante of any room, and they feel special. It can be as simple as a $10 bunch of roses from your corner market. They feel so fresh and are perfect for spring. There's something about flowers in a space that elevates a room — and your mood.
4. Don't forget a rug — or two
Incorporating a rug is a design pro secret. It's a great way to anchor a room and make it feel finished. One of Jeremiah's favorite tricks is to layer a different size rug on top of a larger one — and at an angle. It adds depth and is an unexpected detail that feels really important and luxe.
RELATED: Look inside Nate Berkus and Jeremiah Brent's stunning New York home
5. Add plants
There's nothing better than greenery in a space, especially as we head into spring. Plants are great for your home's feng shui, and also pair beautifully with brass and pottery. It can be as simple as going out into your garden and pulling some greenery and putting it in a pretty ceramic vase. We do it all the time at home.
For plants in your home, try putting them in woven baskets. It feels thoughtful and the woven elements give your eye a place to land in the room. We both also have this weird obsession with tassels – Nate maybe more so than Jeremiah! But they are such a fun detail to add.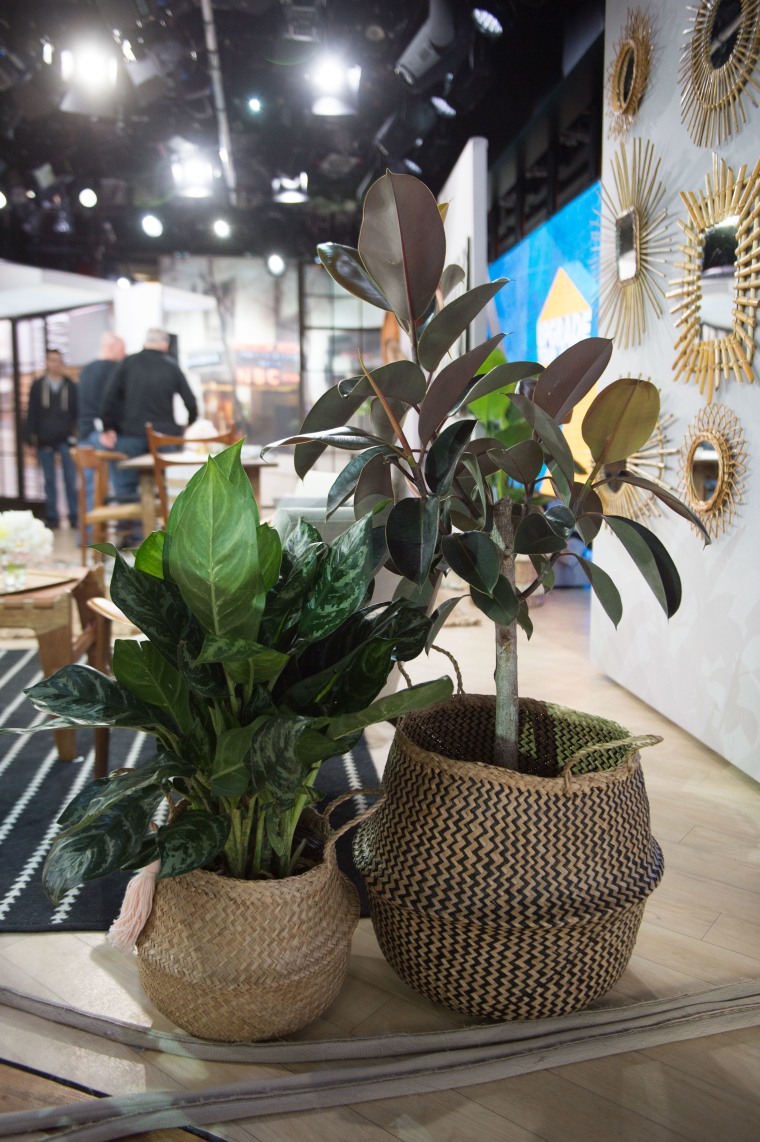 6. Personalize your space
Your console/ side table is another surface, which means another opportunity! The important thing to remember about any space is that the level of personalization is so important. In our home, we gave a console that has pottery collects from Mexico that we picked up on various trips there. Every piece has a story and reminds us of a certain time or market we were visiting.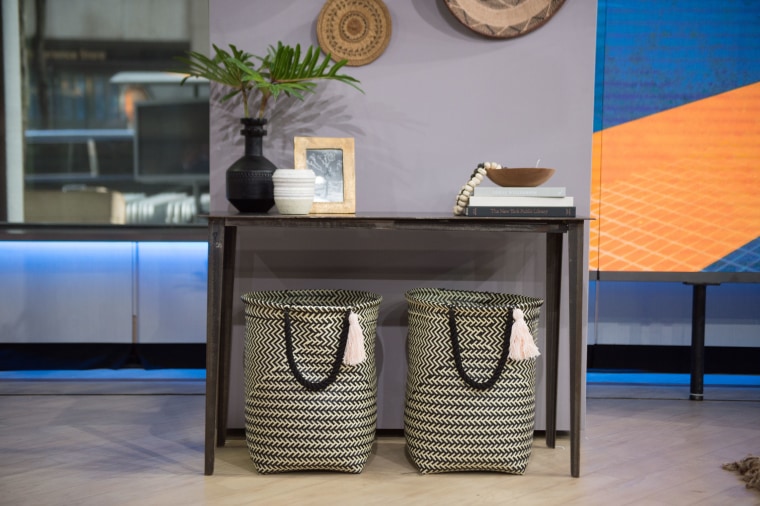 This doesn't mean you should collect tons of stuff that collects dusts. Be a thoughtful editor or your stuff and bring in special items. The thing for us as designers, we want to walk into your space and immediately know something about you. Add a stack of books, a framed photo or a vase with flowers/ greenery to round out the look.
7. Try 3-D art for your walls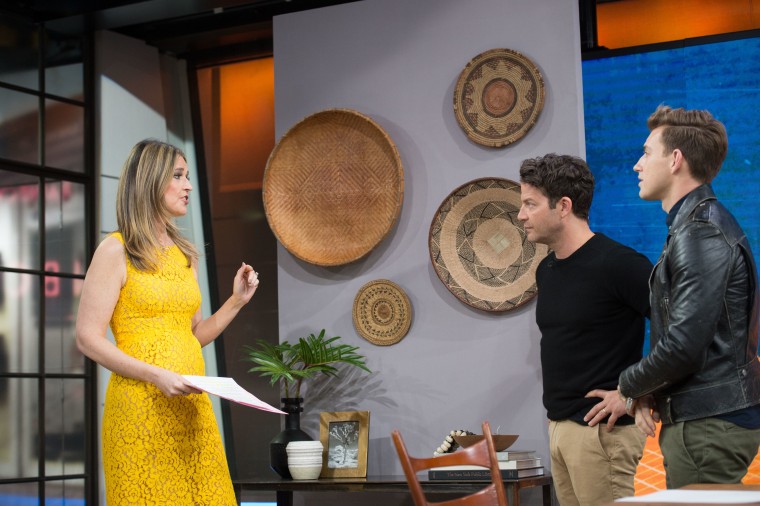 Think out of the box when it comes to art for your walls! We love using 3-D elements that feel surprising. Here, we used woven baskets on the wall. They feel so well-traveled and unexpected. Plates are another fun thing to use for the wall, or things that feel sculptural like a 3-D wall hanging.