Fanchon Turnbull Stults was a first-time mom, excitedly planning for her baby boy, when halfway through her pregnancy she learned he was in a breech position.
Breech babies, babies who are angled butt or feet first instead of head first, account for about 3 to 4 percent of full-term births, according to the American College of Obstetricians and Gynecologists (ACOG). They're just one reason a woman and her health care provider may opt for a cesarean section delivery. Both vaginal births and C-section births carry risks when a fetus is breech, but complications are higher with a vaginal delivery.
Turnbull Stults hadn't thought about having a C-section at that point in her pregnancy.
"My doctor offered me the option of trying to turn the baby while he was still in the womb and that can be painful and not successful," Turnbull Stults, 40, of Springfield, Illinois, told TODAY. "I am kind of small and a vaginal birth scared me."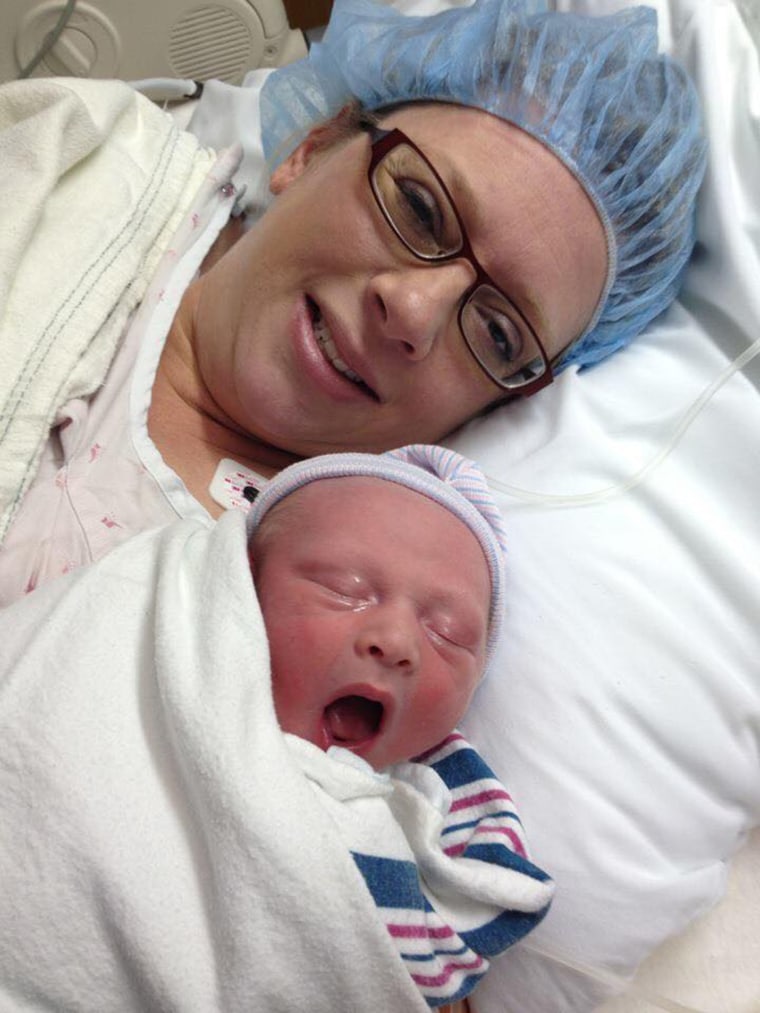 According to the Centers for Disease Control and Prevention, about 32 percent of all deliveries in the U.S. are by C-section. Breech babies are just one reason why women have C-sections; according to ACOG, these are additional reasons for delivery by C-section:
Contractions that don't progress to move the baby
A baby in distress
Multiple babies (the more babies a woman is carrying, the more likely she will have a C-section)
Problems with the placenta
A large baby
Maternal infections, such as herpes or HIV
Maternal risk factors, such as gestational diabetes or high blood pressure
After Turnbull Stults' doctor explained the options, she felt comfortable with a C-section.
"I had a good situation," she said. "I probably did have a dream experience."
Preparing for a C-section
Turnbull Stults could not eat or drink 12 hours prior to the C-section so when she woke that day, she skipped breakfast. She and her husband, Jeff, arrived two hours prior to the procedure for her prep, where a nurse inserted a catheter and an IV for fluids and medications.
Then an anesthesiologist arrived to give her an epidural block (referred to as "an epidural"), where medicine is injected through a tube placed in the lower back to numb the lower half of the body.
"I was a little nervous," she said. "The epidural burned when it went in. I never felt anything like that."
Women giving vaginal birth can also receive epidural blocks. This allows mom to be awake during the birth, while also experiencing less pain.
According to ACOG, in emergency situations during childbirth, women may receive general anesthesia during a C-section, which means they would be unconscious during the procedure. Others can receive a spinal block, which works just like an epidural block, but the anesthesia goes directly into the spinal fluid.
After receiving the epidural and being moved to an operating room, nurses placed a drape on Turnbull Stults from the waist down. She remembers the room was freezing. Minutes after the doctor said, "OK, here we go," she heard her son, Merrick Owen, who was 7 pounds, 2 ounces, squawking like a bird.
"It was weird. They cut me open and I couldn't feel it," she said.
She briefly held Merrick then the doctor stitched her up, which felt like it took longer than the delivery.
"There weren't any complications," she said. In total, she thinks the C-section lasted only 45 minutes and is lucky that it went so smoothly.
C-sections sometimes have complications, such as infection, blood loss, blood clots in the legs, lungs or pelvic organs, and injury to the bowel or bladder. A woman could also have a reaction to a medication that was used during the procedure.
"Cesarean section has a higher risk than a vaginal delivery. It introduces new opportunities for infections related to the surgery," Dr. Richard Beigi, chief medical officer of UPMC Magee Womens-Hospital, told TODAY. He did not treat Turnbull Stults.
Cost
The price tag for C-sections varies state-by-state and what people pay out-of-pocket depends on their insurance. Guroo.com, a website from the Health Care Cost Institute (HCCI), estimates that the average national cost for a C-section is $16,038, while the average national cost for vaginal childbirth is $12,560. These prices include the cost of prenatal care, delivery and postnatal care.
Recovering from surgery
Turnbull Stults had what's known as a "bikini incision," which is a horizontal incision across the lower abdomen, through which the doctors delivered the baby and placenta. Following the surgery, she was sore near the incision area and struggled to get up and down. But she was able to walk. It helped that during her two-day hospital stay, she received pain medication that kept her comfortable.
When she returned home her midsection still felt tender.
"The whole area was sore," she said.
She struggled getting in and out of bed while her abdominal muscles healed. She often rolled onto her side to get up. She had to keep her incision clean and pat it dry as the dissolvable stitches healed. For a week after, she could only hold the baby and things that weighed less than 10 pounds to prevent straining against her stitches and abdominal muscles.
ACOG noted that women can expect to feel mild cramping, following a C-section, in addition to bleeding or discharge for four to six weeks.
"Heavy bleeding is more likely when you undergo caesarean section than a vaginal delivery," Beigi explained. "It is statistically more likely for you to have a pulmonary embolism or deep vein thrombosis. It is a longer recovery and potentially a more painful recovery because you had surgery."
Turnbull Stults developed a red raised bump on one of her stitches but it never popped open and it eventually faded.
"I just had to keep the area clean and try and make sure the incision didn't come open," she said.
Six years after having a C-section, Turnbull Stults sees little evidence that she even had one.
"I can barely see the scar," she said.