TODAY is kicking off a new series, "60 Seconds to Surviving the Holiday Creep." Over the next few days, nutritionist Joy Bauer and TODAY's Jenna Wolfe, a certified personal trainer, give tips to help you stay on the diet and fitness track through holiday parties and temptations. And it's only going to take 60 seconds!
Joy Bauer's five quick-and-easy tasty tricks to trim holiday favorites:
Lose the crust on your pie. Slice off the end crust on any delicious pie—from apple to pecan—and you'll automatically save about 100 calories. 
Enjoy "a la cream" instead of a la mode. Fancy up festive desserts with aerated whipped cream versus a scoop of ice cream. The ice cream will cost you at least 150 additional calories, while a generous squirt of whipped cream a mere 20 calories.
Give yourself an oil change. When a recipe permits, swap out oil for low-sodium broth. This substitute works well with pesto sauce. In fact, a regular pasta entrée topped with traditional pesto sauce clocks in at about 800 calories. My slim-style version features broth-based pesto tossed with low-carb "zucchini linguine". Deliciously filling and just 135 calories! Try the Zucchini linguine recipe.
Slimdown your mash. The next time you make mashed potatoes for the family, half your spuds with steamed cauliflower for a lower carb, low-calorie side dish. Just to compare: One cup of regular mashed potatoes contains about 400 calories. This version, made with half cauliflower, contains just 145 calories. Try the Mashed Cauliflower recipe.
Skinny dip. Whipping up a creamy holiday dip? Replace full-fat sour cream with nonfat Greek yogurt. This simple swap will not change the flavor or consistency of your recipe, but will automatically slash the calories by more than half. Try my Garlicky Spinach Dip with a tray of colorful vegetables for dunking. Get the Garlicky Spinach recipe here.
And quick fitness tips from Jenna Wolfe:
If you can find a way to burn/trim calories here and there throughout the course of the holiday season, not getting to the gym won't be as stressful. Here are two exercises you can do anywhere, anytime, for big results and big calorie blasts:
1. Walking 10,000 steps. Non-negotiable. Tattoo that number to your brain. It's your mantra every day.
Whether it's getting off the bus or subway a stop early or parking farther away from the mall or circling the mall three times before buying anything, you need to get your daily steps in. Buy a pedometer, a cheap one from your local drugstore, and track your 10,000 steps. That's 5 miles. 
It's doable and will get you results by week's end. It's also easy on the body and can be done anywhere.

2. Work the upper body without lifting a weight. Here are three exercises that helped tone myself up after I had the baby: 
100 arm upper cuts. Keep core tight, back tight, biceps tight.

Hand claps with straight arms in front of you. Don't touch hands. 
100 tricep claps, with straight arms behind you. Don't touch hands.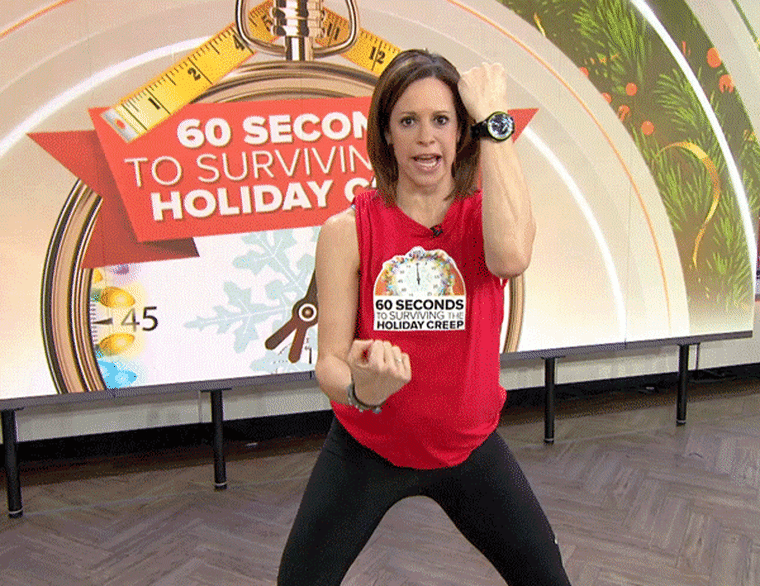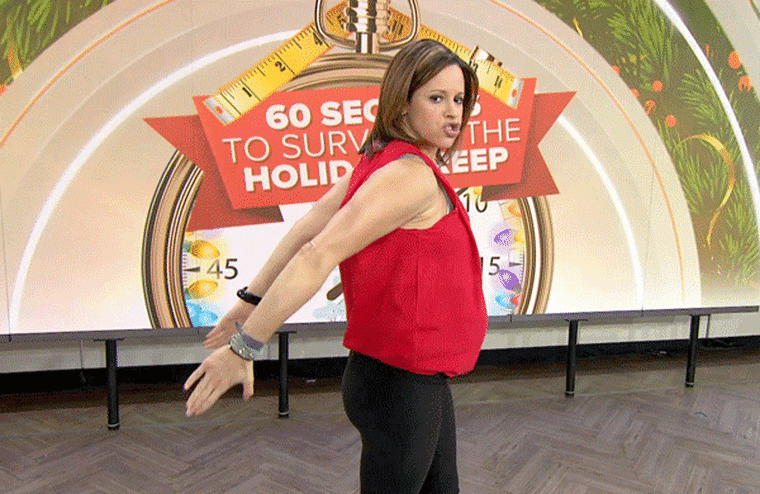 You work your triceps, your biceps, your back, your upper and lower body with walking. You never have to step foot in the gym. 
Want more slimming holiday tips? Follow Joy on Twitter (@joybauer), Facebook (facebook.com/JoyLBauer), Instagram (@joybauer), and Pinterest (pinterest.com/joybauerhealth/).