As supermarket checkout lanes get speedier, they can also become more terrifying for people with dementia.
If you had trouble with your memory or thinking skills, think how intimidating it would be to keep track of your items, fumble with cash or credit cards and sense impatient customers behind you — it's enough to scare anyone away.
Now, a Tesco store in Forres, Scotland, is testing a "relaxed checkout lane" to help those customers feel more comfortable. It's the opposite of an express lane, allowing shoppers to take their time, ask questions, chat with the cashier and get more help.
RELATED: 2 things you can do to reduce your risk of dementia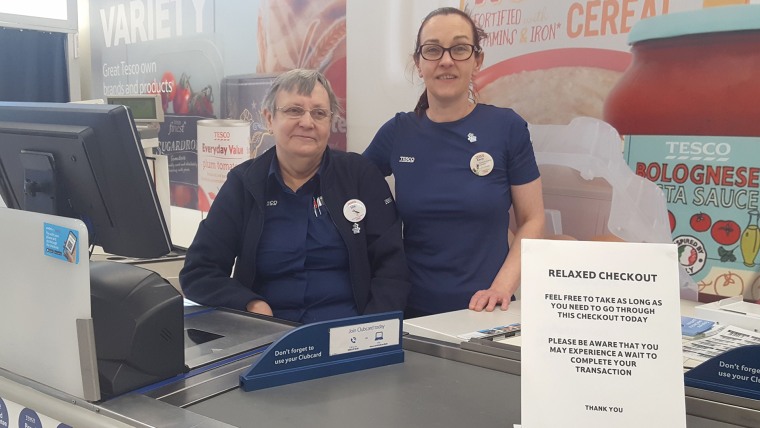 People with dementia sometimes have trouble recognizing the cash that's in their purse, or they need a cashier who speaks more slowly, said Wendy Menzies, a dementia advisor for Alzheimer Scotland. The idea for the special lane came about after she held a dementia awareness session at the store and one of the employees suggested creating a more relaxed experience.
"It can help take some of the pressure off and hopefully then it will encourage people to still go out and about and participate in things that they've always done," Menzies told TODAY.
The pilot project began last month, with the relaxed lane available on Tuesday and Wednesday mornings and staffed by employees trained by Alzheimer Scotland. A sign invites customers to "take as long as you need" and "be aware that you may experience a wait."
RELATED: Stores try junk food-free 'healthy checkout lanes'
The special lane is for anyone who needs to take a bit more time, whether it's someone with dementia, autism, social anxiety or simply a woman shopping with small kids, Menzies noted.
The store is the only Tesco in the UK trying out the idea, the supermarket chain said, and it appears to be a new concept for the industry. The National Grocers Association in the U.S. was not aware of any stores that have experimented with this specific idea, said spokeswoman Laura Strange.
But an aging population in the U.S. may mean more such accommodations for people with dementia in the future. The number of Americans living with Alzheimer's disease is growing fast, the Chicago-based Alzheimer's Association warns. More than 5 million Americans now have the disease.
RELATED: New brain program may fight Alzheimer's
As for the relaxed checkout lane, the association told TODAY it encourages innovative ideas that can improve the quality of life for patients.
About 60 percent of people with Alzheimer's and other dementias live in the community, and about one-quarter of them live alone, said Ruth Drew, director of Family & Information Services for the Alzheimer's Association.
"With appropriate training, individuals and businesses can adopt simple strategies to interact more effectively with people living with Alzheimer's," Drew told TODAY.
"Even small changes can go a long ways toward helping people in the early stage of dementia remain independent and engaged in their community."