Stephen Colbert is opening up about his struggle with anxiety — and how performing for an audience has helped him to deal with it.
In a new interview with Rolling Stone magazine, the "Late Show with Stephen Colbert" host, 54, revealed he suffered a nervous breakdown soon after marrying his wife, Evelyn, in 1993.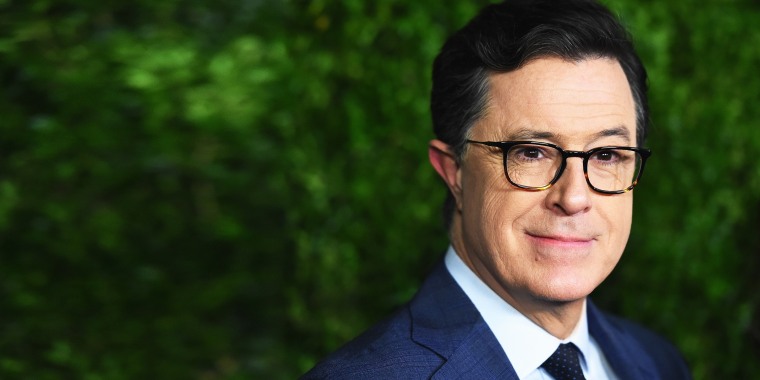 "I had a bit of a nervous breakdown after I got married — kind of panic attacks," he shared. "My wife would go off to work and she'd come home — because I worked at night — and I'd be walking around the couch. And she's like, 'How was your day?' And I'd say, 'You're looking at it.' Just tight circles around the couch."
The nine-time Emmy winner said his anxiety got so bad, he "needed to be medicated."
"Xanax was just lovely. You know, for a while. And then I realized that the gears were still smoking. I just couldn't hear them anymore. But I could feel them, I could feel the gearbox heating up and smoke pouring out of me, but I was no longer walking around a couch," he shared, adding that he took the drug for just nine days.
Colbert recalled how emotional it was for him when his comedy partners, Paul Dinello and Amy Sedaris — with whom he would later create the Comedy Central cult classic "Strangers With Candy" — relocated from Chicago to New York.
"I was left onstage with a show that we had created together. I did a year of that show. And I was in such a weird panic that I would never create anything new again," he shared.
Slowly, Colbert began realizing his anxiety faded while he performed onstage.
"I would go to the show, and I would curl up in a ball on the couch backstage and I would wait to hear my cue lines. Then I would uncurl and go onstage and I'd feel fine. Which occurred to me at the time: Like, 'Oh, you feel fine when you're out here.' And then as soon as I got offstage, I'd just crumble into a ball again. Nobody ever asked me what was wrong!" he recalled, laughing. "It went on for months."
Before long, Colbert was rehearsing a new show, surprised to find his anxiety disappearing altogether: "And then I went, 'Oh, my God, I can never stop performing.'"
These days, Colbert knows making others laugh is crucial to his well-being.
"Creating something is what helped me from just spinning apart like an unweighted flywheel," said Colbert. "And I haven't stopped since."