Supreme Court Justice Ruth Bader Ginsburg is a national treasure. So we're delighted to report that at 85, the oldest justice on the Court has no intentions of retiring — or of quitting her regular gym workout.
Even better, on Wednesday's "Late Show," the subject of "The RBG Workout" actually let host Stephen Colbert follow her into the gym for a workout and chat, and this had us totally pumped up!
Dressed in a "Super Diva" sweatshirt, Ginsburg told Colbert, "You can just call me 'Justice.'"
Before the workout got underway, Ginsburg proved her legal acumen, when Colbert threw a puzzler her way: Is a hot dog a sandwich?
First, she had him define what a sandwich was. After he did, she tossed back, "You said, 'two pieces of bread' — does that include a roll that's cut open but still not completely?'"
And that got to the crux of the matter right away. After all, subs are one piece of bread, and they're considered sandwiches. Therefore, "(Based) on your definition, yes it is," said Ginsberg.
A decision has been made: a hot dog is a sandwich!
Then it was on to the lifting of iron, the twisting of bodies, situps and all kinds of other strength-building exercises in the gym. We even got to see Justice Ginsburg on a treadmill!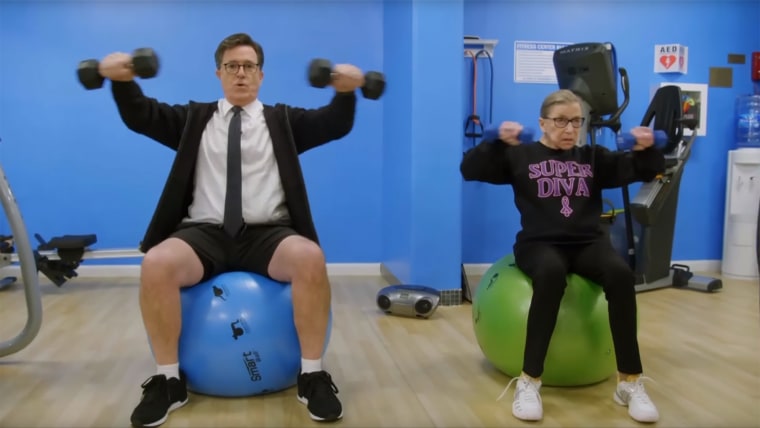 Alas, she had one more ruling to issue before the workout was done. When Colbert put on C+C Music Factory's "Gonna Make You Sweat (Everybody Dance Now)" Ginsburg, who said she listened to opera pre-workout, gave it a pretty quick thumbs-down.
"I would never, never exercise to that noise," she said. "Let's shut it off."
The Notorious R.B.G. has spoken!
Follow Randee Dawn on Twitter.