This year has been difficult in more ways than anyone could have imagined.
But here's some good news: New research from OptionB.org found that Americans helped each other through this challenging year with a steady drumbeat of kind gestures. And the majority of those surveyed said they're ending the year feeling more ready than ever to handle what comes next.
OptionB.org, a nonprofit founded by Facebook COO Sheryl Sandberg to help people build resilience in the face of adversity, partnered with Survey Monkey to poll 2,050 adults about their experiences in 2020. They found:
90% supported others this year by doing things like calling, texting, sending a care package or helping with errands
62% said they gave more of these kinds of support to others than they did in previous years
80% said they received support from others this year, and many said the kindness came from people they hadn't expected to reach out
Perhaps the most encouraging news from the survey, conducted last month as part of the #OptionBThere for the Holidays campaign, was that "small, meaningful gestures can make a really big difference," said Rachel Thomas, CEO of OptionB.org and its sister nonprofit, LeanIn.org.
39% of those surveyed said the most meaningful thing someone could do for them is just to reach out
30% said someone texting or calling regularly helps them
24% said that simply having someone acknowledge their struggles or validate their feelings helps the most
People were blunt in telling OptionB.org that it was a truly difficult year: Eight out of 10 people said they faced a major challenge in 2020, such as a mental health struggle, job loss, the death of a family member, or serious illness. People of color and young people were especially likely to face hardship this year.
But despite that collective grief, the survey also found collective resilience: 70 percent of those surveyed said they are better able to handle new challenges after coping with this difficult year. Rather than feeling depleted after shouldering their own difficulties and helping others, respondents feel stronger than before.
Small, meaningful gestures can make a really big difference.
Rachel Thomas, CEO of OptionB.org
This data doesn't surprise Catherine Sanderson, chair of the psychology department at Amherst College and author of "The Positive Shift: Mastering Mindset to Improve Happiness, Health and Longevity."
Academic research has shown that coping with adverse events actually makes people happier and more resilient in the aftermath, she said. And helping others can strengthen us even more.
"Giving to other people is extraordinarily beneficial for us. And that's true both psychologically and physically," Sanderson explained. "There's fascinating research that has shown that volunteering in your community is associated with not only feeling happier, but living longer."
The benefit, Sanderson said, may come not just from the act of giving but from the personal connection it provides. The more we connect with others — even virtually — the better everyone feels.
That's been the experience of Laurie Drucker, a member of the OptionB.org community, who has been reaching out to other widows since her own husband died in late 2019. In the first weeks after her husband's passing, Drucker knew she didn't want to begin the new year alone. So she contacted several widowed friends and invited them over for cheesecake and prosecco on New Year's Day.
Though Drucker wasn't sure how the day would go, reaching out seemed like the right move. "I kept it simple," she said. And "if it was a complete flop, I'd have the leftovers."
The day ended up lifting everyone's spirits. The women in the group hadn't known each other before that initial meeting, but "we've just all grown so close," Drucker said. They've only met in person once since COVID-19 emerged, but they've been texting and calling each other throughout this year to support each other.
Thomas said that OptionB.org's survey data and the experiences of people like Drucker show us that while this has been a year of collective struggle, "it's also a year where we've really shown up for each other. That's collective resilience. And I really hope it carries forward to 2021."
Sandberg agrees: "We know this holiday season may be particularly hard, especially if you're struggling with illness, job loss, or simply separated from loved ones," she said. "But in painful times, we've shown up for each other. And by helping others, we're also building resilience ourselves. We're stronger and better prepared to face whatever tough challenges still lie ahead."
5 ways to spread cheer this holiday season
Want to keep the good going? OptionB.org offers this advice for helping others this holiday season:
1. Change up your holiday greetings.
For many people, "happy holidays" will ring hollow this year. Instead, say something like, "I'm thinking of you this holiday season." Or ask an open-ended question, like "How are you feeling with the holidays coming up?" Even if you don't feel like you have the perfect thing to say, just starting the conversation can make a world of difference. (OptionB's "honest holiday cards" can also help you bring authentic humor to this year's holiday season.)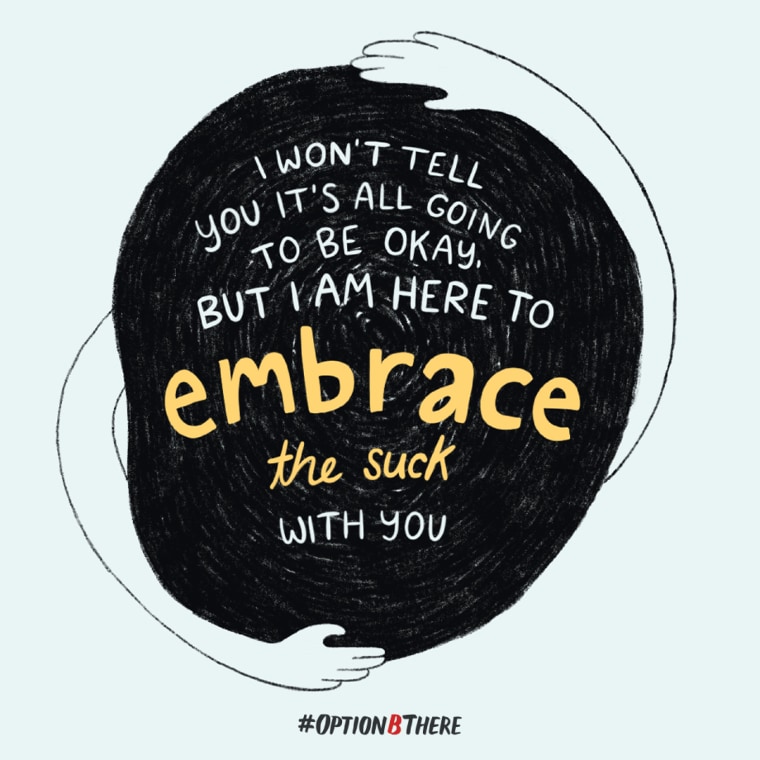 2. Don't ask, just do it.
If someone you love is struggling, don't wait for them to tell you how you can help. Just step up with a simple gesture, such as mailing a card, leaving groceries on their porch or dropping by to shovel their driveway.
3. Support the ones they love.
Sometimes, the best way to show someone you care is to support the people they love. That might mean dropping off a box of books and toys for their kids or helping them assemble a care package for a friend or relative they've been worried about. These acts can go a long way toward showing a friend or family member you're on their team.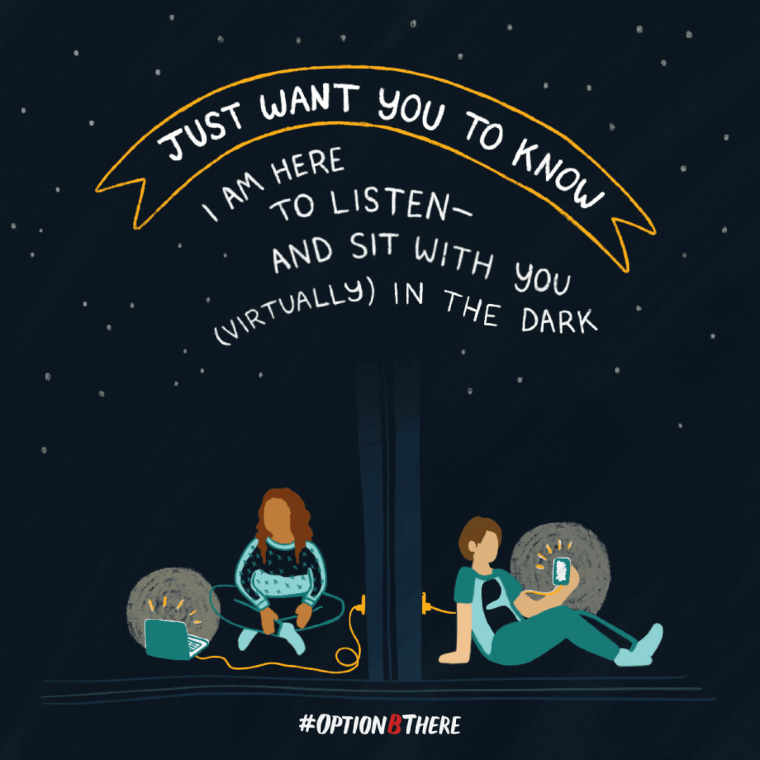 4. Think ahead to 2021.
Talk with your loved one about something you're excited to do together in 2021 and put a date on your calendars even if it's tentative. Having something to look forward to will make it easier to get through hard moments during the holidays.
5. Fill your own cup first.
To show up for others, you need to take care of yourself. Make time for activities you enjoy and try journaling as a way to process your own feelings about the holidays this year.