Sarah Michelle Gellar is paying tribute to her longtime friend Shannen Doherty again, but this time it's with a twist.
Gellar shared a photo of herself sitting with Doherty and Doherty's oncologist, Dr Lawrence Piro, in honor of International Breast Cancer Day.
"Today is recognized as #InternationalBreastCancerDay, although for some people, that is everyday. I am only a footnote in this picture," the "Cruel Intentions" star wrote in the photo's caption.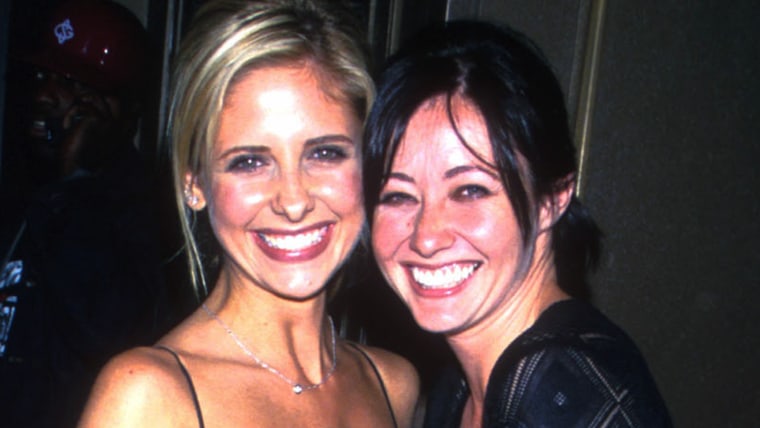 Gellar cheered on Doherty, "my friend who is kicking cancer in the you know what. But more than that, she is sharing her battle, so people fighting this horrible disease know they are not alone," Gellar continued. "I am inspired by her on the daily."
Dr. Piro, wrote Gellar, "has been side by side in Shannen's fight. It's not a job to this incredible doctor, it's his life. I have never been in the company of a more passionate or dedicated scientist. He is the true definition of a hero."
"I am honored to know you both," she wrote.
RELATED: Sarah Michelle Gellar shares sweet tribute to friend Shannen Doherty
The actress then informed fans that tumors in the breast are the most frequently malignant tumors.
"But with early detection and incredible doctors like Dr. Piro, breast cancer can be fought and won," wrote Gellar, who then urged women everywhere to schedule an appointment for a breast exam, and to remind their friends to get checked, too.
And, Gellar wrote, to simply "think pink" and "honor those fighting this battle today and everyday."
Doherty responded via Instagram, expressing gratitude for Gellar's friendship and writing, "Thank you for always having my back and educating all about this disease. Love you."