The recent holiday season brought a deep pain that "morphine just couldn't seem to touch" for country singer Joey Feek, but her husband said it also sparked a special brightness that now has his wife "seeing the light."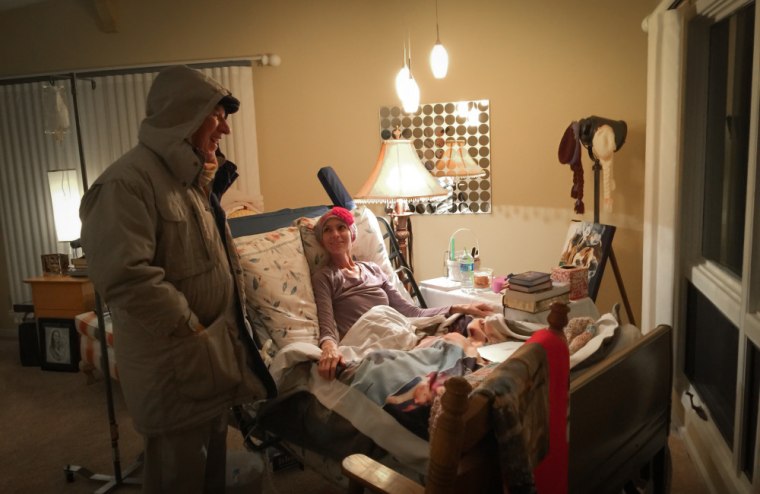 Rory Feek noted in a blog post Tuesday that the "holidays have been a roller coaster for my bride," who is terminally ill with stage IV cervical cancer and receiving hospice care in Alexandria, Indiana.
In recent days, Joey has been determined to spend as much time as possible playing with her nearly 2-year-old daughter, Indiana.
RELATED: Rory Feek posts sweet photo of terminally ill wife Joey reading with daughter
"Though she managed a smile most of the time, Joey's heart was heavy and she was feeling some things she hadn't before. A sadness. A fear of the unknown. And even some anger — not at God, just at her situation I suppose," Rory wrote. "It's not easy for her to be as excited about what the new year holds in store as it was last year.
"But she says she's seen the light, and she's over that now," he continued.
That point came with the help of contemporary Christian musician and artist Bill Gaither, who has visited Joey nearly every day when he's in town.
"We'll get a knock on the door in the morning or early afternoon, and next thing you know Bill will be parked in a chair beside Joey's bed, telling her jokes and stories about days long-past and he'll have Joey and all of us laughing and smiling 'til our faces hurt," Rory wrote. "I think he just wants to brighten Joey's day and create as much joy for her as he can. We all do."
RELATED: Joey Feek enjoying a 'very special Christmas' while in hospice
Shortly before Christmas, Gaither arranged to give Joey an uplifting gift, something he had set up across the pond from their house.
"We noticed a big fire burning by the gazebo," Rory said. "From Joey's bedroom window, we could see the beautiful flames dancing across the water. It was magical."
Rory also noted how Gaither and his wife, Gloria, helped lead a prayer vigil for Joey in November.
"With candles, they all gathered and lit a fire that I have a feeling will keep burning long after Joey's gone. After I'm gone," he wrote.