A new mom who lost her right eye to ocular melanoma is urging others to get their eyes checked and be aware of this lesser-known form of skin cancer.
Jessica Boesmiller, who lives in Cornelius, North Carolina, was pregnant with twins when she received the frightening diagnosis out of the blue.
"It caught us unprepared. This was not something in our mind as a possibility," Boesmiller, 37, told TODAY.
"When it came upon our family, it was a shock. But it's something that's our new normal and we'll just figure it out as we go."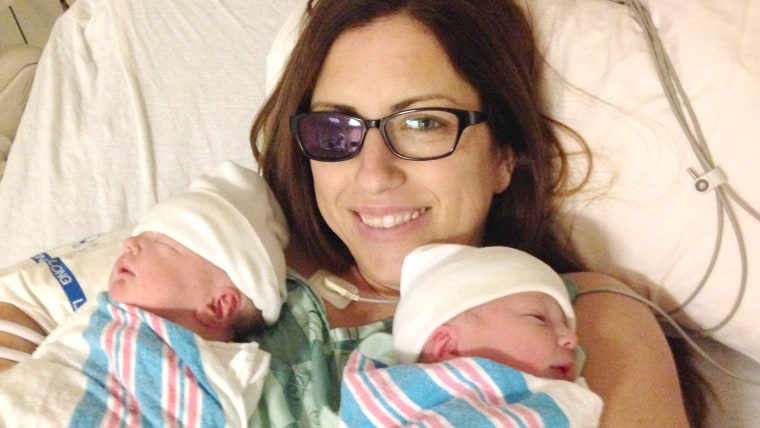 Boesmiller had always been healthy and was preparing for the birth of the twins when she suddenly noticed her vision was blurry as she drove home one night in November. Only her right eye seemed to be affected.
Worried that it might be a preeclampsia symptom, Boesmiller contacted her obstetrician who said the problem wasn't related to her pregnancy and advised her to see an eye doctor. Tests eventually revealed it was ocular melanoma, a cancer of the eye.
Most people think of melanoma — the deadliest form of skin cancer — as ominous black spots on the skin, but it can also develop inside your eye. It's rare, accounting for about 5 percent of all melanoma cases, but the eye is the second most common location for melanoma to grow, said Dr. Sapna Patel, a melanoma oncologist at MD Anderson Cancer Center in Houston who is not treating Boesmiller.
About 2,500 adults are diagnosed every year in the U.S., according to the Ocular Melanoma Foundation.
In Boesmiller's case, the tumor was so large and fast-growing that it began to put pressure on her lens, which caused the blurred vision, she said. She'd been to an eye doctor just a couple of years before and everything was fine at that time.
Now, doctors told her the best treatment option was to remove her right eye and she agreed, worried about the cancer spreading while she was pregnant. Researchers are trying to figure out if the hormonal surge during pregnancy affects the way a woman's body deals with cancer, Patel noted.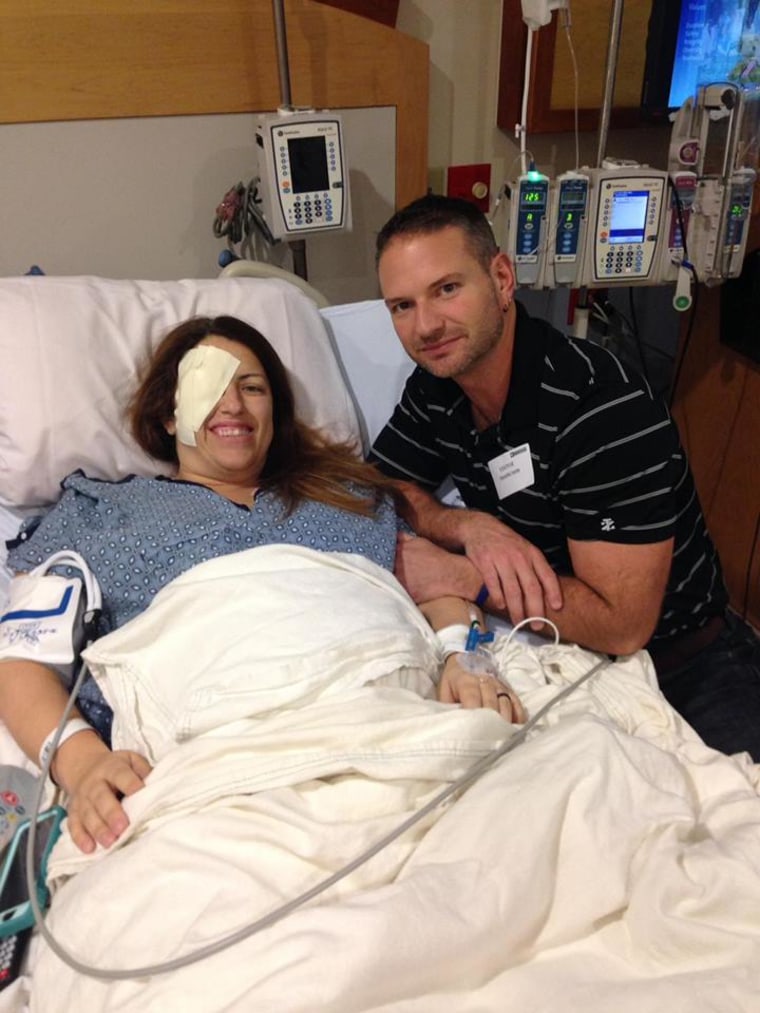 Boesmiller just wanted to protect her unborn twins.
"I felt like this was the quickest way to get the babies safe as soon as possible," she said. "We didn't know if there was metastasis to the rest of the body, but we knew that this was there and we knew that we could get rid of it."
The two-and-a half-hour surgery took place on Nov. 30 at Duke University Hospital in Durham. Boesmiller gave birth to the twins, a boy and a girl, about three weeks later. Their placentas tested negative for the cancer to the huge relief of their parents. "So blessed," their mom said.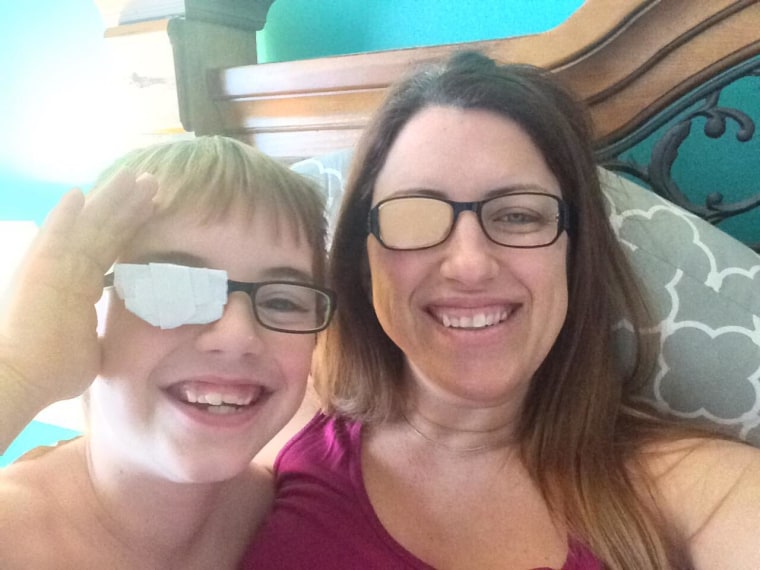 Melanoma is one of the few cancers that does cross the placenta, Patel said. But ocular melanoma is so rare that doctors aren't sure if it could cross the placenta, she added.
Boesmiller's MRI and CT scans, performed at the end of the year, are clear, but an analysis of her tumor was more worrisome because "the stats of [metastasis] are highest with this class," she wrote on Facebook.
She's adjusting to life with one eye and waiting for the swelling to go down before she receives a prosthetic eye. Her husband and two older sons have "been amazing" throughout the process, she said. Now Boesmiller is urging others to get their eyes checked.
"People know about colonoscopies for colon cancer and mammograms for breast cancer, but a simple dilation of your eye at your eye doctor appointment should not be overlooked," she said.
What you need to know about ocular melanoma
What causes it? Doctors don't know. With skin melanoma, there's a clear correlation with ultraviolet exposure. But UV radiation is not connected to ocular melanoma, Patel noted.
Some researchers are looking into a possible environmental cause. An unusual cluster of eye cancer cases has been reported in Huntersville, North Carolina, a town near Boesmiller's home.
What are the symptoms? "What's scary about melanoma of the eye is less than half of patients will actually have symptoms that they can explain," Patel said. The few people who do have symptoms may notice floaters, the amoeba-like shapes floating across your vision, or see flashes. Other symptoms include blurry vision or losing part of your field of sight, according to the American Cancer Society.
How is it detected? During an eye exam. "The take home message is, because there aren't common symptoms for this disease, everybody deserves a dilated eye exam whether or not you wear corrective lenses," Patel said.
Dilation lets your doctor view the inside of your eye and detect any dark spots. You may be offered a retina scan that produces a digital image of the back of your eye, but some experts say these scans have limitations and aren't a substitute for a traditional eye exam with dilation.
What are the treatment options? There are two: removal of the eye and radiation to the eye, Patel said. In the latter option, a small device called a plaque is sewn onto the eye. Rice-size pellets in the device emit radiation, killing the tumor. That lets the patients keep the eye, but the radiation is so powerful that their vision will deteriorate.