A frightening case of melanoma is putting the spotlight on skin cancer and pregnancy.
A young mom who discovered that melanoma had spread throughout her body while carrying her second child died three weeks after her diagnosis.
Danielle Janofsky of Williamstown, New Jersey, was six months pregnant when she went to the hospital complaining of abdominal pains on Feb. 8. Doctors found melanoma that had spread to her liver, kidney, stomach and brain, according to a fundraising page set up for her family.
Her son was delivered via C-section about two weeks later, with Janofsky apparently waiting as long as she could for the birth so the baby could develop.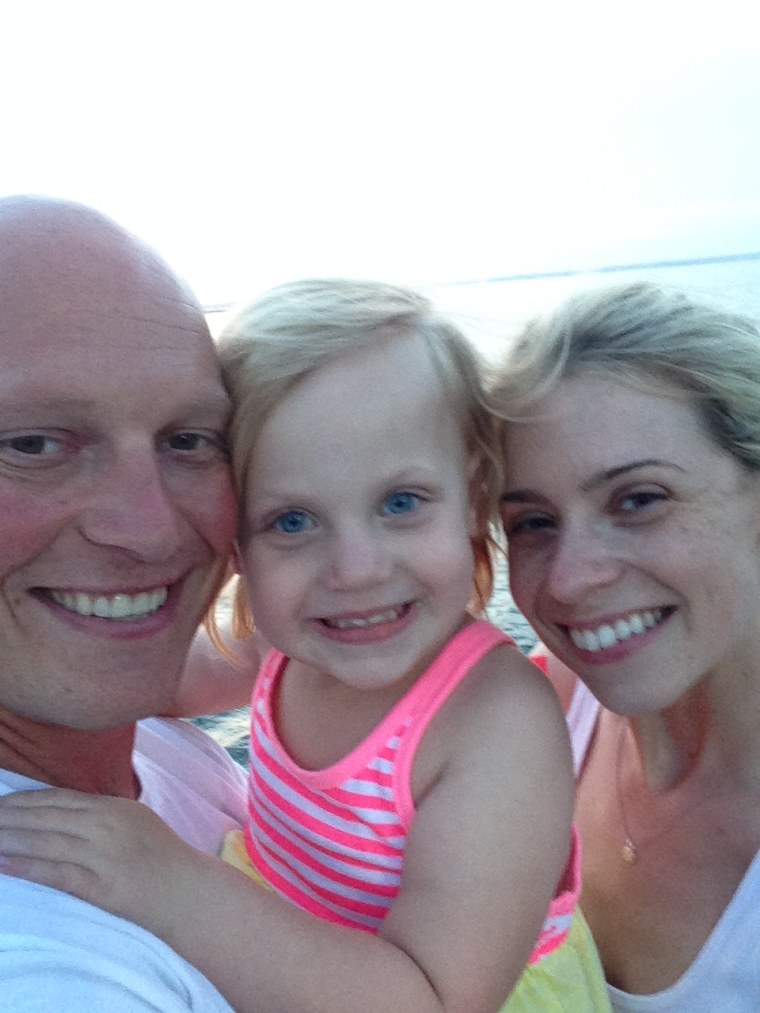 "She made the selfless and loving decision to deliver baby Jake on Friday February 24th thereby sacrificing herself so that her son could live," the family notes. Janofsky died on February 27. She was 30.
Jake weighed 1 pound 11 ounces and is in the neonatal intensive care unit at the University of Pennsylvania. He has chronic lung disease and doctors are working on getting his lungs better so he can come off the ventilator, Max Janofsky, Danielle's husband, told TODAY. The couple also has a 4-year-old daughter.
"If love could have saved her, she would have lived a hundred years," her mom wrote on Facebook.
Janofsky was first diagnosed with melanoma in May 2015 after a suspicious mole was removed from her left shoulder, but was given "a good prognosis," her husband said. She kept going to a dermatologist for skin checkups every three months.
The only treatment option for her advanced melanoma was immunotherapy, he added, which is not advised during pregnancy.
Melanoma is the deadliest form of skin cancer, with more than 87,000 Americans expected to be diagnosed this year.
Being pregnant doesn't seem to increase the risk, the American Academy of Dermatology notes.
But it may affect the way a woman's body deals with the cancer, said Dr. Sapna Patel, a melanoma oncologist at MD Anderson Cancer Center in Houston. Patel was not involved in Janofsky's case, but commented in general.
"It's possible that pregnancy is a type of immune suppression. Your body is really focusing its efforts on growing another human being, so it's a little distracted on really taking care of itself," Patel told TODAY.
Normally, immune surveillance appears to keep certain cancers at bay: If you've had a melanoma removed, you may have microscopic relapses, but your immune system sees the cancer cells and takes care of them before they can harm you, she noted.
But with pregnancy, your immune system many not be surveilling as actively while it focuses on fostering the new life.
RELATED: Newlywed dies after muscle pain turns out to be skin cancer
Once the cancer spreads, the options are especially grim for pregnant women. Melanoma is one of the few cancers that can pass through the placenta, so it can be transmitted to the fetus, Patel added. If a pregnant woman develops metastatic melanoma, the treatments can be toxic to the baby.
In general, the more advanced the initial melanoma, the more likely it is to spread, or metastasize. People with Stage I melanomas — confined to the outer layer of the skin — do "exceptionally well," while deeper melanomas or ones that involve the lymph nodes can metastasize more than 50 percent of the time, Patel said. The key is early detection.
"Melanoma is the only cancer that's deadly in millimeters," she noted.
If you've had a cancerous mole removed, some cells could be left behind in that spot or travel and hide elsewhere in your body, Patel said. There's no blood test right now that detects melanoma in a microscopic form in the blood stream, and imaging tests won't catch it at stage, either.
As it's spreading, the cancer can be silent, so you may not know anything is wrong for a while, Patel noted. It could reappear at the site of the original cancerous mole, or show up in a completely different spot.
It's critical for melanoma patients undergo regular routine surveillance and be vigilant about any symptoms, like persistent pain. If you have ever had a mole removed and notice changes at or near the scar, bring it to the attention of your doctor.