Jodie Sweetin is living proof that it's never too late to turn your life around.
The 34-year-old actress is currently enjoying a resurgence of her acting career, with a successful first season of "Fuller House" under her belt and a starring role on the upcoming sitcom "Hollywood Darlings." Her personal life is at a high point as well — in January, Sweetin announced her engagement to Justin Hodak. But just a few short years ago, Sweetin was battling a severe drug and alcohol addiction.
The former child actress, who has been open about her past use of drugs such as crystal meth and cocaine, celebrated being five years sober earlier this month.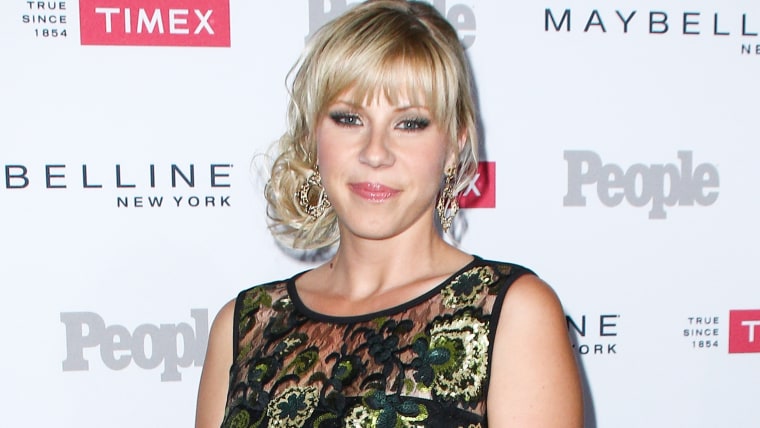 "I look back at things that have happened in the past, and I look at where I'm now, and it's crazy," Sweetin recently told Us Weekly. "If anything, my life is a lesson to never give up.
"We all have our demons," Sweetin added. "When we finally learn to let them go, we get to live and be free."
MORE: 'Full House' star Jodie Sweetin has 'gratitude' for sobriety after meth use
Sweetin credits her daughters, 7-year-old Zoie and 5-year-old Beatrix, both from previous marriages — and her fiancé, Hodak, for helping her stay clean.
"We turn to each other for support," Sweetin said of Hodak, who recently celebrated 11 years of sobriety. "We both have our own lives and things we're excited about, but we combine that, where we have this great relationship."
Sweetin, who has been divorced three times, is hopeful that the positive changes in her life will make this marriage successful.
"[Justin's] so different and, really importantly, I'm different," Sweetin told the magazine. "I haven't always had the best luck in relationships, and I've learned a lot of lessons. I want to be married. I don't think there's anything wrong admitting that it didn't work before and trying again."
MORE: Jodie Sweetin and Justin Hodak are engaged: 'They are both thrilled'
The couple of over two years has yet to set a wedding date, but Sweetin is keeping herself busy in the meantime: She is gearing up to film the second season of "Fuller House," and is currently a frontrunner on "Dancing with the Stars."
"I've got everything I could want," she said.