For Jenna Bush Hager, health is about so much more than a number on a scale — and that's why she chooses not to use a scale at all at home.
So, when Jenna's oldest daughter, Mila, 10, saw a scale recently at a friend's home, she didn't know what it was. 
"There was a scale in the bathroom, and Mila was like, 'What is that?' Because I don't own a scale," Jenna said on TODAY with Hoda & Jenna on Monday, June 12. "I don't want to be beholden to some number on a machine that makes me feel bad."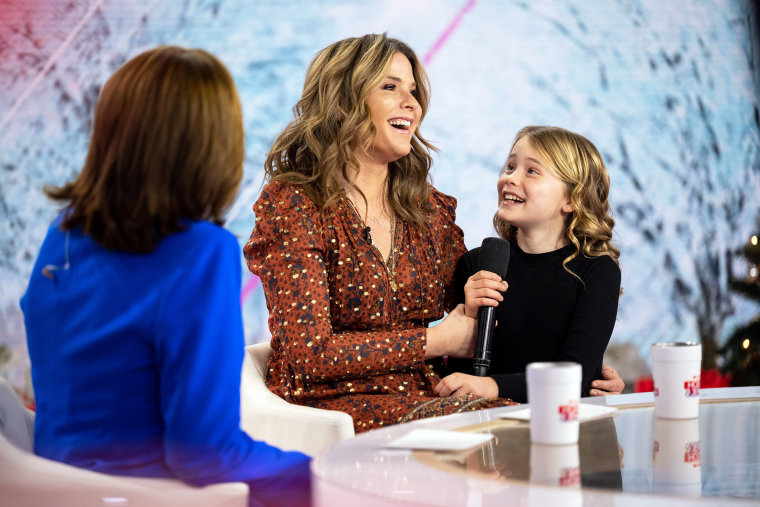 When Mila learned what it was, she started "weighing everything" with it, Jenna said, including the family cat, Hollywood. Co-host Hoda Kotb called Jenna's choice to not have a scale "a lesson" and pointed out that focusing too much weight can lead people to be "constantly adjusting."
Added Jenna: "Why would we waste our one precious life thinking about our body not being good enough?"
The former first daughter has been open about her own body image issues when she was around Mila's age, sharing in March on TODAY that when she was in the fourth grade, she wrote in her diary that her new year's resolution was to lose weight.
Now that she's a mom, Jenna says she wants to demonstrate positive self-talk to Mila and her two other children, Poppy, 7, and son Hal, 3. She's said she's been inspired by the way her mom, Laura Bush, modeled body confidence to her and her twin sister, Barbara, growing up, explaining her mother "never talked about diet" or "the way she looked."
"She definitely would never self-hate in front of us. I want to make sure I'm modeling that type of love to my kids," Jenna said on TODAY in March. "Mila and I will go for walks, they see me work out, they play sports, I encourage them to stay active, but we're not sitting around talking bad about ourselves."
Jenna has spoken in the past about how damaging it can be to focus on scale readings.
In 2019, she and Hoda Kotb revealed their weights on live TV during a segment about intermittent fasting. 
The goal of their intermittent fasting was "to be healthy" and not to lose weight. Still, Jenna shared at the time that whenever she steps on a scale, she tends to fixate on that single number.
"I was reminded why I don't weigh myself yesterday because I was playing with my kids, and I kept having that one number in my head," she told Hoda.
These days, Jenna says she measures health by how she feels inside, not by her weight or appearance.
"It's not just about looking skinny or looking a certain way or fitting into your jeans," she said. "It's about feeling healthy all the way around."