Supermarket shopping used to be a lot simpler, especially when it came to purchasing milk. With almost a dozen or more different brands of non-dairy milks — including soy, almond, rice or hemp — it's hard to know which is right for your family. We decipher some of the most popular types.
It's easy! Make cashew milk, coconut milk and more dairy-free drinks at home.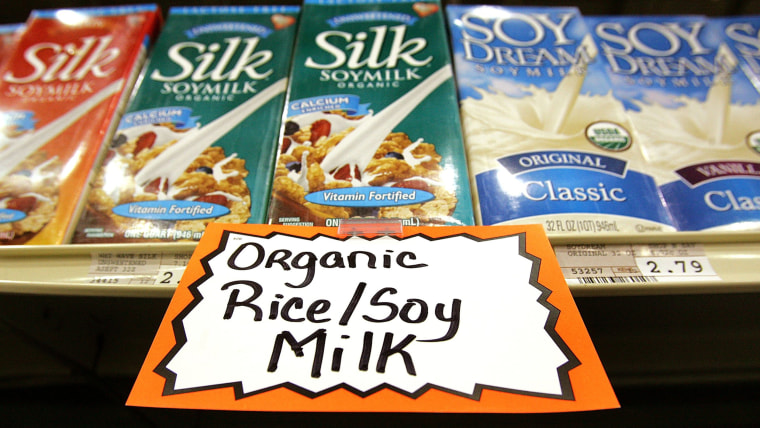 Which dairy-free "milk" is right for your family? All items are based on an 8-ounce glass.
Cow's milk (Whole)
150 calories
12 carbohydrates
13 grams
Sugar 13 g
Protein 8 g
Fat 8 g/Saturated fat 5 g
Fiber 0
Calcium 30 percent of the daily recommended allowance
Vitamin D 25 percent
Cow's milk contains nine essential vitamins and minerals including calcium, potassium, phosphorus, protein, vitamin A, vitamin D, vitamin B12, riboflavin, and niacin, many of which work in concert with each other to create strong bones and prevent osteoporosis. Skim, or non-fat milk, is probably the healthiest option yet many people don't realize that skim milk has the same wealth of nutrients as the regular types — but without any fat.
You can buy organic cow's milk or try the enhanced types that add protein (like Skim Plus) to create a creamier mouth-feel minus the fat.
Although cow's milk does contain sugar, it is not the same as added sugar that comes from a sugar bowl; this source of sugar is from lactose, a natural source.
If you happen to be lactose intolerant or lactose-sensitive, you may need to limit the quantity of milk you consume at one sitting or choose a lactose-reduced type. Interestingly, lactose-free milk tastes sweeter than the regular type since lactose has been broken down to simpler components of glucose (a component of table sugar) and galactose.
Soy milk regular
80 calories
Carbohydrates 4 g
Sugar 1 g
Protein 7 g
Fat 4 g/Saturated fat 0
Fiber 1 g
Calcium 30 percent
Vitamin D 0
Soy milk comes in many different versions including low fat, full fat, calcium-fortified, and flavored, just to name a few. If you're looking to boost bone-building, it's best to choose a soy milk that's fortified with calcium and vitamin D, and be sure to shake it well before drinking since these nutrients can settle to the bottom of the container.
Soy milk is a great choice for those who have dairy allergies. Although soy milk is also rich in protein, flavored types tend to contain less than those that are unflavored.
Almond (unsweetened)
30 calories
Carbohydrates 1 g
Sugar 0g
Protein 1g
Fat 2.5 g/Saturated fat 0 g
Fiber 1
Calcium 45 percent
Vitamin D 25 percent
Almond milk is naturally free of cholesterol, saturated fat, and lactose. Many brands of almond milk are fortified with calcium and vitamin D, but it doesn't compare to soy or cow's milk when it comes to protein. Since almonds are high in protein, it might surprise you that cow's milk has at least 8 grams of protein while almond milk has only 1 gram.
This milk has a tasty, nutty and satisfying flavor, but I'd pair it with a dish that contains more protein to make it satisfying in the belly, too.
Rice (unsweetened)
90 calories
Carbohydrates 15 g
Sugar Less than 1 g
Protein Less than 1 g
Fat 2.5 g/Saturated fat 0
Fiber 0
Calcium 30 percent
Vitamin D 25 percent
Rice milk is made from a combo of partially milled rice and water. Although it has a sweetness and comes in a variety of flavors, it barely contains any protein. It is, however, the least likely of any milk to trigger an allergic reaction.
Coconut (unsweetened)
60 calories
Carbohydrates 1 g
Sugar Less than 1 g
Protein 0 g
Fat 5 g/Saturated fat 5 g
Fiber 0
Calcium 30 percent
Vitamin D 25 percent
Coconut milk is more like cream than milk and often gets confused with its lower-calorie relative, coconut water. Sweetened versions can pack almost 450 calories per cup of which 380 calories is saturated fat. Lighter versions are available, providing 60 percent less calories and fat that the original version.
Hemp (unsweetened)
100 calories
Carbohydrates 8 g
Sugar 6 g
Protein 2 g
Fat 7 g/Saturated fat 1 g
Fiber 0
Calcium 30 percent
Vitamin D 25 percent
Hemp milk has a flavor similar to almond milk with a nutty, creamy finish. It is derived from hemp seeds that are rich in the plant-based omega-3 fatty acid, alpha-linolenic acid (ALA).
Although it's not as easy for the body to derive benefits from plant sources of omega-3s as it is from other sources like fish, ALA is beneficial in reducing risks of heart disease and inflammation. Since hemp milk is higher in fat content than other milk alternatives, you may need to keep portions in check.
Nutrients
Overall, "milks" that do not contain dairy are beneficial for those who have dairy allergies, and for vegetarians. They are useful for those who are kosher and would enjoy milk following a meal that contains meat (since milk and meat are not consumed together for religious beliefs.) Cow's milk has the richest nutrient profile but all of these varieties are excellent vehicles for hydration.
Read the labels
Pay particular attention to the ingredient list to see whether the sugar in your milk is coming from a natural form (lactose) or from added sugars (words that end in -ose like sucrose and dextrose, or corn syrup, molasses, etc.) Also, take note of other nutrients, whether fortified or natural, such as calcium and vitamins so that you can fairly compare what's really in that "milk."
In an attempt to choose a more "natural" ingredient, you may need to read between the lines to pay attention to other ingredients you may not have expected like carrageenan, a seaweed-based additive that has been shown to cause gastrointestinal disturbance. Some milk alternatives add vegetable oils that boost calories and fat content.
Some substitute milks that promise extra protein contain pea protein, an easy-to-digest plant-based protein.
Shelf life
The shelf life of alternative milks like soy, almond, rice, coconut may vary, depending on how they are stored. Unrefrigerated and unopened, the milk will last until the date that's printed on the container. Unopened and refrigerated, they will last around seven to 10 days.
Once they are opened, they will last five to seven days.
So, don't be fooled by thinking that a freshness date on a container will mean that you can keep these items in your fridge for months.
If the milk is spoiled, as with cow's milk, it might look discolored or have a thicker texture or have a foul-smelling odor. Milk is able to sit on the supermarket shelf unrefrigerated if it comes in an aseptic (sterilized) package.
Which ever product you buy, you still need to check the date on the package.