Imagine just doing your job — and winding up with what your doctors tell you is incurable, degenerative brain disease.
It's called Chronic Traumatic Encephalopathy (CTE), believed to be caused by repeated blows to the head. And it's a danger well-known to former NFL player Mike Adamle, 68, who retired from the Chicago Bears in 1977. He segued to a career in front of the camera, as a sportscaster and host, until he began having seizures in 1999.
Related: Elana Meyers Taylor to donate brain for concussion research
According to his wife, Kim Adamle, a doctor told him a brain scan suggested a suspected football injury. In 2016, he had a neurological assessment, his wife said. Doctors told him that he had "all the symptoms concurrent with what we know about CTE."
But Adamle refuses to sit on the sidelines. He's launching a national support network for suspected victims and their families called the Mike Adamle Project: Rise Above. It's under the umbrella of the nonprofit Concussion Legacy Foundation, which was co-founded by Dr. Robert Cantu, a leader in CTE research. Adamle's also pledged to donate his brain to the CTE bank for research.
His goal: "To show former players there are things you can do," he told Megyn Kelly TODAY.
He has a motto. "You know what I am? I'm a survivor," he said. "You have to be your own survivor."
Now he wants to share his hard-won knowledge with others dealing with the same confounding, life-changing issues. Kim Adamle's mission is to share their knowledge and journey with others.
"We can't stop the CTE. We can do other things to promote other brain growth," Kim Adamle told Megyn Kelly TODAY.
Due to a lack of support from federal agencies, it's become crucial for families facing the disease to support each other and share knowledge, Cantu said.
"We really don't know the full extent on numbers of people that are suffering from the condition," Cantu said. "It's also not just confined to athletes. Anyone with repetitive head injuries is vulnerable to CTE."
Most often, CTE is linked to football and its impact on the brain; there's also a focus now on how it can impact developing brains in children. In January there were two new state bills calling for a ban on tackle football in kids under 12. But other sports aren't immune: CTE has been found in boxers, soccer players, hockey players and military veterans.
In a statement, the NFL said it's made progress in safety and player protections.
"The NFL has been a leader on safety and has made significant strides to try to better protect our players and make our game safer including, implementing data driven rules changes intended to eliminate potentially dangerous tactics and reduce the risk of injuries, especially to the head and neck; instituting a concussion protocol reflecting the most up-to-date medical consensus on the identification, diagnosis, and treatment of concussions; providing sideline medical support that includes unaffiliated medical personnel and new technology to assist in the identification and review of injuries, with a specific focus on concussions; mandating ongoing health and safety education for players and training for club and non-affiliated medical personnel; developing mandatory guidelines on protective equipment; enforcing limits on contact practice; and advancing developments in engineering, biomechanics, advanced sensors and material science that mitigate forces and better protect against injuries in contact sports and recreational sports."
The NFL has pledged $40 million to neuroscience research.
A 2017 study published in the medical journal JAMA found CTE in 99 percent of deceased NFL players' brains that were donated to scientific research. CTE can only be definitively diagnosed after death, when a brain is autopsied. Doctors say that the best evidence available today suggests that CTE is not caused by any single injury, but rather by years of repetitive brain trauma.
Cantu points out that abused women have shown signs of CTE after taking repeated blows to the head.
"It's not concussion that correlates best for developing CTE but the number of hits you've taken to the head," he said.
Not everyone will develop CTE, said Cantu, but players under the age of 14 are most vulnerable to it. So what if your kid is begging to play football, or other sports where head injuries are a very real possibility? Cantu said to try to redirect to a safer sport.
"It's not right to hit kids in the head, and there would be a concern if somebody was doing that to a child outside of football. Flag football is an alternative that gives the calorie burning and team building elements of playing football but without the danger of head strikes," Cantu said. "We want all contact sports to be played in a safer format while the brain is young when it's more vulnerable to injuries."
Adamle is living proof that repeated hits to the head can impact your life. His temperament has changed and become more explosive, especially in chaotic situations, the couple said.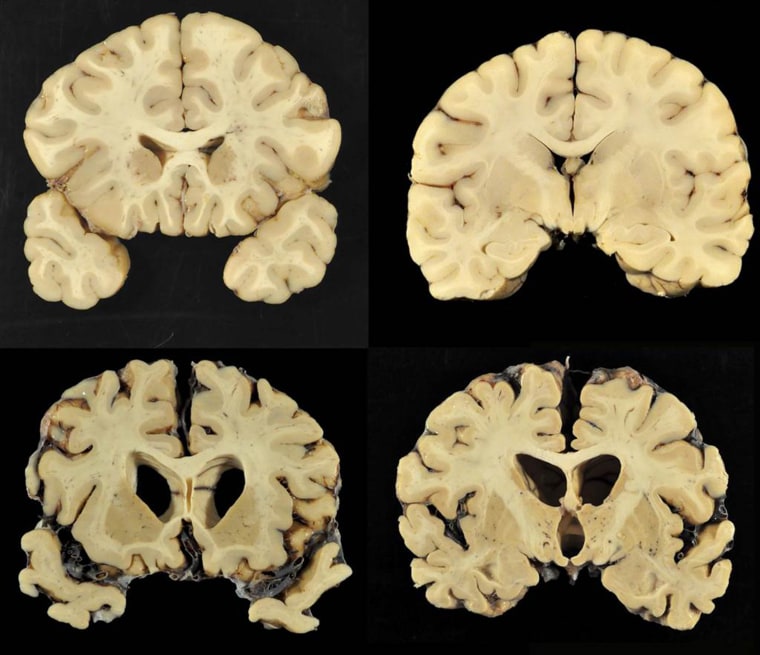 Kim said he's become moody, erratic and forgetful, and has trouble completing such routine tasks as clearing the table and washing the dishes, or using a remote control.
"And then there are times of just really deep depression. Where Mike would be sitting, in some deep place. And that's so unlike Mike," Kim Adamle said.
And according to Kim, based on MRIs, it's getting worse.
"Mike, at age 66, had a brain that was analogous to a man who was 12 to 15 years older than him," she said.
To slow down brain deterioration, Adamle has found a new activity: ballroom dancing, which gives you a solid aerobic workout. Plus, Kim Adamle said, "It involves the cognitive because you have to think about the steps or the pattern. And then also, you have to think about what you're doing in relation to the other person to your partner. But it also has the social component."
The Adamles aren't throwing in the towel. Far from it.
Mike Adamle strives to live his life "with optimism. With dignity. With energy and excitement. And with purpose and contribution," Kim said.
This story was originally published on Feb. 1, 2018.