After Lexi and Danny Reed were married in 2015, they visited Panama City Beach, Florida, for their honeymoon. When they took a shell tour, the tour guide told them the best shells were a longer walk down the beach. As the two trudged through the sand, Lexi stopped a quarter of a mile into the hike. She was too winded and needed a rest. At the time she weighed 485 pounds.
"I didn't really realize how much my weight held us back as a couple," Lexi, 28, of Terre Haute, Indiana, told TODAY.
"I wasn't able to walk down the beach with my husband."
This was one of the reasons why the Reeds vowed to lose weight as a New Year's resolution in January 2016. A year later, they shared their success with TODAY. By January 2017, Lexi had lost 236 pounds and Danny had lost 62 pounds (he started at 281 pounds). Throughout this year, Lexi, who is 5 feet 6 inches tall, lost an additional 69 pounds. Danny, who is 5 feet 8 inches tall, lost 27 pounds.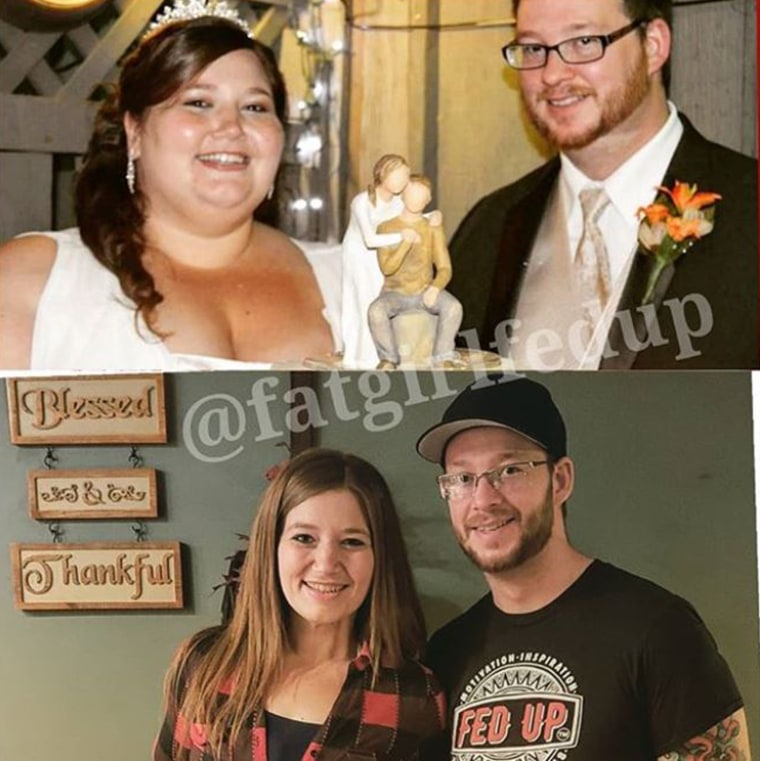 At the end of 2017, Lexi weighed 180 pounds and Danny weighed 192. At the time, they told TODAY they both hoped to reach 175 pounds, a goal Lexi surpassed. She now weighs 173 pounds.
After losing so much weight, Lexi had painful excess skin and at the end of October 2018, doctors removed seven pounds of skin in a 360-degree body lift.
"My goals are now to tone up and get back into the shape that I was before so I can heal as well from my next surgery," she explained, via email. Lexi has at least two more surgeries planned to remove the remaining excess skin.
"Surgery has made my workouts easier, and made me realize just how strong my body and mind is. When I first thought about surgery, I was terrified," she said. "I realized we have to grow through what we go through."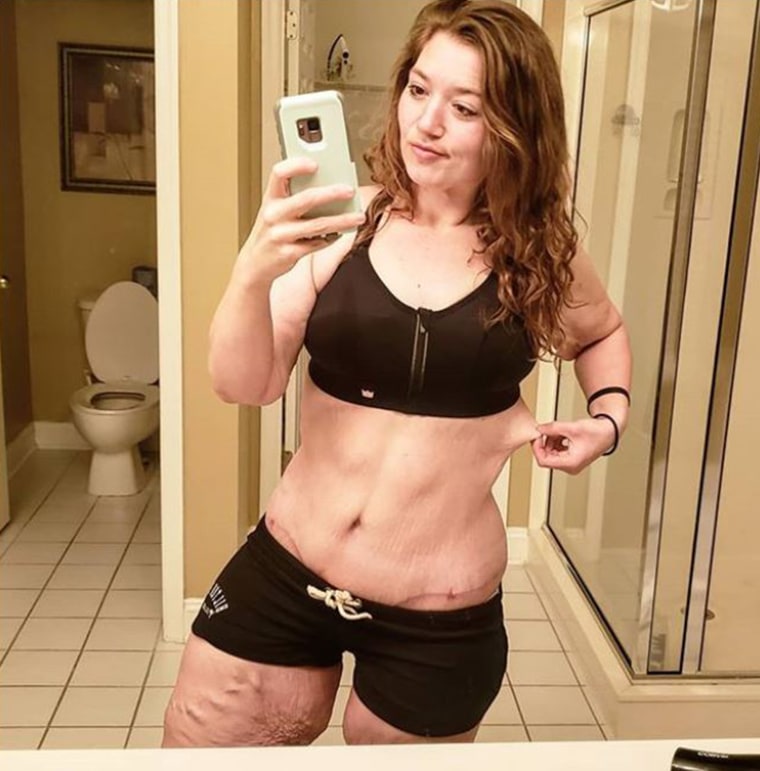 Danny hopes to lose 100 pounds. He's five pounds shy of his goal.
"I was just doing cardio only and now I switched up to doing weight lifting and that really shocked my body," Danny, 30, said. "I am focusing on my food intake and still working hard to hit 100 pounds lost."
The couple continues to tweak their eating plan as needed.
"We don't feel like we are on a diet anymore. We feel like it is a lifestyle," said Lexi.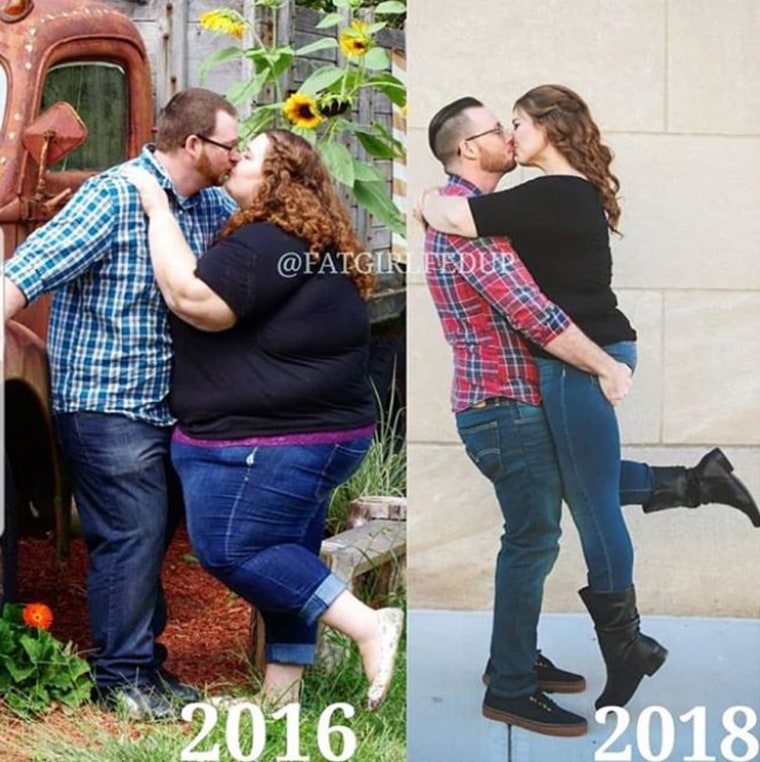 The couple eats lots of fruits, vegetables and lean protein, while taking in fewer carbs. They don't avoid carbs completely; they just make them a smaller part of their meals. They have a cheat day, but try not to let it get out of control.
"It is such a better feeling eating clean food than all the greasy, fat-filled foods," Danny said. "It kind of slows you down and is not a good feeling at all."
While losing weight has transformed how they look, they are thrilled by the new adventures they can pursue.
"I have learned it is not about the weight that you lose, but the life that you gain," Lexi said.
They had a summer bucket list that they enjoyed fulfilling. Hiking, walking, flying on a plane and riding a roller coaster are a few of the things that the Reeds did.
"I am grateful for every single day and I am enjoying the journey," Lexi said. "Every day is a non-scale victory and a reminder of how far I've come."
They even returned to Panama City Beach.
"We went back there this summer and we ran down the beach," Lexi said. "It has been an adventure to say the least."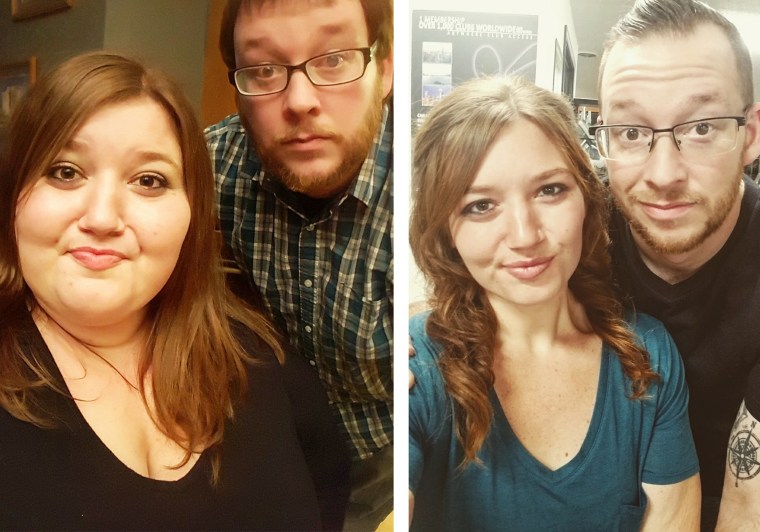 Here are their tips for others interested in losing weight:
1. Make healthy swaps.
Whenever they can, the Reeds make foods they love healthier. If they want chicken Parmesan, they might have eggplant instead. Or they'll make pizza using a wrap instead of a pizza crust.
"We make a healthy version, so we don't feel like we are deprived," Lexi said.
2. Sometimes, you make mistakes.
"We have had cheat days that turned into a cheat weekends. On Monday, we have to get back on track," Lexi said. "We really keep each other accountable and get back on track."
3. It takes time.
"It is a journey and not a sprint and it takes a lot longer than anyone anticipates. You won't see results overnight. It takes longer than you think and don't let that discourage you," Danny said.
4. Find what works for you.
"We just found that higher protein and lower-carb diets really work well for both of us," said Danny.
Seeing results keeps them motivated to stick to their eating plan.
5. Switch it up.
When cardio wasn't transforming Danny's body like he wanted, he added weight lifting. When walking on a treadmill was too boring, Lexi joined classes.
"I try to shock my body or my routine," said Lexi. "I'm learning every day, trying new things."
For more weight-loss inspiration, check out our My Weight-Loss Journey page. Interested in changing your habits? Sign up for our One Small Thing newsletter for extra support.