Chip Gaines added another notch to his tool belt by finishing his first marathon earlier this month.
Of course, the "Fixer Upper" star took that very literally — by wearing an actual tool belt during the 26.2-mile run in the inaugural Silo District Marathon in Waco, Texas, which he hosted with his wife, Joanna.
As it turns out, there was an inspiring reason for the accessory choice.
"I wore my tool belt in honor of a local U.S. soldier who is currently serving overseas," the 43-year-old Gaines said an interview for Joanna's At Home blog on Magnolia.com.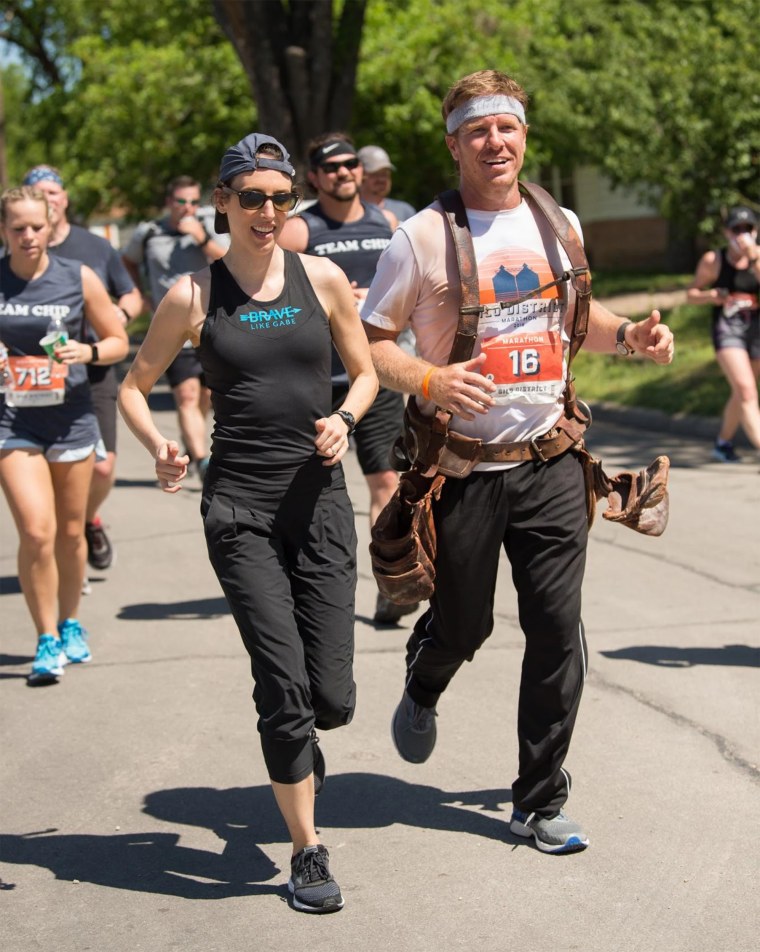 "He thought he'd be able to make it to Waco for the race. Unfortunately, as I can only assume must happen often, things changed and he was not able to leave and be with us for this marathon."
Undeterred, the soldier convinced his commanding officer to run the race where he was serving.
"He chose not only to run the race, but to do it in full gear, which he explained added about 40-45 pounds," Gaines said. "So I figured if he could run in 90-degree heat with an added 45 pounds on his back, I could at least honor him with my tool belt. And I did."
That wasn't the only way he stood out from the other 6,000 runners in a race that raised $250,000 for cancer research through the Brave Like Gabe Foundation. He also ran with a group of about 10 family members and friends, including all four of his kids. (Joanna is pregnant with their fifth child.)
"Drake, my oldest, ended up running 14 miles with me," said Gaines. "He started running up ahead to water stations, grabbing me a cup, and then running it back to me so I wouldn't have to stop. He was taking care of me."
So, any plans to run another marathon?
"Not a chance. I'm kidding! But only kind of," he said. "Right now I can tell you with complete confidence that I have no plans to run another 26.2. BUT that's not to say I won't change my mind tomorrow."