Jacob Thompson, a boy who inspired thousands from around the world to send him Christmas cards as he battled cancer, died at 9 years old on Sunday.
His family announced on Facebook that he passed away less than four years after being diagnosed with stage 4 neuroblastoma that spread to his head and hip.
"Each and every person who sent Jacob a Christmas card, a gift, a Facebook message or video, or a prayer made a difference in the final days of his life,'' his family wrote on a Facebook page managed by his aunt, Sonya Artinyan.
"You brought Jacob joy, and you brought us all optimism for the future. Thank you for taking the time, and taking an interest in our sweet boy's journey."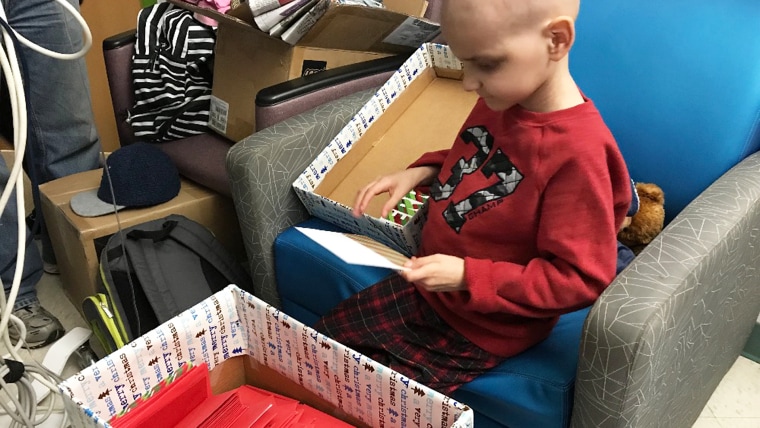 The little boy's mother, Michelle Thompson Simard, and his father, Roger Guay, created a heartbreaking GoFundMe page last month to share Jacob's story, and asked others to send him Christmas cards because he might not live to celebrate the holiday.
His parents wrote that he was admitted Oct. 11 to the Barbara Bush Children's Hospital in Portland, Maine, "for the last time." His family's request resulted in Christmas cards for Jacob being sent to the hospital from all over the world.
The family also opened some cards while celebrating an early Thanksgiving with Jacob two weeks ago.
Friends and family also decorated his hospital room with a Christmas tree and organized a special visit from Santa Claus one week before his death.
Many people also sent toy penguins, in honor of Jacob's favorite animal. Jacob's mom told Good Housekeeping that he made his life's motto "live like a penguin" because for Jacob that meant "be friendly, stand by each other, go the extra mile, jump into life and be cool."
Jacob was able to meet a penguin in person when members of the Mystic Aquarium in Connecticut brought two to the hospital in Maine for him, according to NBC affiliate WCNC. The University of Maine men's hockey team and a host of law enforcement officers also came to see him.
The family wrote that they are hoping Jacob's story can bring more awareness to neuroblastoma, which most frequently affects children 5 years old and younger, including 800 new children every year in the United States.
"It is tragic, and more research and resources are needed to continue fighting for a cure,'' they wrote. "We hope that Jacob's story and the enormous outpouring of support from around the world will have a lasting impact on raising awareness for this disease. We hope that donations will be made, and a cure will be discovered as a result."
Follow TODAY.com writer Scott Stump on Twitter.