Forget about the stereotype of slender bodies twisting themselves into petite pretzels. Valerie Sagun believes anyone can do yoga.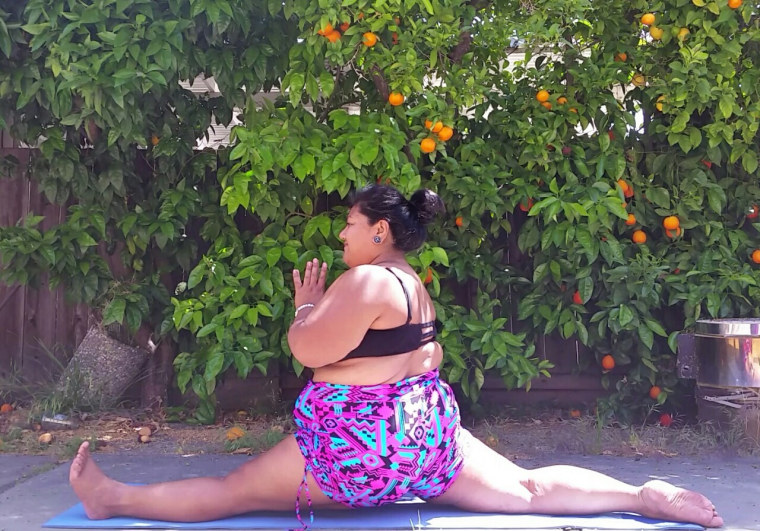 Known as "Big Gal Yoga," Sagun has more than 100,000 followers on Instagram, where she demonstrates headstands, arm balances, backbends, splits and other poses. With citrus trees serving as her background, Sagun takes most of the photos herself in the backyard of her San Jose, California, home.
Long curious about yoga, Sagun began practicing in 2011 when she took a semester-long class at her university. The ancient practice can be intimidating for beginners, but Sagun felt comfortable from the start.
"It gives you a little bit of confidence. It reassures you that your body is able to do these active things without having to be so stressed out about it," Sagun, 28, told TODAY.
"After I had taken the first class, I was always at the front and I didn't really pay attention to anyone else besides my own practice."
Happy with her physique, she wouldn't change anything about it and is not looking to lose weight, she said, though she'd like to be more active outdoors and able to do more hiking and biking.
Calling herself a "radical self-love enthusiast and body positive encourager" on her blog, Sagun offered these four tips about accepting yourself:
1. Don't put your life on hold until you have the 'perfect' body
Yoga helped Sagun to love and accept her body, noting it gave her the strength to get over "the mental hurdle of my own self-doubt" when it came to enjoying life.
"I had that mindset where I would be always saying, 'Oh, I can't do something until I lose some weight,'" Sagun recalled. She had always wanted to try rock climbing, but succumbed to that little inner voice that told her she wouldn't be able to pull it off unless she slimmed down.
"After taking yoga, I was like 'just go for it' and I tried it out at my own size and I was able to do it."
2. Really look at your body
Something as simple as looking at yourself naked in the mirror can be a helpful exercise in self-acceptance, Sagun said. She likes taking photos of her body and is not shy about posting images showing off her physique.
You can easily hide things with your clothes and obsess about whether you have too many lumps, rolls and other imperfections, Sagun said. So she often chooses not to cover up in her pictures.
That confidence, which comes naturally for her, was also enhanced by her first romantic relationship.
"He liked my body and the way it looked," Sagun said. "After him seeing me, I somehow felt way more comfortable about it."
3. Don't let negative comments get to you
Once she began attracting more followers online, Sagun also began receiving more comments from trolls and others criticizing her physique.
She reads them, but "it's super rare" for them to affect her, she said. Sometimes, she uses them as inspiration to write a blog post and start a conversation about body image.
"It's good not to sugar-coat things, that everything is all happy. There are people out there who can be mean," Sagun said. "They don't know me."
4. Try new things
People spend their lives waiting, reluctant to take a chance on a new activity or experience and held back by their own self-doubt.
"If it looks like something that you really want to do, that would make you happy, just go for it," Sagun said.
"You have to just go to see how it goes. People who want to try yoga, it might not be for them but at least they tried it."
Sagun is planning to try something new next year herself as she prepares for yoga teacher training in Sedona, Arizona. She's set up a fundraising page to help her achieve that goal.