Here's what 50 looks like these days: Brad Pitt, Michelle Obama, Sandra Bullock. Although AARP still wants you to sign up, 50 now feels frisky, not frumpy. The new TODAY "This is 50" survey found people are more satisfied and less stressed in their 50s, and nearly half say they're enjoying life more than in previous decades.
That may sound odd coming from the cohort of folks who turn 50 in 2014. After all, they helped invent the mosh pit back in the mid-1980s. Even Eddie Vedder of Pearl Jam fame turns the Big 5-0 in December.
But it's clear this new legion of half-centurions shows no signs of slowing down. In fact, they say they're just getting started. Hoda Kotb turns 50 this Saturday, and to celebrate, TODAY conducted an online survey of 1,500 people ages 45 to 69 to see what's in store. The results show she could be having quite a party for quite a while — moshing optional.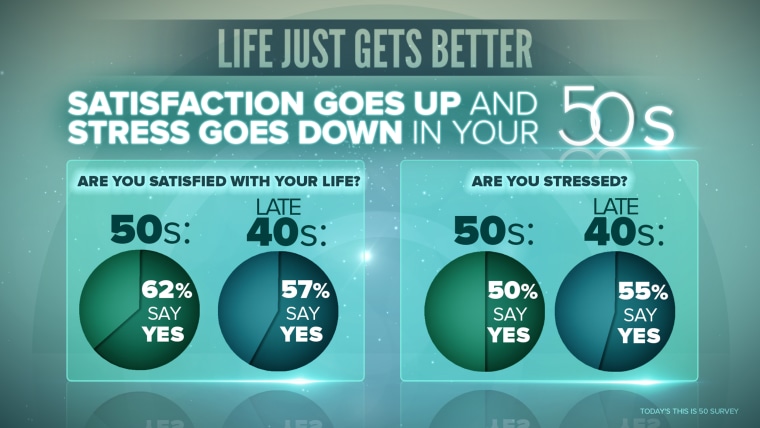 Among our findings:

Sixty-two percent of respondents in their 50s said they were satisfied with their lives, up from 57 percent of those in their late 40s.

Marital satisfaction went up, and so did good vibes about relationships with children and parents.
Finances looked better, too, with 71 percent living comfortably or having a little left over after expenses. That may be because they also said they're spending less on their children and more on themselves.
50-somethings really do feel wiser and more balanced than they used to.
And hello, free time: 66 percent said they had more leisure time and a similar number said they had more time with romantic partners and to learn new things.
While age 50 was once considered the death knell of living vibrantly, being 50 in 2014 is a brand new ballgame. In fact, nearly three-quarters of those in their 50s surveyed by TODAY say age 50 today really is younger than it was in their parents' generation, and 70 percent say they feel younger than their age.
This doesn't surprise Marcia Reynolds, an executive and author of "Outsmart Your Brain" and "Wander Woman: How High-Achieving Women Find Contentment." She says she felt "energized" when she hit the half-century mark, and even went back to school to get a doctorate while in her 50s.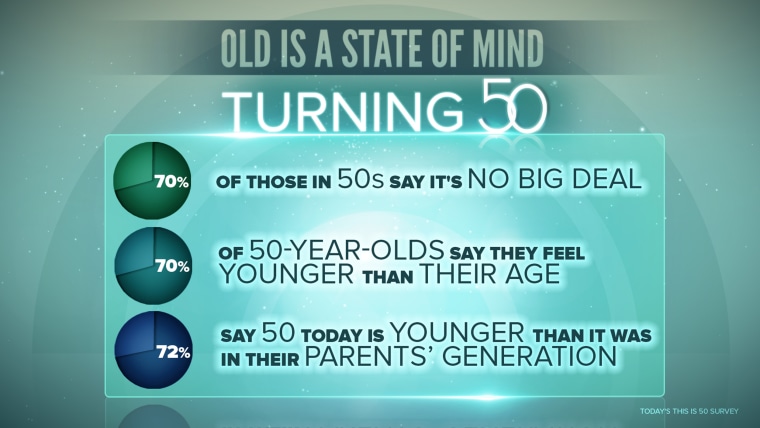 "There is no one size fits all, but what I see a lot is that individuals in their 50s have a great sense of realism about their lives and they are very comfortable with who they are," says Reynolds, who works with many professionals who are at midlife and mid-career. "They realize that life can be pretty good."
In her own work, Reynolds finds that people in their 50s tend to be less stressed. "When you're in your 30s everything is all about having to do things, having to find work, having to find something better, but when you hit your 50s you find that you don't have to keep grasping for things, and you don't sweat the small stuff," she says.
Indeed, the TODAY survey found that although life isn't all fun and games for the 50-somethings among us, 42 percent of respondents said they do feel less stress in their lives, and 52 percent felt less of a need to strive for work and career success and financial success. Overall, people in their 50s were less likely to report stress about their finances, work, and relationships with spouses, children and friends. "By about age 50 you may realize that, well, if you're not CEO of the company you're probably not going to be CEO," says Reynolds. "But you also realize that's really OK."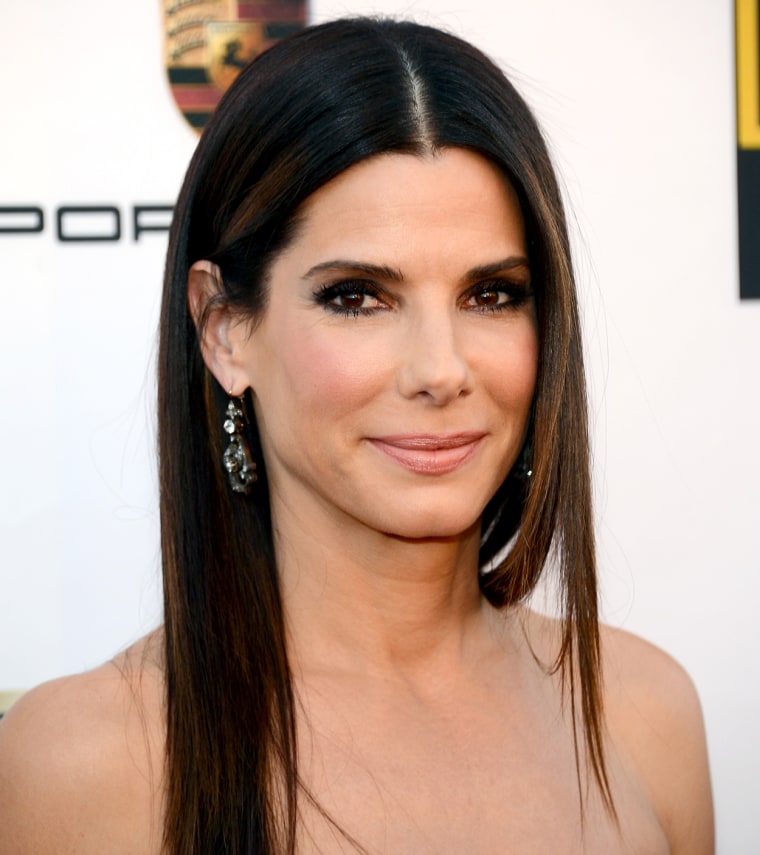 And while more than half of folks in their 40s are feeling a little angsty (55 percent to be exact), only half the 50-somethings feel stressed.
"I thought that in my 50s I would be traveling with my husband and figuring out where we were going to buy a vacation home and I thought I would be remodeling my kitchen, too," says Amy Koko, 53, of St. Petersburg, Florida. "Well, I'm divorced and not doing any of those things, so there is stress, especially about finances. But I think the 50s are a lot better than I actually expected."
But Koko is confident things will get better. And the TODAY survey shows that confidence only improves with age: More than 68 percent of respondents say they are more confident in their 50s and more than half say they are satisfied with their physical appearance.
Those in their 50s also have a sense of humor about themselves and life in general. According to the TODAY survey findings, 52 percent of respondents in their 50s said they laugh multiple times a day, and a whopping 78 percent said they laughed at least daily. And although most 50-somethings feel content with their looks, about 36 percent of women said they didn't feel content with appearance, compared to 28 percent of men.
"I think one of the great myths is that 50 is the new 30," says Koko, with, of course, a laugh. "No, it isn't. I exercise, keep fit, eat healthy and I think I look pretty good, but there are things we can't fight, and you have to get used to it. The difference is that today I'm no longer worried about what people think."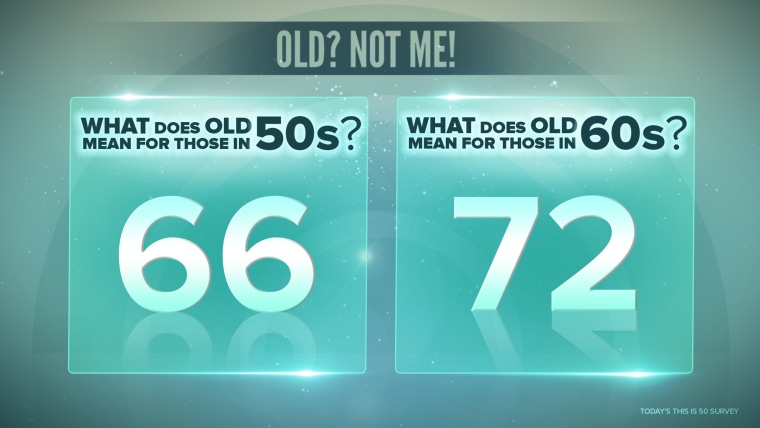 All of this is good news for those on the cusp of that half-century mark. Although most people say turning 50 won't change much, 13 percent admit they aren't looking forward to it. Among them is Karen Curtis, 49, of New Orleans, LA. "I'm a nurse and I do see how quickly medical issues can develop in a person's 50s," she says. "That demographic can be scary if you're not in good health. I am in good health, but things can change."
Take heart, Ms. Curtis. Although more than half of those in their late 40s said they feared declining health in the TODAY survey, only 35 percent of those in their 50s actually experienced it. In fact, 73 percent of people in their 50s say they're in excellent or good health, unchanged from their late 40s. The most common health complaints in our 50s include high blood pressure (37 percent) and high cholesterol (35 percent), arthritis (25 percent), depression (15 percent) and diabetes (14 percent.) To stay healthy, nearly 70 percent eat healthy and nearly 60 percent exercise.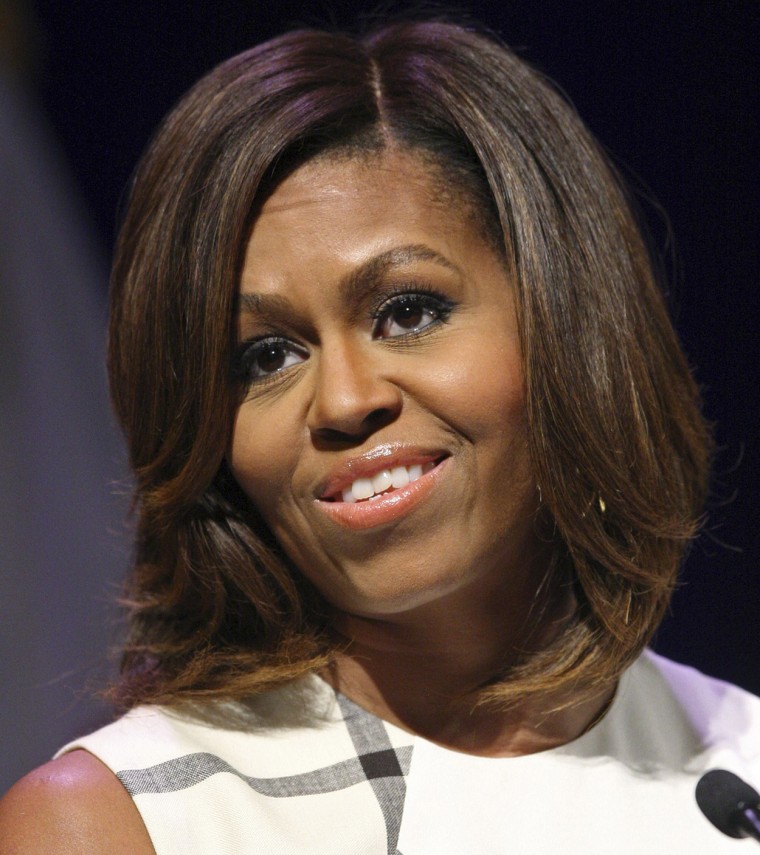 Curtis does believe, however, that aging has some benefits. Among them are watching her own college-age children "go out and change the world," she says, and spending more time with her new husband. According to TODAY's survey results, nearly 75 percent of 50-something folks say they are satisfied with their relationship with a spouse or significant other and nearly 80 percent say they are very or somewhat satisfied with their relationship with their children.
"I divorced in my late 30s, went back to school to get a second bachelor's degree, struggled a bit financially, but at the end of the day, I really like who I am, and who I will become as I get older," says Curtis, who was a slam-dancing, mosh pit queen back in the day. In fact, she and her husband recently went to see post-punk, alt-rockers Nick Cave and The Bad Seeds. Her husband just turned 60. "My husband is what good aging is all about," gushes Curtis. "He loves the symphony, but he's always willing to try new things." Rock on, dudes.
(You can find more about the methodology of the TODAY "This is 50" survey here.)
All week, TODAY is exploring what 50 is like today, from dating to sex, health, fitness and finances. Follow the series here.