/ Source: TODAY Contributor
There's way more to do with tea than just sit around sipping it with your pinky up. From exotic beverages to culinary creations, skincare to gardening, the sky's the limit when it comes to using and enjoying tea. Here, 54 surprising uses for tea from chefs, tea aficionados, bakers, baristas and more lovers of the leafy libation.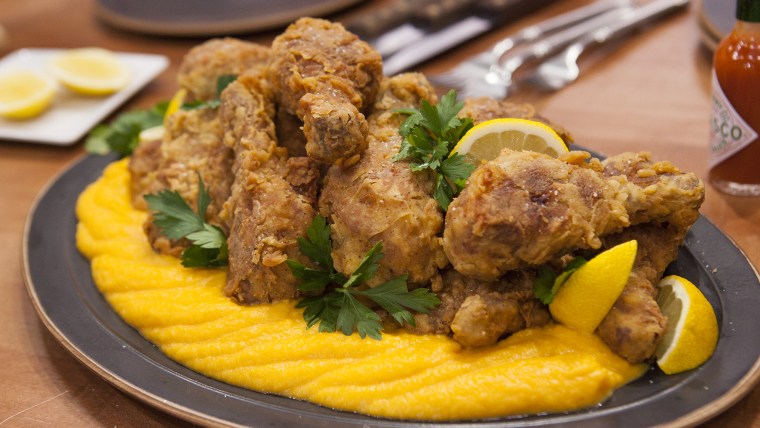 Food uses for tea
Sometimes grandma just knows best! Chef Ryan Scott shares his grandma's sweet tea-brined fried chicken. With its Southern-inspired flavors, it's finger-lickin' good, to say the least. Make for dinner for the family or serve it as a Sunday football treat. Either way, it's sure to be a winner with the crowd!
2. Churn ice cream
We all scream for green tea ice cream! Dessert guru Jacques Torres takes things one step further by flavoring ice cream with Earl Grey tea and serving it between decadent chocolate chip cookies.
3. Infuse into crème brûlée
Earl Grey and Tamarind Crème Brulee: Using a tea infuser, infuse 1/8 ounce of tea leaves into 1 cup milk and 1 cup heavy cream and bring slowly to a boil. Stir 7 ounces of sugar into 6 yolks until the sugar is dissolved. Pour milk and cream into the yolks and sugar. Stir in 2 tablespoons of tamarind pulp. Strain, cool and let the mixture stand overnight in the refrigerator. Stir the mixture before pouring into individual ovenproof dishes. Bake, covered, in a bain marie (baking pan with hot water about halfway up ovenproof dishes) at 250F for 45-60 minutes.
4. Smoke meats
Meeta Sharma of teabox.com shares her method: Line a flameproof roasting tin with a sheet of foil and top it with tea leaves, rice and sugar. Drizzle with cooking oil. Lightly cover the tin with a perforated sheet of foil. Place inside a hot oven till the leaves begin to smoke. This technique gives the meat a soft, smoky flavor.
5. Bake in bread
Aditi Te at Teabox.com uses only six ingredients to make her tasty breakfast tea bread: strong black tea, mixed dried fruit, self-raising flour, sugar, one egg, and orange marmalade.
6. Blend a BBQ rub
Rub juicy beef tenderloin with star chef Ming Tsai's spicy rub: 1½ cups lapsang souchong tea leaves, 1/4 cup sea salt or kosher salt, 1/4 cup red pepper flakes, 1/4 cup chipotle chile powder, 1/4 cup dehydrated garlic or regular garlic powder, 2 tablespoons cayenne pepper and 2 tablespoons five-spice powder.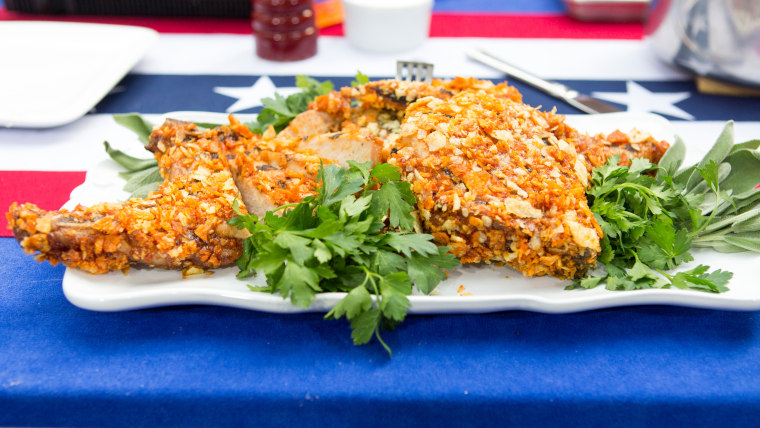 For her BBQ Grilled Chip Chops, Sunny Anderson brines bone-in pork chops in a mixture of sweet tea and salt, grills them, lightly dunks them in a classic BBQ sauce, and then dredges them in crushed BBQ-flavored kettle chips.
8. Top tofu
Eric Gower, chef and matcha tea specialist at breakawaymatcha.com, tops fried tofu triangles with roasted green tea and polenta for his Crispy Houjcha Tofu in a Smoky Ginger Broth.
9. Brush it on vegetables
Gower brushes butternut squash rounds with a mixture of melted butter and fruity rooibos tea leaves, then roasts the pizzettes until crisp.
10. Upgrade poached eggs
Gower gives poached eggs personality with a pinch of matcha salt.
11. Steep mushrooms
For Gower's Crisp Genmaicha Tofu Shiitakes, shiitake mushrooms and Napa cabbage are steeped in tea and served with fried tofu.
12. Noodle it
Toss store-bought green tea soba noodles with sautéed veggies to makes a delicious entrée.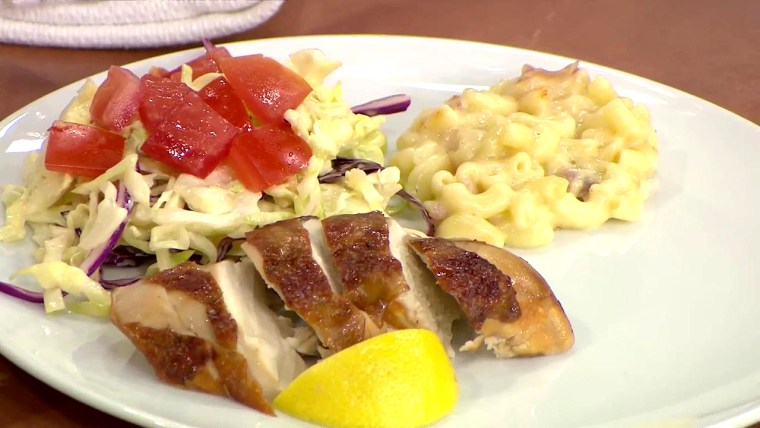 13. Marinate chicken
Cookbook author Elizabeth Heiskell knows how to woo a crowd. Her Sweet Tea-Marinated Chicken is sure to be a hit at your summer barbecue. It's so simple, but tastes anything but that!
14. Soup it up
Gower uses tea two ways in his Jasmine Chicken Soup with Green Tea Soba. Jasmine tea imparts a delightful taste to this chicken and noodle soup, plus the noodles are made with green tea.
15. Boil Chinese marbled tea eggs
Boiled eggs are cracked and steeped in a savory tea/soy broth for an exquisite flavor and a beautiful marbled effect. Make a double batch and keep the eggs in the refrigerator for snacking, just store in an airtight container for up to a week. Dark soy sauce will give you a richer color and flavor, but using regular soy sauce will result in something just as delicious. Serve these tasty treats numerous ways: add to a noodle bowl, garnish a salad, or simply snack on it at a picnic.
16. Coat a duck
Gower's Smoked Tea Duck is a delicious entrée made of duck breasts coated with rice and lapsong souchong tea then fried crisp.
17. Marinate lamb
Take the classic pairing of mint and lamb one step further: Billy Dietz, a Davids Tea specialist, tops mint tea-marinated lamb chops with a minty chimichurri sauce for a super supper dish.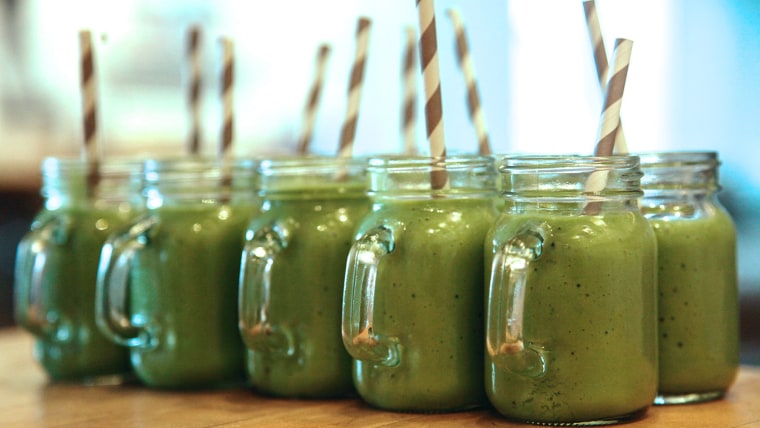 Beverages with tea
18. Blend a smoothie
Sip on TODAY Wellness Contributor Joy Bauer' s energy-boosting Mango-Green Tea Smoothie. Or try this Morning Glory Matcha Smoothie.
19. Shake up a tea latte
Make this yummy Iced Matcha Almond Latte by adding 1 handful of ice to a cocktail shaker. Add 1/3 cup water, 3/4 cup almond milk, 1 heaping scoop of matcha and 1⁄2 teaspoon agave (optional). Shake and then pour over fresh ice to serve.
20. Try it Thai
For an easy Thai iced tea, add 2 tablespoons of coconut milk and 1 tablespoon of sweetened condensed milk to a 12-ounce glass of iced black tea. Want to booze it up? Add 2 tablespoons coconut rum or spiced rum to each glass.
21. Ferment it into kombucha
Kombucha tea is made by allowing a sugary tea to ferment with a scoby or starter. The result is a fizzy, sweet and slightly sour drink that is packed with probiotics and antioxidants. It's thought to aid gut health. You can buy kombucha tea pre-packaged or make it at home. TODAY host Al Roker likes to start every morning by drinking an energizing kombucha tea with lots of fresh ginger — and listening to the "A-Team" theme song.
22. Spice it up
Skip the Starbucks and go for an easy DIY chai at home with this easy Iced Chai Soy Tea.
23. Fill with tapioca for bubble tea
Popular first in Taiwan and now throughout Asia and some US cities, bubble tea is made with tea, sugar, milk or fruit juice and large tapioca pearls that give the drink a chewy twist.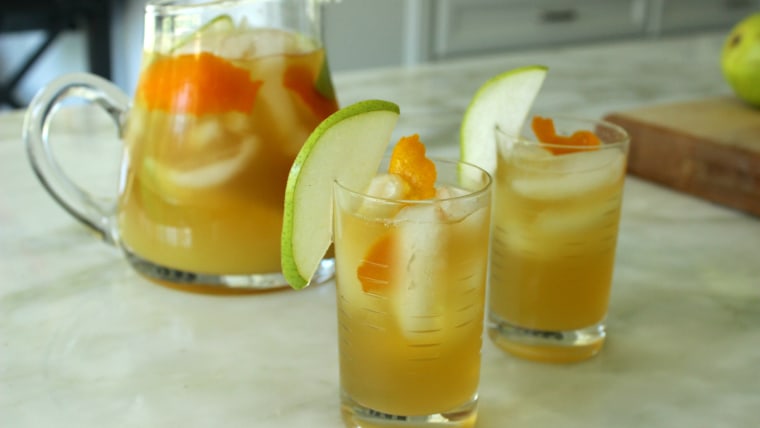 Grab a pitcher, brew some tea and toast to your weekend with this Big Batch Green Tea, Vodka and Pear Punch.
25. Sip it spa-style
Juice 1 medium cucumber and 1 lime and add to a pitcher of green tea with your favorite sweetener, to create a thirst-quenching, spa-inspired drink. Want to make it boozy? Add 1/2 cup Hendrick's gin — its floral and cucumber taste makes it a great match.
26. Add sorbet
For a cooling tropical version, add a scoop of mango sorbet or passion fruit sorbet to a 12 oz. glass of iced black or green tea. As the sorbet melts, it infuses each sip with fruity flavor. (Don't forget to serve this drink with a straw!) You can spike it by adding 2 tablespoons citrus vodka or spiced rum to each glass.
27. Doctor up bottled iced tea
With a few splashes of the Italian lemon liqueur limoncello, tequila and some dark rum, Sunny Anderson turns the store-bought drink into a boozy refresher. Recipe to try: Sunny's Brooklyn Iced Tea
28. Go Southern
Sweet tea is a consummate Southern summer beverage and a must-try at least once.
29. Give mimosas a boost
Add pomegranate or raspberry tea with bubbly and orange juice for a magnificent mimosa.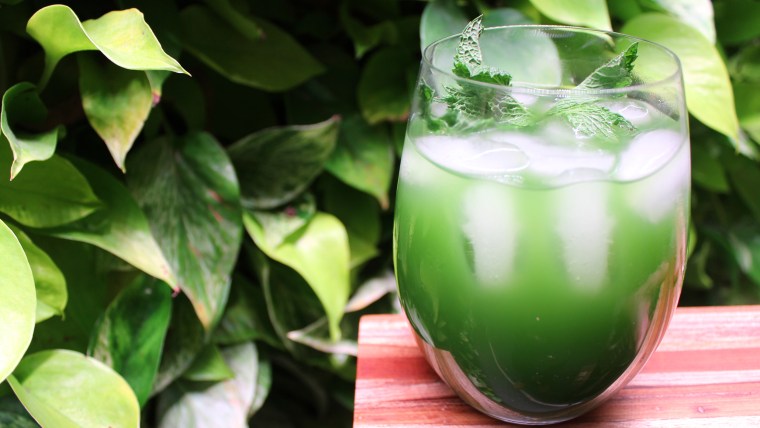 30. Add it to an Arnold Palmer
Hit a hole in one with this easy Iced Matcha Arnold Palmer: Add 1 handful of ice to a cocktail shaker. Add 3/4 cup water, 1/2 cup lemonade and 1 heaping scoop of matcha. Shake and then pour over fresh ice to serve.
31. Pair with a dollop of jam
It actually makes total sense: Jam brings out the natural flavors of tea, without overwhelming it with sweetness, making it a nice alternative to sugar or even honey.
Banish diluted iced tea with tea ice cubes. Simply freeze a batch of brewed tea in the ice cube trays and you'll never have a watered-down brew all summer long. Even better, add some mint leaves to the trays for a refreshing twist.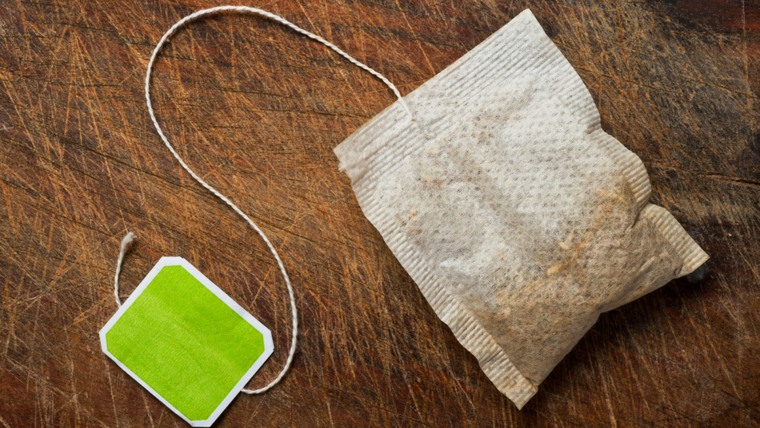 Beauty uses for tea
33. Bathe in it
For a hydrating bath, add 3 teaspoons of tea leaves to hot bath water and allow it to "brew" for 5 minutes. Before taking a dip, adjust the temperature of the tub by adding more cold water. Then, just relax and enjoy.
34. Freshen your mouth
The antiseptic and analgesic properties of peppermint create an effective and soothing mouthwash. Here's how to make a Peppermint Tea Mouthwash: Boil 1 tablespoon fresh peppermint leaves and 1 cup of water. Allow to steep for 15 minutes. Add 2 pinches of salt. Swish the warm liquid for up to one minute.
35. Wash your hair
Sangeetha Dsouza of theindianspot.com creates a natural Green Tea Shampoo: Steep 1 green tea bag in 1 cup of hot water for 25 minutes; cool. Mix tea water, 1 cup Castile soap and 1 tablespoon of olive oil. If desired, add a few drops of essential oil, like lavender or rose, for fragrance.
36. Rinse your hair
For a cleansing hair rinse, Dsouza steeps 2 green tea bags in 2-3 cups of hot water for a few hours, or overnight. Use the tea as a final rinse for hair. Massage into scalp and allow it to set for 5 minutes before rinsing with cold water.
37. Condition your hair
Desouza also suggests using green tea to make a hair conditioner: Steep 2 green tea bags in 1 cup of hot water. Cool. Add 1 tablespoon of coconut oil and 1 tablespoon of honey. Mix well and apply to scalp and hair. Allow it to sit for 30 minutes. Rinse well.
38. Scrub it on
Traci Pichette of pumeli.com makes a Matcha Green Tea Sugar Scrub that's rich in antioxidants, plus matcha tea is well known for its gentle healing properties.
39. Reduce under-eye bags
Apply warm, damp tea bags over closed eyes for 20 minutes. Tannins in the tea reduce puffiness, says Dr. Alan J. Parks of eastsidedermatology.com.
40. Soften wrinkles
Green tea has replenishing antioxidants — whether you're drinking it or letting it absorb into your skin, you're getting benefits. Fashion designer Norma Kamali swears by the brew for her skin: Soak a paper towel in cooled green tea, then lift it and squeeze the excess liquid. Lie back, put it on your face and relax!
Health uses for tea
41. Rev up your metabolism
TODAY's Joy Bauer shares her ab-friendly recommendation: Drink a cup of unsweetened green tea (hot or iced) 15 minutes before eating breakfast, lunch and dinner. It'll take up room in your stomach so you consume less at mealtime, and as a bonus, green tea slightly revs up your metabolism.
42. Relieve insect bite pain
Apply wet tea bags to affected area for soothing relief, says Parks.
43. Treat acne
Dsouza recommends brewing 1 cup of green tea to start. Cool the tea, then apply the tea water to skin and allow it to sit for 15 minutes. Rinse and follow with a moisturizer.
44. Drain a boil
Affix a wet tea bag overnight on the boil. It should be drained in the morning.
45. Soothe sore gums
After losing a tooth, check bleeding and relieve pain at the same time by applying a wet tea bag to the sore area.
46. Swap with coffee to reduce caffeine intake
"Herbal blends have no caffeine, while traditional teas have less than 50 percent of what typically is found in coffee. That means you can consume it without those pesky effects on your nervous system," Leslie Bonci, nutritionist and owner of Active Eating Advice, told TODAY Food.
47. Settle a sore tummy
"Herbal teas, in particular chamomile, can be good for people with irritable bowel syndrome because it is an antispasmodic," Bonci says. "And ginger teas can calm nausea."
After consulting with her doctor, TODAY's Hoda Kotb found that sipping on nettle tea that's been steeped for 10 minutes helped her reduce menopausal-induced hot flashes.
49. Alleviate allergy symptoms
Thanks to the homeopathic experts at Madison, Wisconsin's Community Pharmacy, TODAY Food's senior editor Vidya Rao tried nettle tea for the first time and found that it was a huge help in relieving her seasonal allergy symptoms.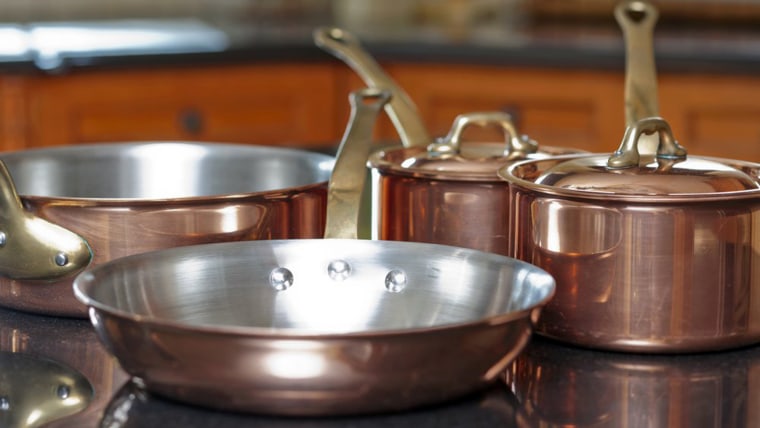 Home uses for tea
50. Soak dirty pans
For stubborn burnt spots, fill a pan with hot water and a black tea bag. The tannic acid in the tea will help breakdown the grease.
51. Dye fabric
Regular pekoe tea gives cotton an antique, sepia tone. The longer the fabric soaks in the tea, the deeper the color. Use three tea bags for every 2 cups of boiling water. Steep for 20 minutes and cool before soaking.
52. Make potpourri
Place scented tea leaves in small containers to add fragrance to a room.
53. Pot plants
Place used tea bags at the bottom of the pot before adding soil. The tea bags hold moisture and provide nutrients to the roots, according to horticulturist and arborist David Parr, co-owner of Garden Spot Nursery in Slidell, Louisiana.
54. Mulch into soil
Add new or used tea leaves to the soil around plants and trees. The tea leaves create good bacteria for the soil and roots, says Parr.
This post was originally published on June 16, 2016.