If fans of FX/Hulu's hit dramedy series "The Bear" are hoping to see more closeups of Italian beef sandwiches, red sauce-smothered spaghetti and more amid all the shouting and frenetic energy in Season Two, star Abby Elliott says they're in luck.
"I think there's just a lot more of what they loved in Season One," Elliott tells TODAY.com ahead of the show's sophomore season, which drops all 10 episodes on June 22. "They're building a restaurant in Season Two and so it's a lot of what goes into that. Carmy is trying to constantly fix the place and there are a lot of beautiful shots of Chicago and beef."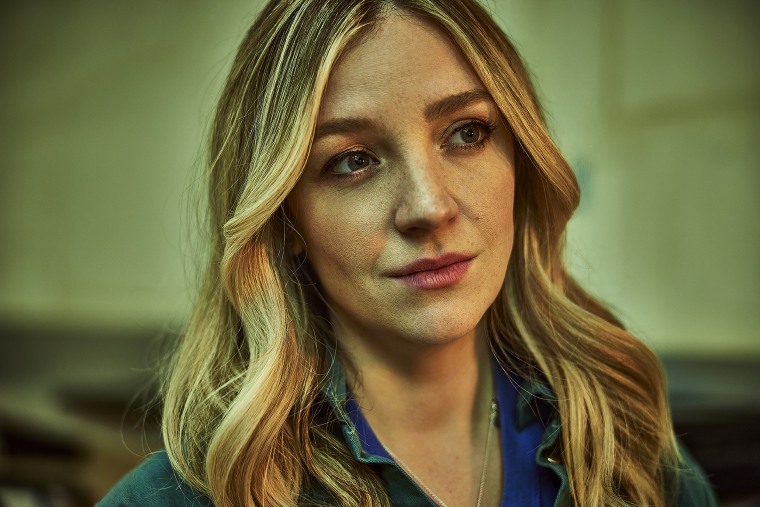 Season Two of "The Bear" follows Carmen "Carmy" Berzatto, played by Jeremy Allen White, Sydney Adamu, played by former TODAY cover star Ayo Edebiri, and Richard "Richie" Jerimovich, played by Ebon Moss-Bachrach, as they overhaul the rough-and-tumble operation that is their Chicago eatery "The Beef" into something new. And by the looks of things, it's going to be as stressful as ever.
Sugar, spice and everything nice
"Saturday Night Live" alum Elliott, who plays the level-headed fixer of the family Natalie "Sugar" Berzatto, shares that her character leaves the outer edges she occupied in Season One and joins her brother Carmy and his ragtag group of restaurant staff in the pandemonium that viewers have come to know and love.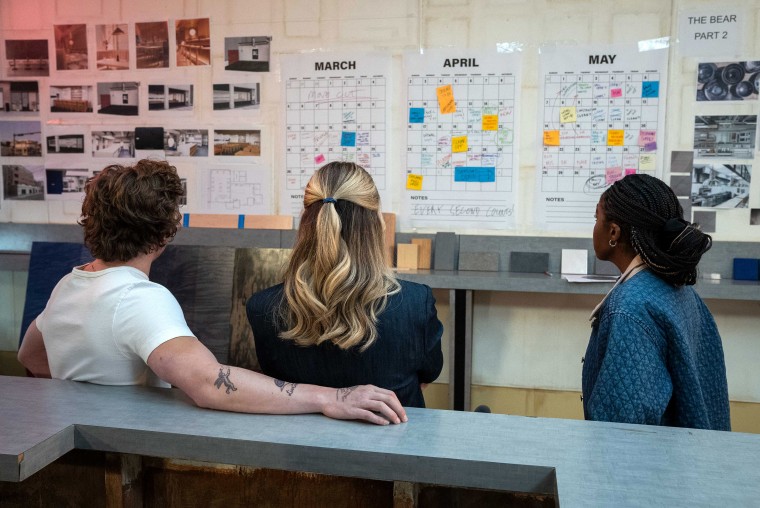 "I had a lot more scenes this season in the kitchen and in the restaurant. I finally got in there and got to see what was going on," Elliott says. "Last season, I had my stuff with Jeremy outside, so it was really fun and exciting to witness the chaos of the restaurant."
"The Bear," which currently boasts a 100% rating on Rotten Tomatoes, is about beautiful food and mounting stress, of course, but as the premise follows the cast's journey after Carmy inherits his family deli from his brother, Michael, who died, it's also about grief.
This season, the crew, which now includes Sugar, works to renovate the restaurant as several characters deal with loss, hopefully mending themselves in the process.
"I think people wanted to know more and so we go a little more in depth with Sugar," Elliott says. "We go into Carmy and Sugar's relationship, what they've been through together and what they're going through now, currently. People were curious."
Elliott says the new season delves more into all of the character's lives, adding dimension to the already rich foundation that the show's first season built.
The opening scene of Season Two opens quietly, focusing on the off-the-clock life of pastry chef Marcus, played by Lionel Boyce. Liza Colón-Zayas's Tina and Edwin Lee Gibson's Ebrahim also get to expand their roles in the new era of the restaurant, receiving professional culinary training for the first time.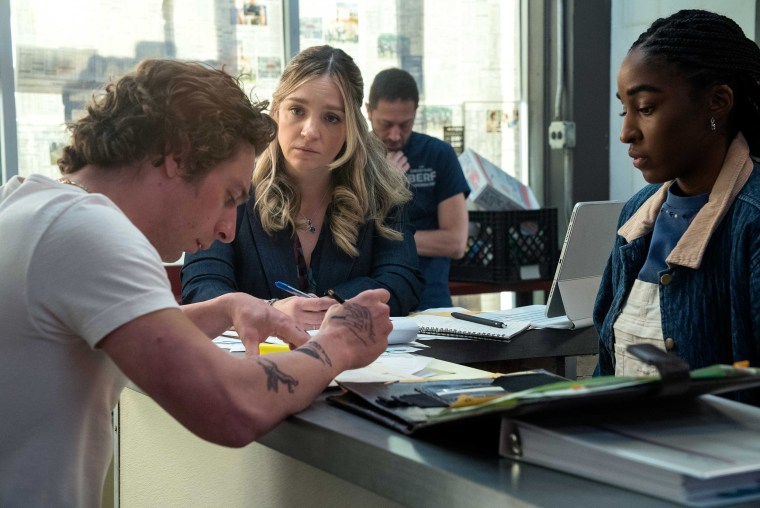 A recipe for success
Elliott's expanded role in the restaurant comes as she reflects on her own past in the service industry, and she says Sugar lasts much longer than she ever did. "I worked as a hostess in a restaurant and I did not last. I slipped and fell on the floor on the first day and I don't even think I picked up one paycheck because I was just too embarrassed to be seen. I did not make it a week."
Elliott says she admired watching co-stars Edebiri and White working in the kitchen while filming, noting that their character's abilities have rubbed off on them.
"They're both great cooks, now off-screen as well. It's inspiring, to say the least," she says.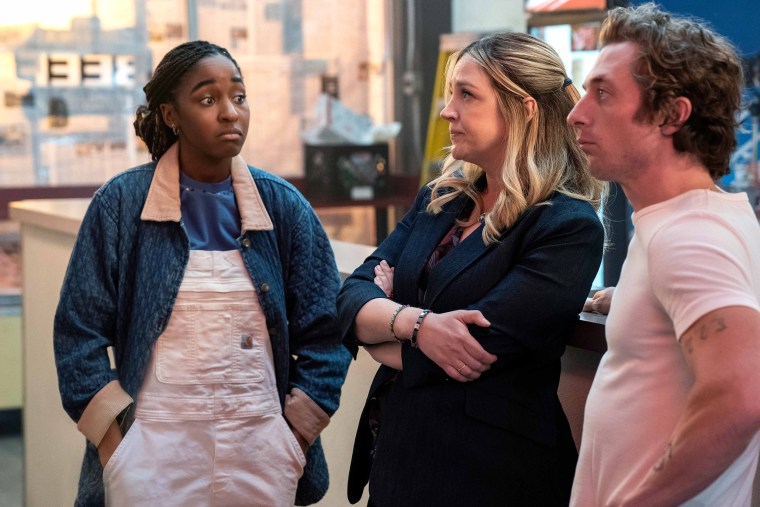 "I did shadow at a restaurant before this season and it was the same thing: I was in awe of everything that went on," Elliott adds. "My training was not as extensive at all as what they did, but I did get to go and see how everything was run and just be a fly on the wall observing."
She says the show is "such an accurate portrayal of what it's like to work in a restaurant." Now, she's fluent in kitchen slang — but that wasn't always the case.
"There were so many things that when we read the scripts last season that I didn't really understand, like 'behind' and 'yes, chef,' and on the page, the intensity, it was there," Elliott says.
That that doesn't mean that Elliott doesn't cook — in fact, she's already taken culinary inspiration from her character.
"The first season, my character made this chicken piccata and Courtney Storer, our culinary producer, was pounding the chicken during rehearsals — this was real, authentic, just delicious chicken piccata," Elliott says. "I took it home in a Ziploc bag, and I was just freehand eating it in the van on the way home. It was so good. And I've tried to re-create it. It's one of the things that I make these days."
Pure chaos, from 'SNL' to 'The Bear'
For Elliott, who just welcomed her second child William "Billy" Joseph Lunney Kennedy IV on June 9, filming a chaotic-seeming show like "The Bear" has its similarities and differences from another show on her resume, "Saturday Night Live," which was pure chaos.
"With 'SNL,' it's a comedy sketch show, right? So, if you mess up, the chaos is that you're live on camera," Elliott says. Even though "The Bear" isn't live, the show still demands the cast think on the fly.
"You have to improvise. Not everything is completely orchestrated in the kitchen and you really have to know what you're doing, busy work wise, if that makes sense."
Elliott recalls one sketch in particular of her four seasons on "SNL" that sticks out, at least when it comes to stress.
"I had a scene, the finale of my first season on the show, it was the cold open and between dress and air, something got cut and no one told me that I had the first line in the scene," Elliott says. "So they counted down until we're going live — '5, 4, 3, 2 …' — and I'm waiting for the person to enter to say their first line. No one entered."
Elliott says a stage manager started to whisper-scream at her to say the first line.
"I just started panicking, it was so confusing. And immediately I just started reading the cue cards," Elliott says.
That element is thankfully less prescient in her role as Sugar — but it's still a high-heat situation.
"I mean, obviously, its not that high pressure with 'The Bear,' but someone hands you a dish and you have to know where to put it, you need to clean the plate a certain way and all of that stuff. So in that way, the chaos is pretty similar," she adds, "But, I would say I'm a little more relaxed."