Dunkin' has once again proven that it offers more than just doughnuts.
On March 22, Dunkin' announced the debut of its first-ever Breakfast Tacos, which are now available on menus nationwide. The Massachusetts-founded fast-food chain beloved by Ben Affleck added the new menu item to its slate of all-day breakfast items. In addition to the tacos, customers can order buttery croissants and sourdough breakfast sandwiches, wraps and more.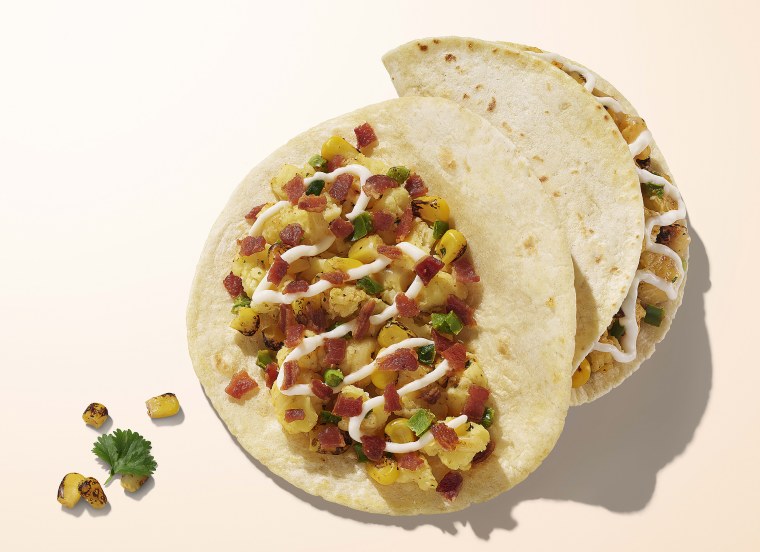 The all-new breakfast tacos feature a combination of scrambled eggs, fire-roasted corn, white cheddar cheese, jalapeño peppers, cilantro and spices, all served in a warm flour tortilla with a drizzle of lime crema on top. The tacos can be ordered with or without a crisp and crumbled bacon topping for a vegetarian-friendly bite.
"Dunkin's Breakfast Tacos arrive just in time to keep guests fueled at the first sign of spring," reads a press release. "What sets Breakfast Tacos apart are their blend of spring-forward ingredients, with fire-roasted corn taking center stage." 
Dunkin' also said that each taco is designed to be eaten on-the-go; in fact, they're served in a Dunkin' taco holder to prevent your taco fixings from falling all over your car as you munch away.
"Our culinary team has expertly crafted these Breakfast Tacos with the vibrancy of Spring in mind, delivering a taste sensation that can be enjoyed any time of the day — not just for breakfast," said Jill McVicar Nelson, Dunkin's chief marketing officer.
"These tacos are undoubtedly one of the tastiest savory items we've launched at Dunkin'. We're thrilled for guests to try them and discover their new favorite meal to fuel their day, whether they're looking for a delicious breakfast or a mid-afternoon snack," she said.
Just like the 73-year-old company's other breakfast items, you can order the tacos as a true breakfast bite or later in the day for a breakfast-for-dinner-inspired meal. Dunkin' customers can order the new breakfast tacos in store, by visiting the Dunkin' website or through the Dunkin' app.
The latest addition to Dunkin's menu comes at a time when the brand has made some significant cuts to its menu, including the iconic Dunkaccino, which was confirmed to be officially retired earlier this month by the chain.
"As we focus on innovation and finding new ways to delight guests, we continually evolve our menu in an effort to deliver a fast, frictionless experience," a Dunkin' spokesperson confirmed to TODAY.com. "The Dunkaccino is retired for now, but there's always the chance for its return in the future."
Still, fans visiting their local donut shop can order any one of Dunkin's many other beverage options with their breakfast taco — until the Dunkaccino's possible return, that is.