Feel like you've seen so many Super Bowl ads that your eyes have glazed over? Well, look again: One of Sunday's most popular ads, featuring Ben Affleck as a Dunkin' drive-thru worker (with his wife Jennifer Lopez making a cameo), now has a kind of sequel.
OK, it's not a sequel, but it is ... an outtakes reel!
Dunkin' released an additional minute of surreal comedy gold on Monday, showing Affleck, 50, further flustered by his temporary gig at the drive-thru window in Medford, Massachusetts, with even more hilarious reactions from patrons who likely thought they were just going to get a coffee and some Munchkins.
One of the best exchanges comes after Affleck tells someone they have "no coffee and no doughnuts."
"What do you have?" the driver asks.
"Water," says the Massachusetts native, using his strongest Boston accent so that it actually sounds like "wah-tuh."
In a further extended outtake, Affleck tells that very patient customer that "We got no sandwiches and no muffins. And no cold brew, espressos, teas, beverages, frozen, Coolatas."
"You're s------- me," the customer says.
"What do you mean s------- ya?" Affleck riffs. "I work on commission, bro."
Later, he notes, "I'm trying to compensate with comedy for my ineptitude," says Affleck. "I'm coming unglued."
He seems so flustered at one point that a customer asks him if he's doing all right. When she eventually sees the face behind the voice, her draw drops in total astonishment.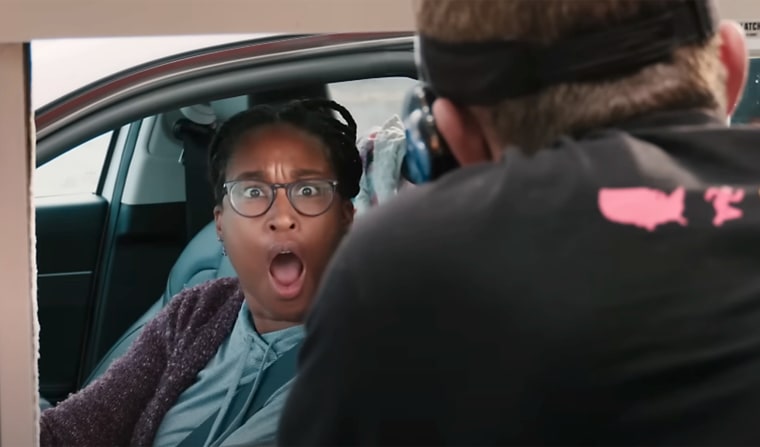 He got a big smile and a chuckle from another customer who recognizes him, despite his ongoing fumbling with the computer register. "I'm struggling," he cries out. "I cannot make it function — malfunction! It's not easy as it looks operating this apparatus up here."
The ad originally aired during the first break for commercials during the Super Bowl between the Kansas City Chiefs and the Philadelphia Eagles, but clearly there was plenty of footage left over. If you still can't get enough of Affleck in a Dunkin' T-shirt and visor, there are even more clips on the company's YouTube page.