Imagine waking up in a legendary royal residence, rubbing elbows with regal "folks" and dining on golden plates overflowing with food that's literally fit for a queen.
Former first lady Michelle Obama doesn't have to imagine it. She and her family lived it back in 2011 when Britain's Queen Elizabeth II invited them for an extended visit to Buckingham Palace.
And it was such an experience, she's still talking about it today.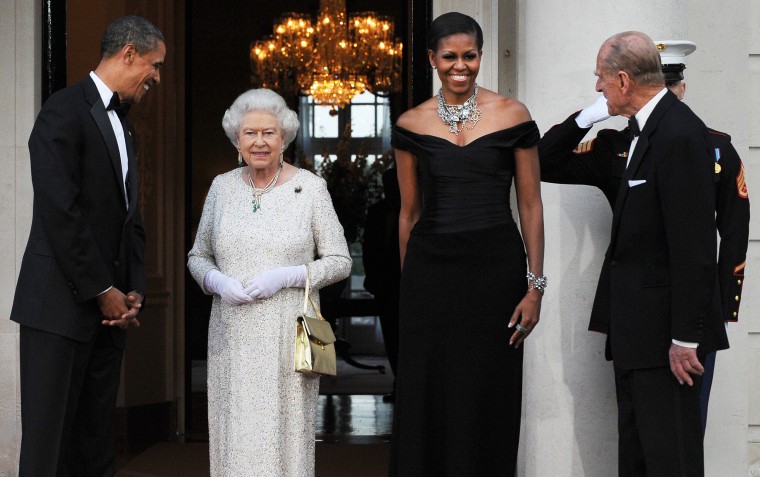 Speaking at Klick Health's MUSE event in New York, Obama spilled the details about the rare "sleepover" the first family enjoyed.
"I think by the time we had the sleepover, we had enough interacting with them," she said of their at-ease relationship with the royals at the time. "The surprising thing is folks wanted to be treated normally."
Forget the protocols that typically limit interactions to handshakes, curtsies and conversation. Behind closed doors, Queen Elizabeth and husband Prince Phillip were downright touchy-feely.
"Everybody is happy when all the people are gone," the 54-year-old explained. "They want to be hugged. They want to be touched. They gossip."
And they want to be remembered as good hosts.
"When we were served at the state dinner — you know how we have chargers and they're gold? So you sit down, and everything is gold," she explained. "The plate that I thought was the charger, that was the plate. They put food on the gold charger because that was their plate. I said, 'You win. You win on the plates. You got us beat.' Their rose garden? Much bigger."
But don't get the wrong idea. No matter how much Obama dug the royal digs, she had to admit that some things are just better back home — such as the stuff that goes on the plates.
When it comes to grub, the White House rules "without a doubt."
"I don't want to insult anybody, but American food is just better," she confessed.
One person, however, did take exception to that concession for Team USA.
Former palace chef Darren McGrady took to Twitter to suggest Obama might have been more diplomatic by saying, "The food at both the White House and Buckingham Palace is equally amazing."
Diplomatic, yes, but honest? Perhaps Obama simply prefers bolder flavors than the palace fare. After all, McGrady once revealed that the queen bans "anything with garlic" from her table.