Former President Barack Obama transferred executive power to Donald Trump on Jan. 20, 2017, but that wasn't the only memorable exchange that took place that day.
During a recent visit to "The Ellen DeGeneres Show," Michelle Obama recalled the awkward moment that incoming first lady Melania Trump handed her a ribbon-wrapped gift, which she hadn't anticpated.
In an interview set to air Thursday, Obama told the host that the problem wasn't that the gift was unwelcome. It simply was a surprise, given the occasion.
"Well, there's all this protocol," she explained. "I mean, this is like a state visit, so they tell you that you're going to do this, they're going to stand here."
However, they don't tell you what to do when someone surprises you with a bright blue box from Tiffany & Co.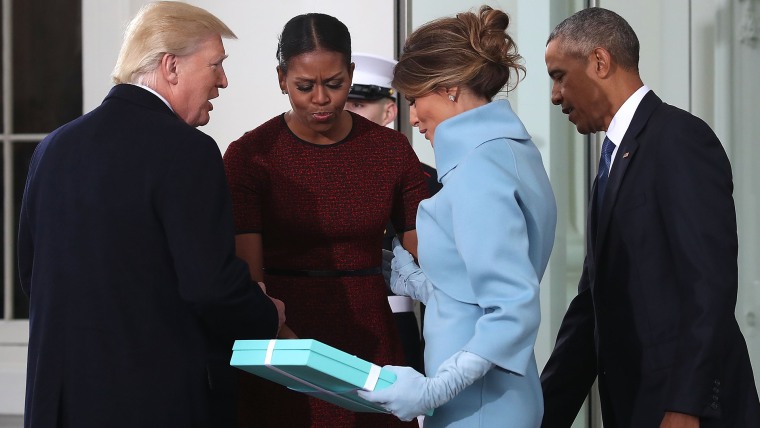 "Never before do you get this gift, so I'm sort of like 'OK. What am I supposed to do with this gift?'" she said. "And everyone cleared out and no one would come and take the box. And I'm thinking do we take the picture with (it)? ... No staff, no one. I was like, what do you do with the box?"
So, for one meme-worthy moment, she held the package, looked around and appeared baffled about how to proceed. That is until someone else stepped in to help.
"And then my husband saved the day," she smiled. "See he grabbed the box and took it back inside."
But what was inside the buzzed-about box?
"It was a lovely frame," she said.