Fifty years after its debut, the Big Mac is getting a makeover. Well, two. It's getting bigger...and, um, smaller.
For a limited time, the burger will come in two additional sizes: the Grand Mac, which has a heftier patty and an extra slice of cheese, and the Mac Jr., which is essentially just a single-patty burger with special sauce.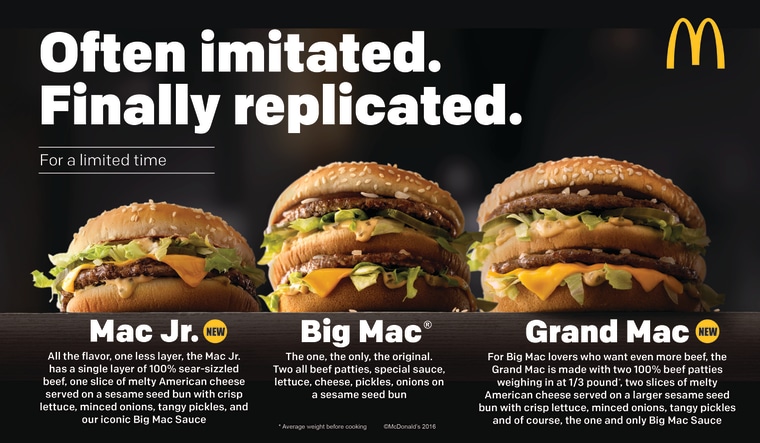 It seems that the legendary sandwich has become as little too much of a legend. According to Bloomberg, an internal company memo at McDonald's revealed that only 20 percent of millennials had even tried a Big Mac. (Yes, we were just as shocked as you are.)
RELATED: Waffle fries at McDonald's?! Here's where to find them
"The Big Mac is a legend and a great-tasting burger with hints of pickle relish, mustard, garlic and onions," said McDonald's chef Mike Haracz in a press release. "We listened to our customers who told us they wanted different ways to enjoy the one-of-a-kind Big Mac taste."
So, with the smaller size (460 calories), McDonald's is likely aiming at health-conscious millennials who want to try the classic flavor combo without committing to all the calories. And the massive size (860 calories) will likely serve millennials as a novelty — a had-to-try-it-to-Instagram-it item.
Seeing as McDonald's most drastic menu change in the past few years was adding all-day breakfast, it seems the chain is sticking with its classics rather than competing with headline-grabbing menu items like Taco Bell's fried chicken taco shell or Burger King's Mac n' Cheetos.
RELATED: McDonald's Chicken McNuggets come in 4 shapes — and they have names!
But if Bloomberg is correct in saying that "millennials are charmed by nostalgia plays," then we'll all be #TBT-ing our Mac Jr. burgers on Instagram, captioned with a '90s pop culture reference ("Honey, I Shrunk the Big Mac"?) in no time.