Is your morning breakfast routine in a bit of a rut? Sure, granola and yogurt are yummy but nobody wants to eat the same thing every day.
Chick-fil-A is trying to shake up breakfast by offering a new item that features a beloved lunchtime favorite: chicken nuggets.
On Monday, Chick-fil-A is launching a new breakfast bowl it's calling the Hash Brown Scramble. The dish starts with Chick-fil-A's signature, tot-style hash browns, then it's covered with scrambled eggs, a blend of Monterey Jack and cheddar cheeses, and sliced Chick-fil-A nuggets or sausage, all covered with a spicy, jalapeño salsa. The scramble can be served in a burrito or a bowl, if you're trying to watch your carb intake.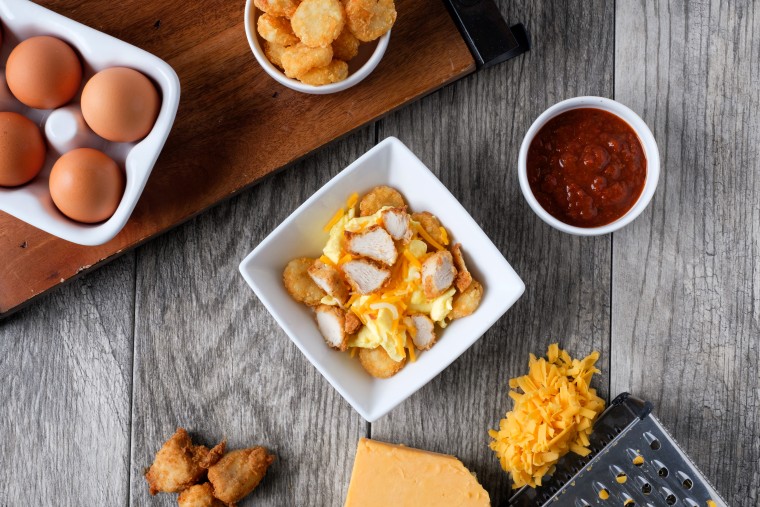 Amanda Norris, senior director of menu development for Chick-fil-A, tells TODAY Food that breakfast has been a focus of the chain for quite some time and the decision to introduce a bowl was spurred by an uptick in their general popularity.
"The breakfast daypart among all chains has been growing rapidly as customers are increasingly time-starved and looking for quick breakfasts on-the-go," Norris said. "In the past few years, we have been more focused on adding different flavors, like the Hash Brown Scramble Bowl and Burrito, and nutritious options, like our Egg White Grill and Yogurt Parfait, to our breakfast menu."
The bowl, which has chicken nuggets and hash browns, combines two of the chain's most popular items.
But even those excited about the new scramble may notice that the chain's current breakfast burrito — which has very similar ingredients — has been taken off the menu to make way for the new scramble.
Should Chick-fil-A fans be expecting more menu shakeups in the near future?
"It is important for us to provide a wide variety on our menu, which means we sometimes have to remove menu items and ingredients to make room for new ones," Norris told TODAY Food. "We are making a few changes that include removing the seasonal summer menu items, which were meant to be limited time, as well as our breakfast platter and gravy."
So, bye-bye biscuits and gravy, hello breakfast bowl? It might take awhile for us to get used to this — but maybe they'll bring those biscuits back by then.
The new breakfast bowl and burrito start at $3.49, and will be available nationwide starting Monday.