Some people obsess over their gravy, others brag about their flaky piecrust… Us? We're planning to wow the family with some pretty cool seasonal nail art!

"When people think Thanksgiving, they think turkey, family, football...not nail art!" admits Sarah Waite of Chalkboard Nails, who continuously wows us (and her 140K Instagram followers) with her innovative designs. "But, for beauty lovers, nail art can be a fun, creative way to get into the Thanksgiving spirit. Try crisp fall foliage or patterns in browns and oranges. You can even attach real craft feathers to your nails if you're feeling adventurous!"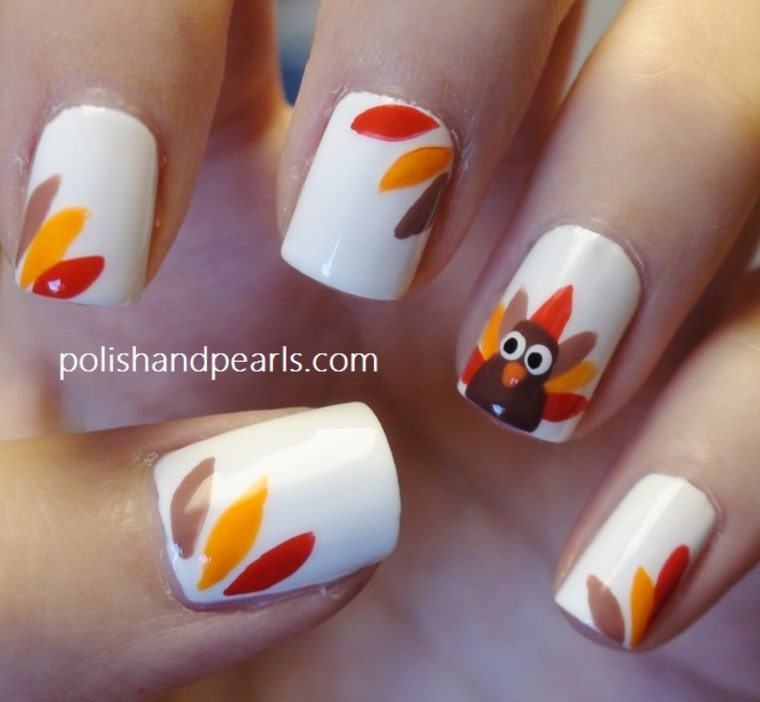 1. Turkey Nail Art
You'll gobble up compliments with this darling turkey mani created by Jenny of Polish & Pearls.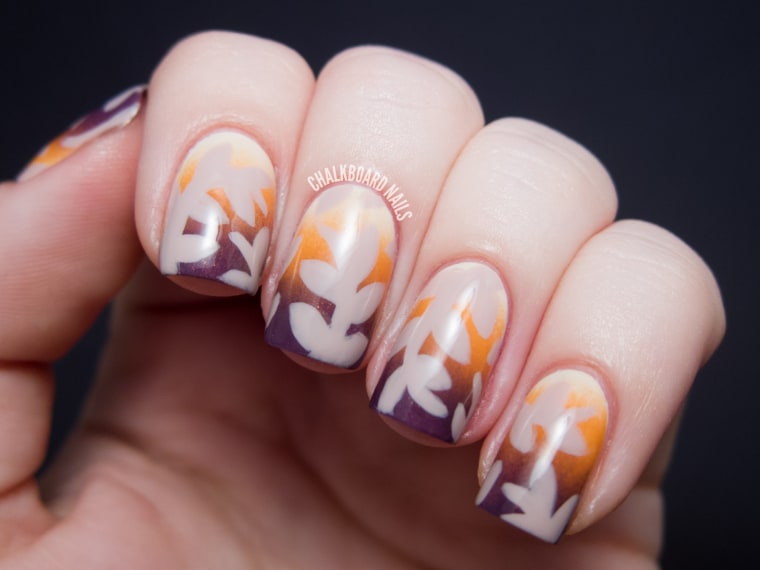 2. Autumn Sunset Nail Art
To create this ethereal fall mani, Chalkboard Nails sponged on three sunset-inspired shades in a gradient, then painted on lacy leaves in pinky beige.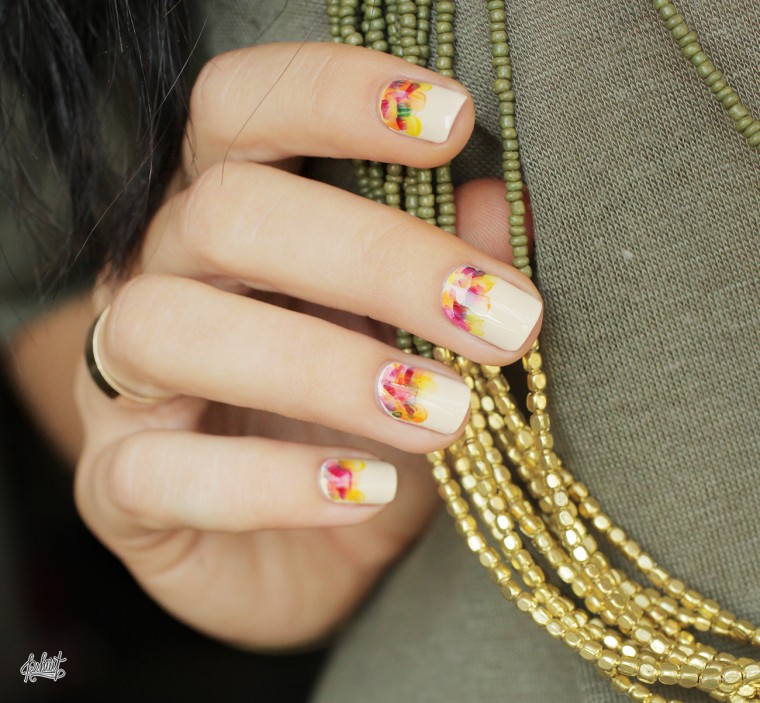 3. Foliage Nail Art
French nail art star Pshiiit layered colorful brushstrokes over a cream base. The result? Nails as pretty as peak-season foliage.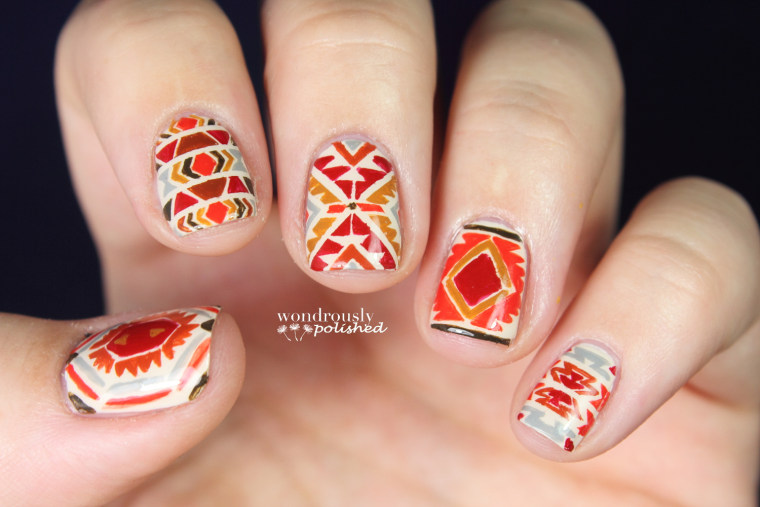 4. Navajo Artwork Nail Art
Pay homage to the first Thanksgiving with Wondrously Polished's take on Native American weaving. We love how each nail is a little bit different—and as cozy as a real Navajo blanket.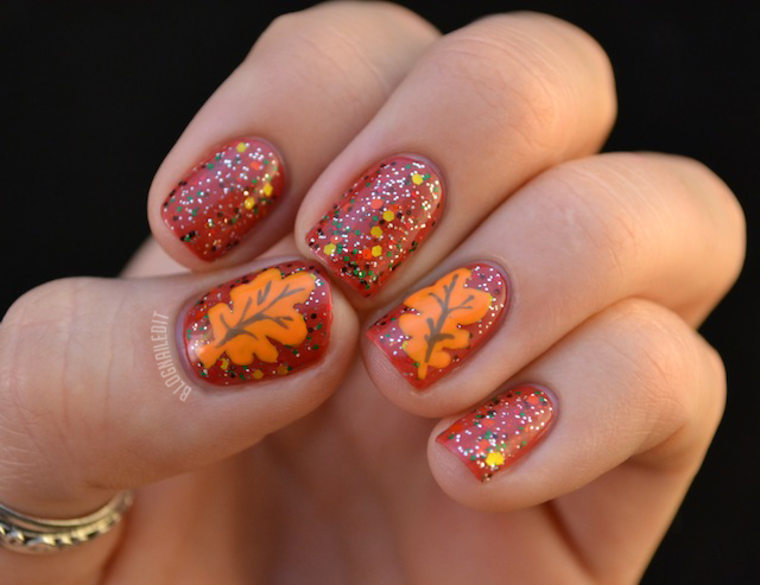 5. Glittery Leaves Nail Art
Glitter, glequins and acorn leaves—such a pretty and easy ode to the season, courtesy of Nailed It.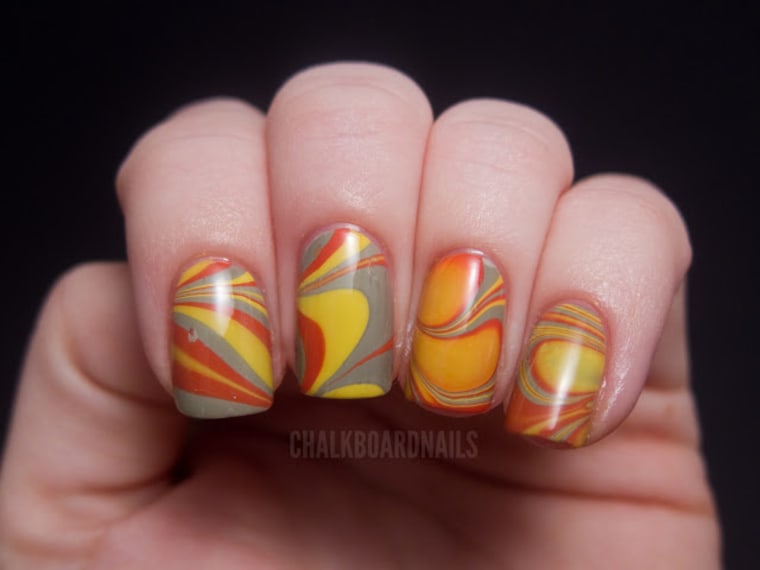 6. Marbleized Nail Art
"Water marbleizing" is one of those must-try nail art techniques…as millions of Youtube viewers can attest. We love Sarah of Chalkboard Nails' autumn take on the trend—and her savvy tip to use filtered water instead of tap for the smoothest finish.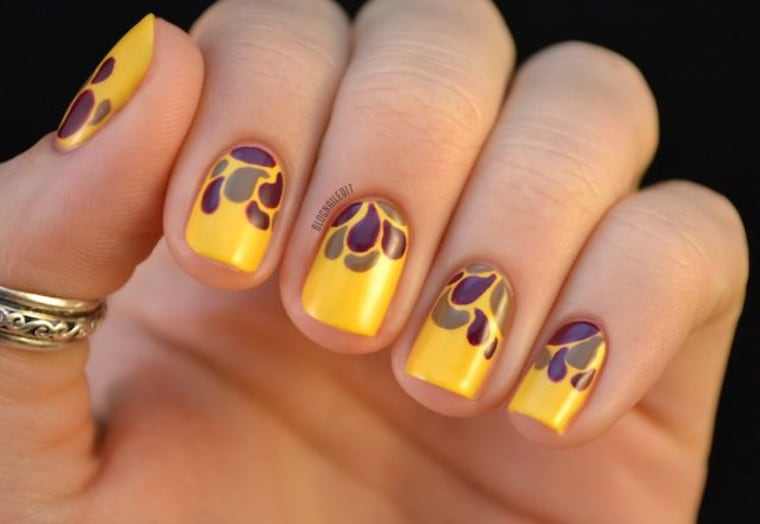 7. Falling Leaves Nail Art
By leaving most of the nail plain, Nailed It created the illusion of leaves tumbling in a gust of wind. So fitting for a brisk November day!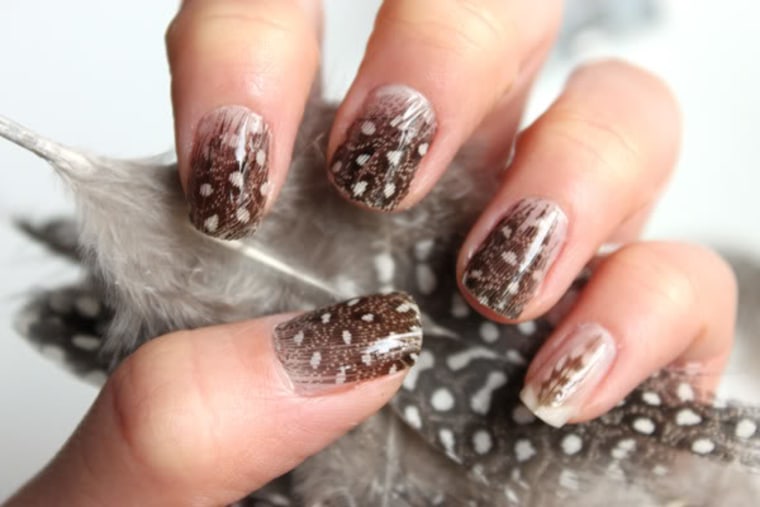 8. Feather Nail Art
Feathers are one of our favorite Thanksgiving motifs—and now we can wear 'em on our nails! Syl and Sam's tutorial shows you exactly how to cut, place and lacquer real plumes for a stunningly textured manicure.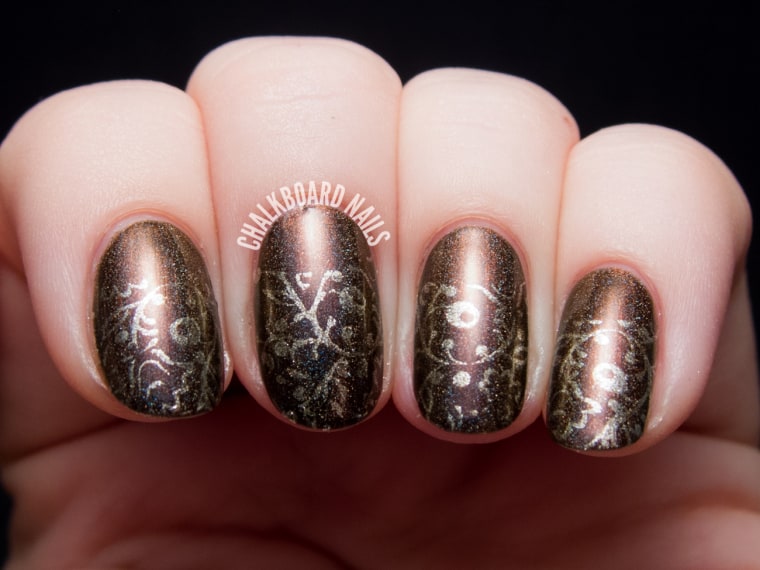 9. Sparkly Stamped Nail Art
Headed somewhere glamorous over the holiday? Chalkboard Nails' elegant foil-stamped mani is the perfect match for pretty sweaters, cocktail dresses and anything velvet.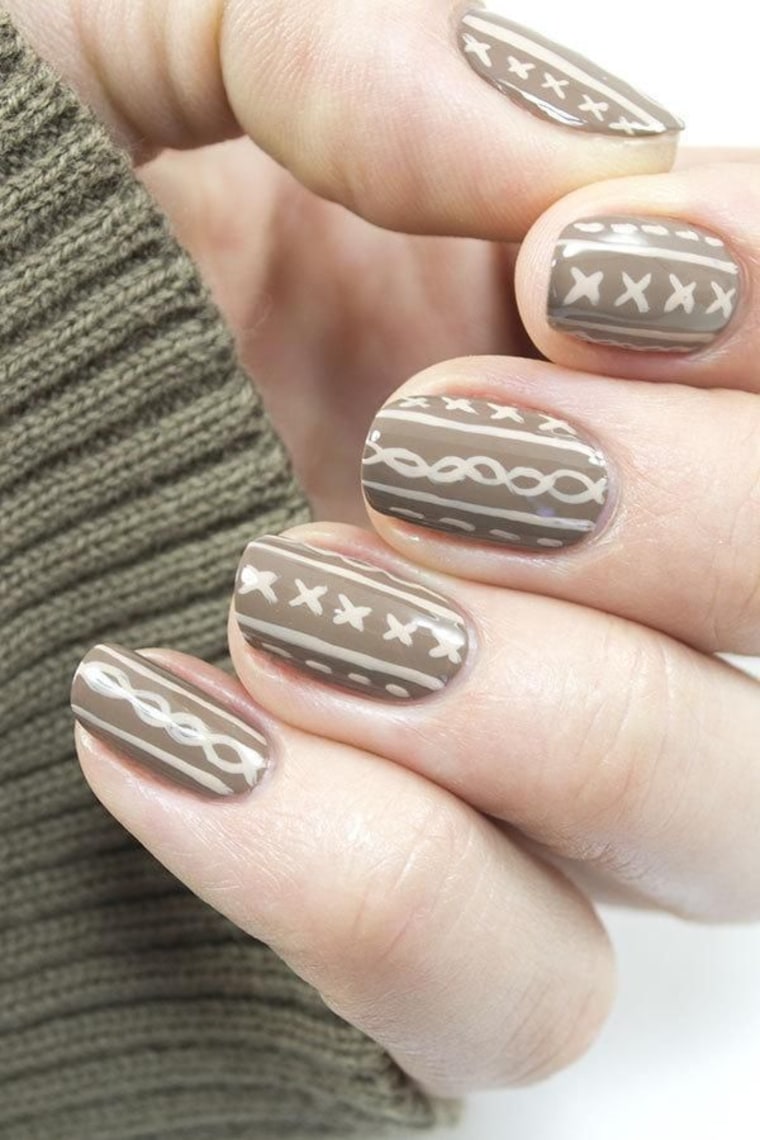 10. Cable Sweater Nail Art
It's sweater weather—and we can't see any reason why our nails shouldn't bundle up, too! This ingenious design from Nailed It features an oh-so-cozy cable knit design, and you can customize the colors to match your own sweater wardrobe.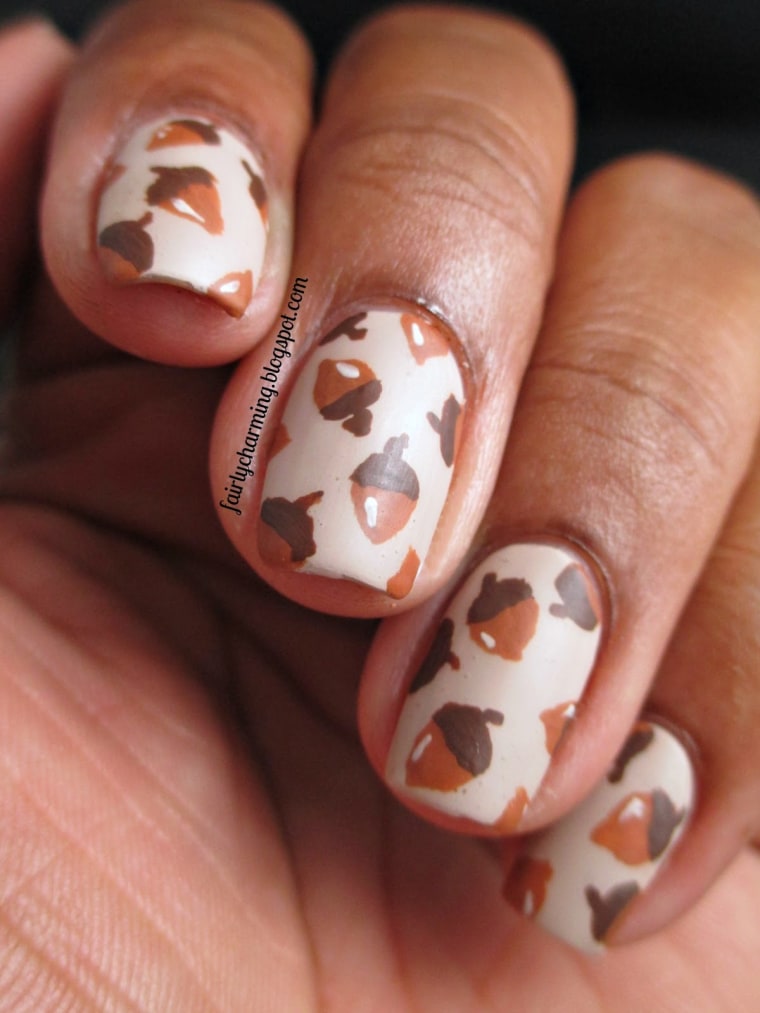 11. Acorn Nail Art
Fairly Charming used regular acrylic paints to fashion these tiny acorns—and a matte topcoat to reduce shine and keep the spotlight on her design.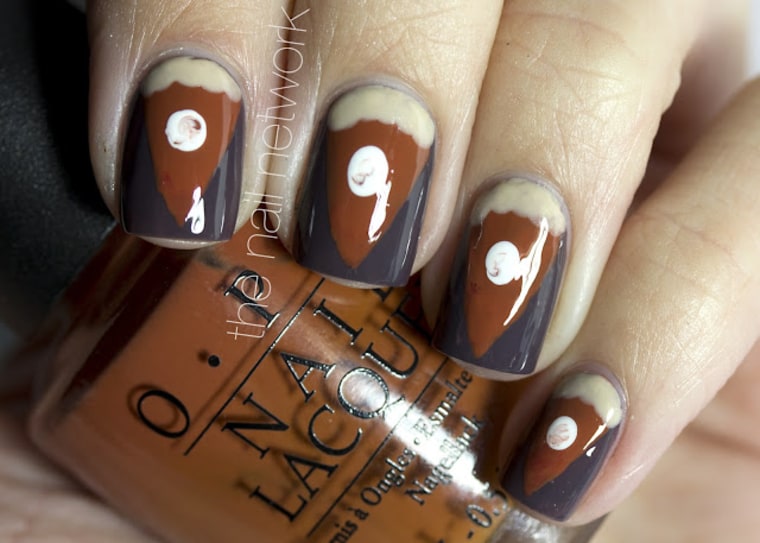 12. Pumpkin Pie Nail Art
These delectable pie slice nails from The Nail Network look just like the real thing, complete with a dollop of whipped cream (or is it ice cream?) on top.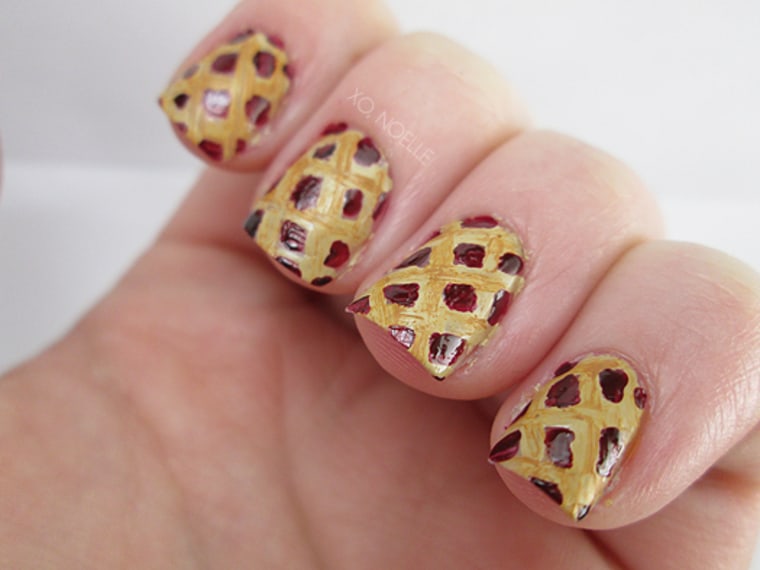 13. Piecrust Nail Art
For a truly sweet Thanksgiving manicure, it's gotta be pie! Noelle from XO Noelle painted on a lattice "crust," then added a berry filling. Yum.