Business in the front, epic party in the back!
A public health nurse from Knoxville, Tennessee, just set a record for the longest competitive mullet for a female.
Tami Manis, 58, has a mullet measuring an impressive 5 feet, 8 inches long, earning her a spot in the 2024 Guinness Book of World Records. 
Manis beat out the current male record holder, who has a mullet measuring 3 feet, 3 inches.
Manis first began growing a mullet in the '80s, inspired by the music video for "Voices Carry," a 1985 hit song from the new wave band 'Til Tuesday.
"Growing the longest mullet never really started out as anything other than, it was the '80s and everybody had a rat tail and I started growing mine," she said in a Guinness World Records video. "Over the years it's just kept growing, so I've kept it."
She apparently cut her mullet in 1989 and immediately regretted it. So she began growing it out again.
Manis says the last time she cut her hair was Feb. 9, 1990, which she now views as her mullet's birthday.
The record-holder admitted that "having the world's longest mullet has its drawbacks."
For one thing, her mullet is longer than she is tall, so she usually keeps it braided. 
Manis shampoos and conditions her mullet using an Argan oil conditioner, then adds a leave-in conditioner before having a close friend braid it weekly.
Before braiding, Manis dries her hair with paper towels.
Her record-breaking 'do has definitely been a conversation starter over the years.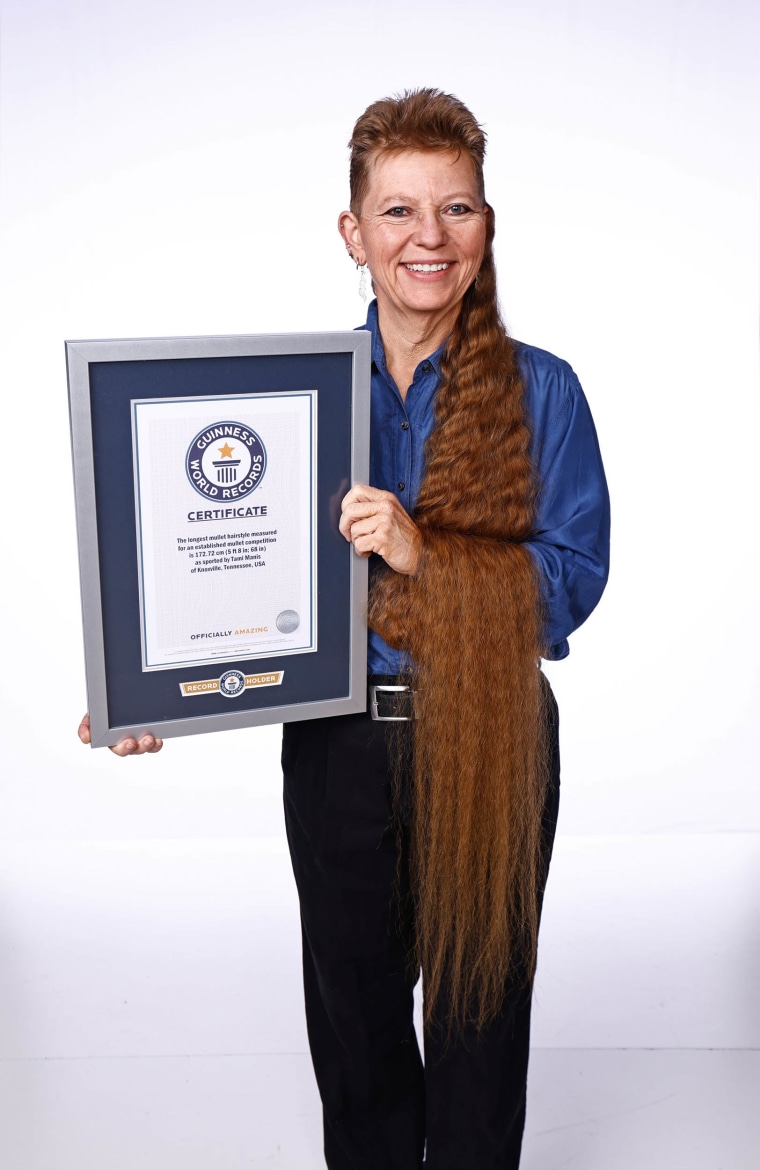 "I've had people recognize me from 20 years plus ago, because I've kept the same hairstyle," she said.
"Over the years, friends, family have asked questions about my hair and it's actually a conversation piece," she added. "A lot of people just notice it when I turn around. So most of the time it's like they don't realize how long my hair is until they look at the back side."
Manis doesn't let her long hair get in the way of activities she enjoys. In her Guinness World Records video, she demonstrated how she tucks her braid into the waist of her jeans before climbing on her motorcycle.
"We tuck the tail and we go for a ride," she said.
Manis' hair has been in the spotlight before. She placed second in the "Femullet" division of the 2022 Mullet Championships, taking home $300.
When Guinness World Records recently launched its "longest competitive mullet" category, applying was a no-brainer.
Manis says she first learned she had set a new world record when Guinness World Records mailed her a package.
"When I opened it, I thought, 'This is amazing,'" she said.