Emily Nunez is an active-duty Army officer with a special project on the side: Sword & Plough, an award-winning business selling fashionable bags made from military surplus materials by veterans. This week the company launched a Kickstarter funding campaign that has well exceeded its original goal.
And she's only 22.
The past year has been a whirlwind for Nunez, who was born at West Point and is part of a military family. Her father retired as a colonel after 30 years in the Army; she has an uncle and cousin in the military, and her brother is in ROTC. In January 2012, the then-international studies major at Middlebury College attended an event featuring speakers who'd founded start-ups that included recycling in their business models. She was inspired.
"I thought, 'What in my life is routinely wasted on a regular basis that could be harnessed and repurposed into something meaningful, with a powerful story?'" she recalled. After researching the availability of military surplus, she found there was a way to not only create a new product, but to connect more with civilian students who were unfamiliar with people in the armed forces.
"My friends were extremely supportive of my desire to serve in the military, but sometimes it was hard to relate to some of my experiences," Nunez said. "I wanted to turn this material into something tangible that anyone could pick up and use and be reminded of veterans."
The idea snowballed in what became a six-hour lunch with her sister, Betsy, scribbling ideas onto napkins at a restaurant. "Everyone uses a bag throughout their day, whether they're a man or a woman," Emily said. Using some of the old things she had at home, the sisters created design ideas.
Then they discovered GreenVets Los Angeles, a nonprofit that provides jobs for veterans who make reusable bags, which agreed to produce the Sword & Plough line. Now their offerings include a tote bag, a messenger bag, an "urban rucksack," an iPad case and other products made from recycled bags and tents. The products are accented with brown leather, gold buckles and other materials from near Emily's home in Colorado Springs.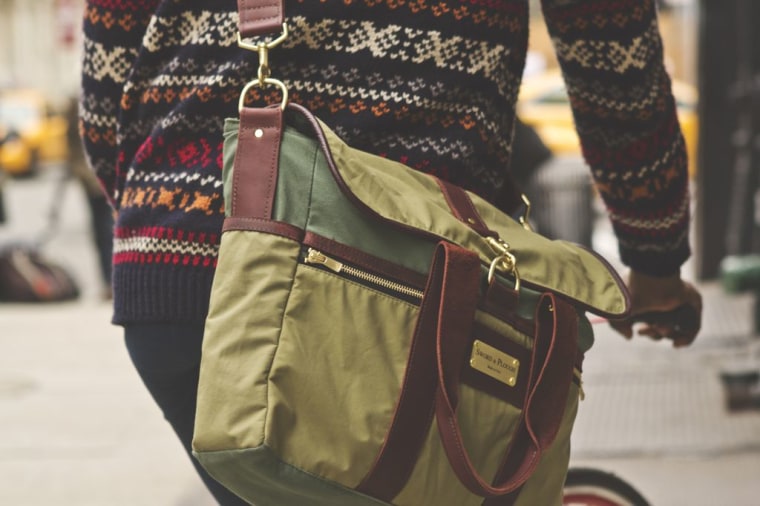 Prices of Sword & Plough products range from $25 to $289. The bags will eventually be sold through Sword & Plough's own website, but are currently being offered through Kickstarter at below-retail prices.
Innovation catches on

Sword & Plough's name comes from the saying "turn swords into ploughshares," a Biblical phrase from the Book of Isaiah. To Nunez, it means to take military supplies and materials and apply them to peaceful civilian applications.
As the idea grew, the "Sword & Plough Sisters" took it to various enterprise venues, including the Dell Social Innovation Lab, and made a pitch for it on the floor of the New York Stock Exchange during the Kairos Global Summit. Their plan won first place and the audience choice award at the Harvard Pitch for Change Competition, which is aimed at social enterprises.
Michael Schrader, co-founder and CEO of Vaxess Technologies, was a judge of the competition and said the panel was impressed by Sword & Plough's mission and business plan. "We were blown away, to be perfectly honest," he said of their presentation. "This is very personal for (Emily) … she managed to find a way to benefit a community that she knows so well, so intimately, so personally."
Schrader also complimented Sword & Plough's "quadruple bottom line" of "people, purpose, planet, profit" and their work with American veterans.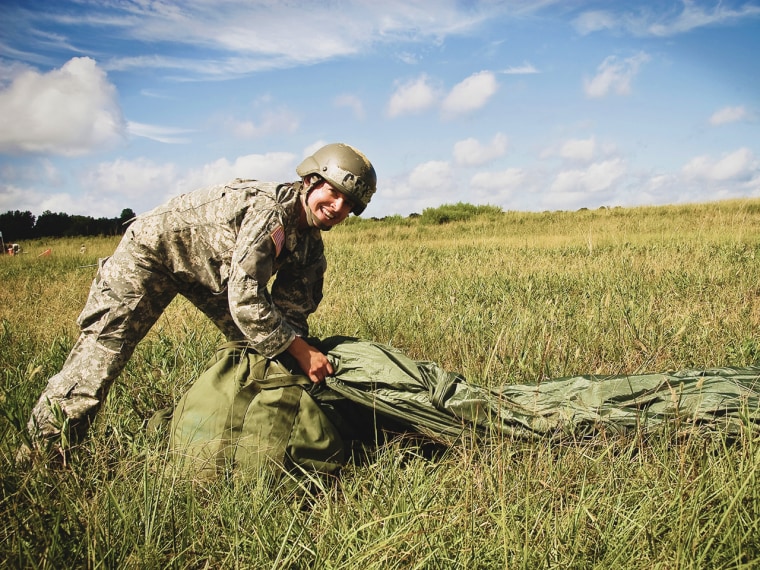 "They've got a couple different ways that they're going to make a positive impact, regardless of how things progress," Schrader said. "They have a sustainable business that delivers a solid return, and as a side benefit it happens to do all these great things for the world. It's a great business model with great-looking bags."
Betsy Nunez, who's 25, said it's no surprise that her creative sibling thought of the idea. "Emily always had so many ideas as a child, and as we've grown older I've taken a lot of them more seriously based on her life experience and knowing how determined she is," she said.
Betsy committed to the company fully after their success at the Dell Social Innovation Challenge in July and a few weeks ago left her previous job in sales and marketing. "It means the world to me," she said. "This venture, my position within it, being able to work with my sister … this is my way of having an impact and giving back to that [military] community."
Betsy's been gearing up Sword & Plough's social media presence, including the Kickstarter campaign that launched April 15. As of Friday morning, the project had 517 backers and $95,458 pledged in four days, well surpassing their goal.
"Our goal was $20,000 over 30 days," Emily said, adding that the response has been "just incredible and shocking."
"We're so grateful for all the backers who have already shown their support to us," she added. "We're certainly not stopping … our mission is really to spread our core values, and our mission is to empower veterans and reduce waste. Kickstarter is a great way to do that. We're really trying to invite as many people as we can to pledge to our project."
As Emily, a second lieutenant in the Army Intelligence Corps, prepares to leave soon to serve in Afghanistan, her sister said no one is better equipped to handle both jobs.
"I'm 150 percent confident she'll not only do an amazing job over there but she'll make us stronger," Betsy said. "Though that is a challenge, I think it's just a beginning."