Reese Witherspoon had the chance to raid Dolly Parton's closet, and it was everything she imagined it would be.
The actress and producer, 42, visited Parton's home as part of her new DirecTV Now series, "Shine On With Reese." In each episode, Witherspoon visits with different female celebrities and interviews them about their trailblazing careers.
Parton was her very first guest, and the 72-year-old country singer made Witherspoon feel right at home. She even let her rummage through her closet of glittery stage costumes.
The "Big Little Lies" star gasped when she touched one very sparkly item and a few rhinestones fell off, but Parton wasn't bothered, assuring her that it "happens all the time."
"I always imagined Dolly's apartment's closet opens, and sequins come flying out!" Witherspoon said.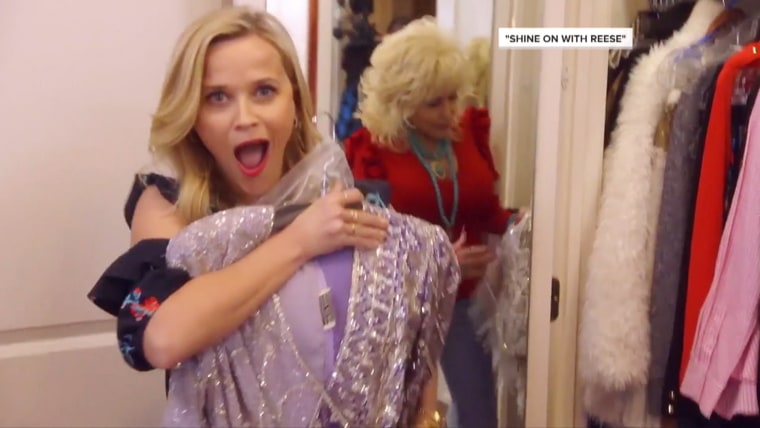 The two women, who both hail from the South, also shared a cup of friendship tea, a classic Southern drink that Witherspoon remembered from her childhood.
"This is so Nashville, y'all," the actress said as Parton prepared the spiced tea using cloves, cinnamon and a little Tang.
"We try to be fancy because we don't know how to do real tea like they do in England," Parton joked.
In another scene from the episode, Witherspoon teared up as Parton gave her a private performance of her classic song "Coat of Many Colors," on a bedazzled guitar, of course.
The Dolly Parton episode of "Shine On With Reese" is out now, and upcoming guests on Witherspoon's new series include Pink, Ava DuVernay and Kacey Musgraves.
But Parton's episode will probably be the sparkliest!