Melania Trump has kept quiet since her husband announced his presidential bid in June — until now.
In an interview with Harper's Bazaar, Donald Trump's first lady speaks out on her marriage, the reason she's been silent and why she thinks her husband would make a good president.
"Because of who my husband is, and our life, and also he is number one in the polls — well, you take that all together, and people are very curious about me," she told the magazine.
RELATED: Donald Trump's TODAY town hall: Guns, ISIS — and the last time he ate McDonald's
Trump, 45, claims the press confuses her silence for being shy, while her husband has no problem speaking his mind.
"I am not shy. They interview people about me who don't even know me. These people, they want to have 15 minutes of fame in talking about me, and reporters don't check the facts," she said. "You can see how they turn around stories and how unfair they can be."
While the former model has accompanied Donald Trump on the campaign trail, as well as in a November interview with Barbara Walters, she's remained relatively quiet, but it hasn't stopped her from staying informed.
She said her husband's decision to run for president was a "collective one," and she likes to be privately involved in his campaign.
RELATED: Donald Trump says US should ban Muslims — and analyst says it will help him
"I give him my opinions, and sometimes he takes them in, and sometimes he does not," Trump said. "Do I agree with him all the time? No. I think it is good for a healthy relationship."
To many voters' surprise, she backs his stance on immigration — building a wall on the United States-Mexican border and banning Muslims from entering the country. She came to the U.S. from Slovenia on a work visa in 1996 and became an American citizen in 2006, one year after marrying Donald Trump.
"It never crossed my mind to stay here without papers. That is just the person you are. You follow the rules. You follow the law," she said. "Every few months you need to fly back to Europe and stamp your visa. After a few visas, I applied for a green card and got it in 2001. After the green card, I applied for citizenship. And it was a long process."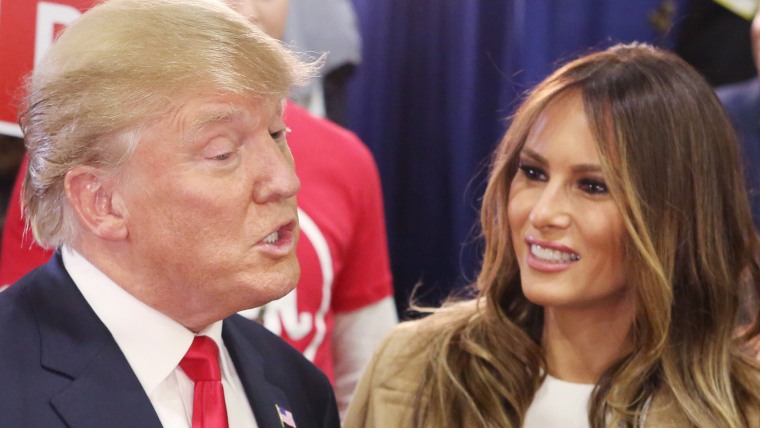 The jewelry designer may have finally opened up, but she remains cautious on not revealing too much. When asked about her future in the White House, she said, "If it happens, we could discuss it then, but I take it day by day."
RELATED: Donald Trump shows off his dad dance moves in 'SNL' 'Hotline Bling' parody
She does, however, believe her husband has what it takes to be "an amazing president."
"He is a great leader — the best leader, an amazing negotiator," she said. "America needs that, and he believes in America. He believes in its potential and what it can be, because it is now in big trouble."